REVELATION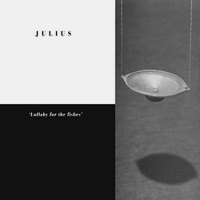 Rolf Julius
Lullaby For The Fishes
Milestone reissue!! Here's the much needed reprint of Rolf Julius' first and only (and almost impossible to find) LP from 1985 / Rolf Julius wa . . . .
HIGHLY RECOMMENDED
Riccardo Sinigaglia
Works 1976-1981 : Scorrevole
Riccardo Sinigaglia truly is a key figure in the late 70s mid 80s experimental scene from Italy, and this small selection of concrete, electronic and . . . .


Mike COOPER Fratello Mare
Fratello Mare, which takes its title from Folco Quilici's classic 1975 film, continues UK-born, Italy-based musician Mik...




Graham LAMBKIN C05
"C05" presents an 18-minute composition, which draws from the texts and themes of Came to Call Mine, presenting a strang...




HEINZ HOPF Ultra Primitiv
Edition of 100 copies. "Finest Gothenburg duo Heinz Hopf returns with their second LP, always on Wendy. Dan Johansson a...




Mercury Hall Through The Imperial Family
Edition of 100 copies. One-sided LP. "Matteo Castro is one of the most active figure in noise scene. His new solo proje...




DIE FORM Die Form - Fine Automatic 1
This release is the unique and complete full album from one of the Die Form side projects, named "Fine AutomatiC &a...




Le Syndicat Audiostatik Repress
Awsome! Le Syndicat with this reissue of Audiostatik Repress from 1983, certified to be a head-cleaner of brutalist ...




Guido & Maurizio De Angelis Torso (I corpi presentano tracce di violenza carnale)
The legendary Torso (1973), considered one of the precursors of the slasher genre, was directed by Sergio Martino follow...




James SAUNDERS Assigned #15
The leading contemporary music ensemble Apartment House perform a new piece developing out of James Saunders's long-term...




Otomo YOSHIHIDE Guitar Solo 2015 Left
Reflecting on his studies with guitarist Masayuki Takayanagi, Otomo Yoshihide plays one of Takayanagi's favorite electri...




Clara Modshine Luna Africana
Clara Mondshine was a musical project of the late radio director, journalist, and composer Walter Bachauer, who worked ...




Nino Nardini Jungle Obsession
Released in 1971, under the blanket of library music anonymity, Jungle Obsession is one of those rare and precious reco...




Ataraxia The Unexplained
Electronic impressions of the occult, reissued for the first time. The late, great Mort Garson (1924-2008) was a hotshot...




CAMIZOLE Camizole 1975
When the legendary psych / krautrock inspired french act group Camizole was only a duo with Bernard Filipetti and Domini...




ISKRA 1903 Chapter one: 1970 -72
Much needed reissue of Emanem 4301, a classic concert and studio performances from '70-'72 by the innovative trio ...




ALVARO Drinkin My Own Sperm
"Beautiful reissue of the 1977 debut solo LP by Alvaro -- the Chilean with the Singing Nose. Alvaro Peña-Rojas w...




Veryan WESTON Make / Tokyonin
Fratto9 present a special volume of the "seven inch series", a series of coloured 7 inches ...




John Bender Memories of mindless mechanical monologues 1976-1985
**edition of 200 copies only** This outstanding deluxe Box-Set delivers an excellent and extensive overview of John Be...




Kosmose Kosmic Music from the Black Country
Never-before-released recordings of mythic Belgian kosmische band Kosmose (1973-'78). Kosmose can be approached as a col...




CLOCK DVA Horology 2 / The Future and Radiophonic Dvations
This 5 LP box release, pre dates Horology 1 and is a companion collection of experimental recordings made in late 1977 /...




Ennio Morricone Maddalena
"Maddalena" is a Jugoslavian-Italian co-production directed in 1971 by Jerzy Kawalerowicz and starring Lisa...




Nikos VELIOTIS Kaspian Black
Nikos Veliotis - After an initial involvement in the Athens pop/electronic scene during the late 80s as a founding membe...




C Joynes 33 Chatsworth Rd
Dinked (Large centre hole) 7" vinyl in card picture sleeve, recorded at 33rpm. C Joynes records 4 tracks based aro...




Luis Enriquez Bacalov Electronia
Don't let the title fool you; this is not a record of electronic music, but of twelve tunes performed by a small i...




Piero Umiliani Intrigo a Los Angeles
Hold your breath. This is the soundtrack to the 1964 spy movie directed by Romano Ferrara (Roy Freemount) and starring C...




Riz Ortolani La Vergine Di Norimberga
La Vergine Di Norimberga is a great horror movie directed by Antonio Margheriti (aka Anthony Dawson) in 1963, starring R...




PUMICE Poise Etc
A collection of Pumice recordings from 1993-99 when teenagers Sugar Jon Arcus and Stefan Neville learned about music by ...




Mike Sena Bali High
From the '50s up until the early '80s, most surf film soundtracks were bootlegged straight from the director...




Aminadav Aloni Once
From the bizarre Polish-cinema-inspired imagery of the album's artwork to the private-press aesthetics of&nbs...