REVELATION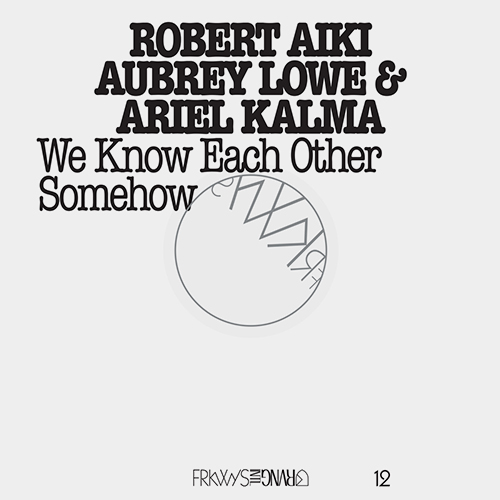 Robert Aiki - Aubrey Lowe - Ariel KALMA
We Know Each Other Somehow
"We Know Each Other Somehow" is the twelfth volume of FRKWYS, the music, film, and event series celebrating intergenerational collaboration. For this . . . .
HIGHLY RECOMMENDED
Jon GIBSON
Visitations
MASTERPIECE!!!"Since the mid-1960s, Jon Gibson has played a key role in the development of American avant-garde music. No other artist has performed . . . .


Haruomi Hosono Cochin Moon
Originally relesead in 1978 in Japan by Haruomi Hosono, this album is a soundtrack of a fictitious Bollywood film. It fe...




Ruscigan Viaggio Nel Domani
Restocked!! A daring experimenter and former student of Karlheinz Stockhausen, Guido Baggiani aka Ruscigan collaborated ...




Bruce Palmer The Cycle Is Complete
210 release, 180 grams edition, long out of print, few copies available...A really great trance psychedelic album from 1...




Ennio Morricone Vamos A Matar, Companeros
"Vamos a matar, compañeros" is a western film of 1970 directed by Sergio Corbucci and starring Franco Nero, Toma...




HELDON Live in Paris 1976
Souffle Continu is very excited to present two special vinyl editions of live recordings of French heavy space prog band...




HELDON Live in Paris 1975
Souffle Continu is very excited to present two special vinyl editions of live recordings of French heavy space prog band...




STRINGTRONICS Mindbender
This album, originally released in 1972, can be put in the field of so-called "library music," records made for use in ...




Eddie Warner Progressive Percussions
Eddie Warner, born in Magdeburg, Germany, in 1917, was one of the leading figures in European exotica in the 1950s, ope...




Master Wilburn Burchette Opens the Seven Gates of Transcendental Consciousness
First reissue of this stunning, dark, mysterious instrumental 1972 work by Wilburn Burchette, mystery of 1970s experime...




Phil Maggi Motherland
Inspired by Fulcanelli, Robert Garcet and Giordano Bruno's writings, Motherland is an evocative sonic journey through U...




SPOILS OF WAR The Spoil of War
The Spoils Of War made some of the most inspiring but strange music from the \'60s, in the same awe-inspiring vein as ea...




Alessandro BOSETTI A Heart That Responds to Schooling
"A Heart That Responds to Schooling" is the second album recorded by italian composer and performer Alessandro Bosetti a...




Michel Redolfi Pacific Tubular Waves/Immersion
Packaged with 3D cover art; includes Anaglyphic 3D glasses. "Pacific Tubular Waves" (1979): Electronic music for Syncla...




Beatriz Ferreyra Grm works
Argentine electroacoustic composer Beatriz Ferreyra describes each of the pieces included on GRM Works: Demeures aquatiq...




Florian HECKER Hecker Leckey Sound Voice Chimera
In 2010, acclaimed German sound experimentalist Florian Hecker and multidisciplinary artist Mark Leckey came together fo...




Tim CATLIN Whorls
Following previous Low Point releases, Glisten (2009) and Patina (2011), Whorls is the third collaboration between Tim C...




Gianfranco Plenizio La Gatta in Calore
First ever official LP reissue of this rare 1972 classic. The perfect giallo score, from the opening tones of Edda Dell...




Ennio Morricone Il Sorriso Del Grande Tentatore
The first ever official LP reissue of a classic 1974 score! Spiritual cousin to the psyche-liturgy of The Electric Pru...




Charles Mingus Black Saint and the Sinner Lady
Heralded by many as Charles Mingus' masterwork, "Black Saint and the Sinner Lady" stands as one of his most powerful and...




Bizarre Uproar Amputaatio
Bizarre Uproar is a Finnish power electronics slash harsh noise project initiated in 1992 by Markkula. The thematic subj...




Don CHERRY Complete Communion
2015 reissue. Not counting a couple of sessions he co-led with John Coltrane and Albert Ayler, Complete Communion was th...




John BUTCHER Conceits (1987/1992)
A reissue of the first LP by the exceptionally fine improvising trio of John Russell (guitar), Phil Durrant (violin and ...




Marcio Mattos Solos (c1998-2010)
Marcio Mattos has been an important member of the free improvisation and free jazz scenes since moving to London in the ...




PIOTR KUREK Edena
2015 Repress. Released on tape by the Polish label Sangoplasmo, Edena is the amazing record by Poland's Piotr Kurek. As...