REVELATION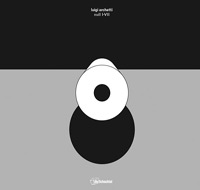 Luigi ARCHETTI
Null I - VII
Epic in scale, static, timbre and stillness, "Null" is a vast and profound music project that Luigi Archetti has been pursuing over a longer period. H . . . .
HIGHLY RECOMMENDED
Pierre HENRY
Choix d'oeuvres 1950 a 1985 (10xLP Box)
** worldwide shipping included ** This limited 400 deluxe Book-like-Folder in outer Holder Box-Set is covering half of a lifetime in music-history of . . . .


Charles Mingus Black Saint and the Sinner Lady
Heralded by many as Charles Mingus' masterwork, "Black Saint and the Sinner Lady" stands as one of his most powerful and...




Zs Xe
New and unexplored territory from Zs. Xe is the new set of noises from the legendary trio. Taking idea...




LEGENDARY PINK DOTS Synesthesia
Once described by Edward Ka-Spel as a companion to Chemical Playschool: Vols. 11, 12 & 13, Synesthesia is finally p...




CANNIBAL MOVIE Mondo Music
2013 release. What an unexpected joy! First, imagine transmissions of brooding, overloaded organ drones and bursts of ca...




Bizarre Uproar Amputaatio
Bizarre Uproar is a Finnish power electronics slash harsh noise project initiated in 1992 by Markkula. The thematic subj...




Don CHERRY Complete Communion
2015 reissue. Not counting a couple of sessions he co-led with John Coltrane and Albert Ayler, Complete Communion was th...




Marcio Mattos Solos (c1998-2010)
Marcio Mattos has been an important member of the free improvisation and free jazz scenes since moving to London in the ...




Miguel Flores Primitivo
Second release in Buh's "Sounds Essentials Collection," documenting the history of Experimental Music in Peru. Miguel Fl...




PIOTR KUREK Edena
2015 Repress. Released on tape by the Polish label Sangoplasmo, Edena is the amazing record by Poland's Piotr Kurek. As...




Asmus TIETCHENS 4K7
Milestone! Asmus Tietchens, a German electronic synthesist and musician whose interest in experimental music and musiqu...




Joel Vandroogenbroeck Biomechanoid
2015 limited repress. Biomechanoid is the classic 1980 album by composer and flutist Joel Vandroogenbroeck. It's 1...




KOMODO HAUNTS Suijin
Komodo Haunts is the psychedelic drone solo project of Ollie Tutty (aka Mt. Tjhris), from Lincolnshire, ...




Piero Umiliani 5 Bambole per la Luna d'Agosto
2015 small repress, few copies available - 5 Bambole per la Luna d'Agosto" (5 Dolls for the August Moon), directed by t...




Fish From Tahiti Decal Baby
Decal Baby' is a compilation featuring a selection of cuts from Leicester's Fish From Tahiti. The songs were recorded a...




Rudolf Eb.er T.h.i.e.r
Special limited edition CDR for February-March 2015 Europe tour, featuring electronics and field recordings by Rudolf Eb...




Oren AMBARCHI Quixotism
LP edition.Recorded with a multitude of collaborators in Europe, Japan, Australia and the USA, Quixotism presents the fr...




Charles Cohen Charles Cohen / Robert Turman rersions
Charles Cohen uses his Buchla Music Easel to replay Indonesian hardcore band Senyawa's "Di Kala Sudah." While enjoying ...




Sote Architectonic
Morphine continues to take us there, this time with a full-length album from Iranian producer, composer and sound artist...




Lack Expect Night Work
Morphine continues to expose more destructive electronics from the U.S. underground. Four bare bones tracks from Lack th...




Robert FRIPP The Equatorial Stars
Totally essential LP re-release for the first collaboration between Robert Fripp and Brian Eno in over 30 years, that ne...




Claudio Gizzi Andy Warhol's Flesh for Frankenstein
Dagored presents the first complete vinyl edition of Claudio Gizzi's sophisticated soundtrack for the ultra-cult film "F...




eRikm Ecotone
Both musicians have been active in the scene of improvised and experimental music for twenty years, both have been asto...




Casey Anderson Five Lines
The meeting of heavyweights of electroacoustic improvisation from Europe and the Pacific United States happened during ...




Tetuzi AKIYAMA Between Two
Tetuzi Akiyama (guitar) and Toshimaru Nakamura (no-input mixing board) of Japan and Switzerland-based American drummer J...




STARFUCKERS Infrantumi
Much needed vinyl reissue of a legendary Italian album from the 90s, finally remastered and housed in truly deluxe editi...




Batsumi Moving Along
Matsuli Music continues its reissue program of rare indigenous afro-jazz sounds from South Africa with the release of So...




Ndikho Xaba And The Natives Ndikho Xaba And The Natives
Ndikho Xaba was born in 1934 in Pietermaritzburg, KZN, South Africa. For thirty-four years — 1964 –199...




Alan WATTS This Is It
Psychedelic music all began with the tiniest possible bang: a minuscule pressing of a self-produced LP by Zen Buddhist s...