REVELATION
Henning Christiansen
Requiem of Art fluxorum organum II Opus 50
Requiem of Art Fluxorum organum II Opus 50 was first issued in 1973 by Edition Schellmann alongside Schottische Symphonie with Joseph Beuys. This is t . . . .
HIGHLY RECOMMENDED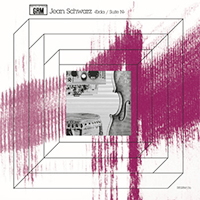 Jean SCHWARZ
Erda / Suite N
Milestone reissue! Jean Schwarz has always been the wild man of the Grm, and also of Celia, his own label. His musical domiciliary rights are not only . . . .


Selten Gehorte Musik Streichquartett 558171 (Romenthalquartett) 2CD
Fourth part in the Selten Gehörte Musik reissue series. Two CD's packaged in illustrated 12" LP gatefo...




Nam JUNE PAIK Abart von Kunstlern
Reissue of tape from 1972. Edition of 200 copies. "a re-issue of a tape originally published by albrecht.d in 1972 t...




Sam Kidel Disruptive Muzak
Sam Kidel's debut for The Death of Rave is a deft subversion of Muzak's meaning, application and affect, employing gover...




Riccardo Sinigaglia Dimensions
Very nice late 80s early 90s recordings from the man behind Futuro Antico "In this record I have sought to integrate tho...




Robert Crouch A Gradual Accumulation of Ideas Becomes Truth
The five pieces that comprise A Gradual Accumulation of Ideas Becomes Truth originate from a series of long fo...




France Jobin Singulum
Returning to Line after her critically acclaimed 2012's Valence, France Jobin brings us the four sparse elegant wor...




Dan GRAHAM Dan Graham & The Static at Riverside Studios London
Dan Graham & The Static at Riverside Studios London was originally released in 1979 by Audio Arts. The cassette...




Orchester 33 1/3 Play Brix
Recorded live at 'Music Unlimited' Festival in Wels (Austria) November 1996. Contains an additional movie about the orch...




Piero Umiliani La Legge Dei Gangsters
First complete vinyl edition of the great Piero Umiliani's jazz score for La legge dei gangsters (Gangster's Law), an ob...




Chris ABRAHAMS Fluid To The Influence
LP version. Chris Abrahams returns with Fluid To The Influence. Building upon the foundation of his previ...




Stelvio Cipriani Tentacles (Tentacoli)
A fabulous, jazzy, psyched-out score with extremely '70s vibes and high-energy mood composed by the maestro Stelvio...




Daniela Casa Ricordi D'Infanzia
*available for pre-order* Ricordi d'Infanzia, originally released on the legendary Italian label Flirt in 1975 is an exc...




Daniela Casa Societa Malata
*in stock* Società Malata (Sick Society) from 1975 is an extraordinary collection of experimental, ambient a...




Alessandro Alessandroni I Cantori Moderni Di A. Alessandroni
The only existing full-length recording of I Cantori Moderni Di Alessandro Alessandroni, the legendary vocal group ...




Sarah Hennies Gather & Release
Gather & Release is the result of years worth of composer Sarah Hennies' exploration of the vibraphone in synthesis ...




Anne La Berge The hum
Anne La Berge, flutes and voice. Joe Williamson, double bass and voice. Flutist-composer Anne La Berge, an American...




Mikael Seifu Zelalem
Mikael Seifu's Zelalem is an ode to – and a fearless break from – the storied lineage of Eth...




Keiji HAINO Stockhausen - Aus den Sieben Tagen
180-gram LP version in gatefold sleeve. Includes download code. Edition of 500. The third collaboration between Keiji Ha...




HEUTE & DER MUSIKANT Bu/Bu-Musikverbreitung - Recordings 1980-1985
Limited edition of 400. After ten years of planning and intensive artists-convincing, a dream for many collectors of mi...




TRAD, GRAS OCH STENAR Trad, Gras Och Stenar
Anthology Recordings reissue material from the definitive lost Swedish prog rock band, Trad, Gras och Stenar. Six vinyl...




Claudio ROCCHETTI Memoria Istruttiva
*limited edition gold vinyl** Claudio Rocchetti new albums is a dramatic way of loosing yourself. Memoria Istruttiva is,...




HEROIN IN TAHITI Death Surf
*in stock* On the occasion of the 10th anniversary of the label, this impossible to find and looked after debut LP by He...




Francesco CAVALIERE Gancio Cielo 2
"Gancio Cielo 2 - Il Gruppo Respingi Comete" is the second chapter of Gancio Cielo, a saga by Francesco Cavaliere. This ...




Urban Sax Spiral
1991's Spiral makes its first ever appearance on vinyl format here. Previously it had only been available on a impossibl...




Urban Sax Fraction Sur Le Temps
Urban Sax's third LP was recorded in 1982 & 1985, and released in 1985 on Celluloid, and it is an absolute diamond ...




Urban Sax Urban Sax 2
Urban Sax's second LP, issued in 1978 on Cobra, is the continuation of their debut work. Actually it features parts 2 a...




Urban Sax Urban Sax 1
Much-needed reissue of these incredible LPs. Urban Sax's debut LP was issued in 1977 on Cobra, recalling the best Terry...