REVELATION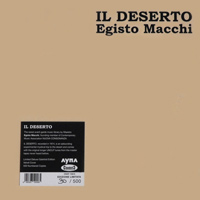 Egisto Macchi
Il Deserto
A real masterpiece! The continuous search of Italian library music of the golden age for replication has led Cinedelic to deepen in the last year a r . . . .
HIGHLY RECOMMENDED
Jean Guerin
Tacet
Highly surreal and wonderfully futuristic, Tacet, one of the best kept secrets of the Futura catalog, is the 1971 soundtrack work of Jean Guéri . . . .


METZENGERSTEIN Alchemy To Our Days
**shipping the next week** Metzengerstein is a Tuscany-based trio including members of art collective Ambient-Noise Sess...




Francisco Lopez La Selva
Finally available, in full-lenght original audio piece (71 minutes) on 24-bit / 48kHz digital USB flat memory-card with ...




Max Eastley Another Evening at Logos 1974/79/81
**restocked** Previously-unreleased recordings from live sessions at the Logos Foundation, Ghent, Belgium, recorded in ...




Narassa Viaggio Pop 1 & 2
This double LP by Sandro Brugnolini under the pseudonym of Narassa, is a mix of funk and progressive rock with drums, el...




Egisto Macchi Nucleo Centrale Investigativo
Another gem from Cinedelic covering the legendary Egisto Macchi of Gruppo di Improvvisazione Nuova Consonanza fame. Nucl...




Piero Umiliani Tra Scienza e Fantascienza
2015 restock - "Tra scienza e fantascienza", is an album of histrionic Piero Umiliani recorded under the pseudonym Moggi...




EVOL Flapper That
Concentrated, Bendy Acid From Computer Rave Hooligans Evol, debuting their first release for Diagonal. RIYL: Belgian Te...




M.E.S.H. Piteous Gate
Following his acclaimed 2014 Scythians EP (PAN 052EP), M.E.S.H. returns to PAN with his debut album, the opulent and dys...




Alessandro Cortini Risveglio
Limited gatefold double LP version. Though known as a touring and recording musician associated with Nine Inch Nails, Al...




Syntoma Syntoma
LP version. These recordings pull back a curtain to reveal the mysterious world of Syntoma and early-'80s underground Me...




Virginia Genta Det Kritiske Punkt
Edition of 150 copies only "Spine-tingling free improv fire-blast from an international quartet with deep underground ro...




MV & EE Alpine Frequency
Matt Valentine and Erika Elder have been cutting new synaptic pathways through brainic underbrush since before most peo...




Michael Ranta Yuen Shan
Double LP, limited to 300 copies only. Mindblowing!!! A gorgeously dreamlike album,  suspended in a timeless, spiritu...




Nikolaienko The Sounds Of Pseudoscience
Nikolaienko's upcoming full length is a playful and intriguing archive of sounds influenced by the works of electronic m...




VIVENZA Fondements Bruitistes
« The Bruitist Foundations of Action » (french title « Fondements Bruitistes d'Action...




DIE FORM Die Form - Fine Automatic 2
This release is the unique and complete full album from one of the Die Form side projects, named "Fine AutomatiC &a...




Le Syndicat Audiostatik Repress
Awsome! Le Syndicat with this reissue of Audiostatik Repress from 1983, certified to be a head-cleaner of brutalist ...




BRUME Friction
"Friction" is a compression of the two first official tapes of Brume, "Frikture" 1985 and &ld...




Marian Zazeela The Black Record
latest copies **warning, this in unofficial release not authorized by the artists** grey-area treatment of one of the mo...




Guido & Maurizio De Angelis Torso (I corpi presentano tracce di violenza carnale)
The legendary Torso (1973), considered one of the precursors of the slasher genre, was directed by Sergio Martino follow...




Dick Hyman Moon Gas
There is a distinct possibility that this is the greatest record ever recorded before 1968. Space age bachelor pad mus...




Clara Modshine Luna Africana
Clara Mondshine was a musical project of the late radio director, journalist, and composer Walter Bachauer, who worked ...




Nino Nardini Jungle Obsession
Released in 1971, under the blanket of library music anonymity, Jungle Obsession is one of those rare and precious reco...




Ataraxia The Unexplained
Electronic impressions of the occult, reissued for the first time. The late, great Mort Garson (1924-2008) was a hotshot...