REVELATION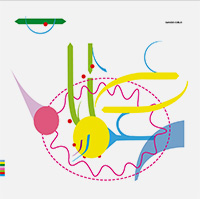 Francesco CAVALIERE
Gancio Cielo
Gancio Cielo is the first full length of Francesco Cavaliere, an artist we had the pleasure to introduce to the public some years ago with a legenda . . . .
HIGHLY RECOMMENDED
PRIMA MATERIA
Prima Materia
Special 10th anniversary edition & first time available on vinyl. A totally immersive listening experience and a true testament to the pow . . . .


Charles Mingus Shadows (O.s.t)
For the first time on vinyl, Charles Mingus's great score for the legendary 1959 directorial debut of John Cassavetes, S...




Steven Stapleton Painting with Priests (Red LP)
**red version, few copies available** Robot Records, Yesmiisolga and Elica are happy to present the first Christoph Heem...




Guy REIBEL Douze inventions en six modes de jeu
Previously unreleased music (mid 70s) from legendary French avant-garde electronic music visionary, pioneer and Grm rebe...




IF - BWANA Thirty
Originally released as a 3 CDr set on Inyrdisk to commemorate 30 years of If, Bwana, and now available on manufactured ...




Fossil Aerosol Mining Project The day 1982 contaminated 1971
An enigmatic cartel of urban spelunkers, ruinous sound ecologists and earnest refuseniks, the Fossil Aerosol Mining Proj...




Jacob KIRKEGAARD Arc
Holotype Editions is pleased to present a new work by acclaimed sound artist Jacob Kirkegaard. Arc was originally commis...




Tim HODGKINSON Cuts
Tim Hodgkinson about Cuts: "These rambles concern technical aspects of the pieces on this CD. In the first piece, a solo...




Marinos KOUTSOMICHALIS Ereignis
Following Ramifications, a collaboration with Z'EV which resulted in a mammoth two-hour long track of processed Organ re...




Michalis MOSCHOUTIS Nylon
Greek musician Michalis Moschoutis delivers his debut full length release with a radical exploration of t...




BRAEN'S MACHINE Temi Ritmici e Dinamici
** shipping on Tuesday ** If you are among those who own the two previous Braen's Machine LPs, Underground and...




Piero Umiliani Synthi Time
** shipping on Tuesday ** Synthi Time is perhaps one of the most suitable albums - within Umiliani's incredibly vas...




Piero Umiliani Fischiando In Beat
** shipping on Tuesday ** Due to a perhaps too buoyant and unfitting title and to a ridicolously limited distribution (e...




Ennio Morricone L'umanoide
For the 1979 cult sci-fi movie L'umanoide (The Humanoid), directed by Aldo Lado (credited asGeorge B. Lewis), the legend...




Bruno Nicolai Gatti Rossi in un Labirinto di Vetro (Eyeball)
The classic 1975 Italian thriller Gatti rossi in un labirinto di vetro (Eyeball), directed by Umberto Len...




VARIOUS ARTISTS Broadcast #01
Soundtrack composed for Live Arts Week 2012 that took place in Bologna from 25.04.12 to 29.04.12, compiled by Claud...