REVELATION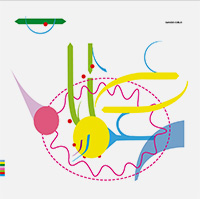 Francesco CAVALIERE
Gancio Cielo
Gancio Cielo is the first full length of Francesco Cavaliere, an artist we had the pleasure to introduce to the public some years ago with a legenda . . . .
HIGHLY RECOMMENDED
PRIMA MATERIA
Prima Materia
Special 10th anniversary edition & first time available on vinyl. A totally immersive listening experience and a true testament to the pow . . . .


Charles Mingus Shadows (O.s.t)
For the first time on vinyl, Charles Mingus's great score for the legendary 1959 directorial debut of John Cassavetes, S...




KSIEZYC Rabbit Eclipse
Rabbit Eclipse is the second full-length recording from the legendary Księżyc following on from their self titled ...




Lino Capra Vaccina Antico Adagio
** small repress available ** Deluxe CD edition containing both albums. Before an aberrant idea of progress and workahol...




Steven Stapleton Painting with Priests (Red LP)
**red version, few copies available** Robot Records, Yesmiisolga and Elica are happy to present the first Christoph Heem...




Guy REIBEL Douze inventions en six modes de jeu
Previously unreleased music (mid 70s) from legendary French avant-garde electronic music visionary, pioneer and Grm rebe...




IF - BWANA Thirty
Originally released as a 3 CDr set on Inyrdisk to commemorate 30 years of If, Bwana, and now available on manufactured ...




Jacob KIRKEGAARD Arc
Holotype Editions is pleased to present a new work by acclaimed sound artist Jacob Kirkegaard. Arc was originally commis...




Yves BOULIANE Champ (10 operations)
Cello solo. Recorded on January 15, 1977. Originally released as a limited edition audio cassette (10 copies).Yves Bouli...




Tim HODGKINSON Cuts
Tim Hodgkinson about Cuts: "These rambles concern technical aspects of the pieces on this CD. In the first piece, a solo...




Michalis MOSCHOUTIS Nylon
Greek musician Michalis Moschoutis delivers his debut full length release with a radical exploration of t...




Eric LA CASA Soundtracks
Three compositions made for films. 1 – 4 . A grammar for listening 2 From Luke Fowler's 16mm film "A...




BRAEN'S MACHINE Temi Ritmici e Dinamici
** shipping on Tuesday ** If you are among those who own the two previous Braen's Machine LPs, Underground and...




Piero Umiliani Synthi Time
** shipping on Tuesday ** Synthi Time is perhaps one of the most suitable albums - within Umiliani's incredibly vas...




Piero Umiliani Fischiando In Beat
** shipping on Tuesday ** Due to a perhaps too buoyant and unfitting title and to a ridicolously limited distribution (e...




Bruno Nicolai Gatti Rossi in un Labirinto di Vetro (Eyeball)
The classic 1975 Italian thriller Gatti rossi in un labirinto di vetro (Eyeball), directed by Umberto Len...




Fulkanelli Harmonikes Mundi
Duo devised by the magic drummer Paolo Mongardi (ZEUS!, Fuzz Orchestra) and the Grand Master of the 6 Strings Cristian N...