HIGHLY RECOMMENDED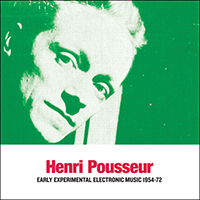 Henri POUSSEUR
Early Experimental Electronic Music 1954-72
Outstanding, unreleased before fundamental electronic In 1954, Henri Pousseur was twenty-five when he composed his first piece of electronic music in . . . .


Tonio Rubio Rhythms
Antoine or Tonio Rubio has been an ever busy musician, composer and performer since the early 1960s in the French scen...




Clara Mondshine Memorymetropolis
Walter Bachauer has been an active part of Berlin's but all in all Germany's electronic and progressive music scene as...




Roland Bocquet Paradia
Orifginally released on the legendary Cobra label (best-known for some legendary French electronic based acts: Heldon, ...




Cecil Leuter Pop Electronique
Remarkable record of 1960's French electronic library music, of a somewhat experimental bent. Cecil Leuter (whose ...




Egisto Macchi Pittura Contemporanea / Moderna N. 1 & 2
** restocked, very last copies, sold out at source ** 3xLP housed in a luxurious hard cover box with canvas painting cov...




CLEVELAND WRECKING COMPANY Say There's A Reason
The Cleveland Wrecking Company were formed in San Francisco in 1965. Their members came from jazz, flamenco and R&...




Kurt Stenzel Jodorowsky's Dune Original Motion Picture Soundtrack
This is the soundtrack to the story about the greatest film that never was. Jodorowsky's Dune tells the tale of cu...




HEROIN IN TAHITI Sun and Violence
** 2016 small repress ** Heroin In Tahiti return with "Sun And Violence": a mammoth double LP. Source and in...




Human Inferno Medication
Welcome return from erstwhile Oslo punk David Gurrik, a.k.a. Human Inferno, with a killer slab of advanced caveman elect...




Gabriele Emde Die Natur der Klange: Neue Musik fur Harfe
Gabriele Emde-Hauffe was born in 1953 in Darmstadt, Germany. She received a humanistic education at a local grammar sch...




Clara Iannotta A Failed Entertainment: Works 2009-2014
Italian composer Clara Iannotta (born 1983) on her work: \"I am particularly interested in music as an existential, phy...




Mike COOPER New Kiribati
Discrepant presents the first ever vinyl release of Kiribati, the very first instalment in the acclaimed Ambient Exotic...




Lubomyr Melnyk Evertina
"We first introduced Lubomyr Melnyk and his unique continuous music technique to a wider audience with 'Corollaries', a...




SPK S.P.K. Dokument - Recordings 1979-83
Mind-crushing 7LP box set housed in a deluxe book-like folder featuring the earliest recorded material from the legenda...




EXPERIMENTAL PRODUCTS Glowing in the Dark
Highly anticipated reissue of the 80's Dance/Synth-Classic "Glowing in the Dark" Originally released on Short Circuit Re...




MUSLIMGAUZE Muslimgauze LP in bundle
Limited Edition Pressings of ten separate Muslimgauze Albums circa 1983-1988 now available as standalone, separate rele...




FENNESZ Mahler Remix
Mahler Remix was recorded live at RadioKulturhaus, Vienna, in May 2011. This recording is mostly based on samples t...




Ande Somby Yoiking with the Winged Ones
Immersive field recordings of traditional Finnish chants, or Yoiks, sung by Ánde Somby, recorded and edited by Ch...




Otomo YOSHIHIDE Guitar solo 2015 RIGHT
Otomo's Guitar Solo "LEFT" was released last summer but "RIGHT" is completely different from "LEFT". the 123 short fra...




ATRAX MORGUE Necro Box
Atrax Morgue is the brainchild of Marco Corbelli as sound project started in th...




This Heat Health and Efficiency
Long awaited vinyl reissue of Health and Efficiency (1980) - the loosely driven, uplifting and abstract follow-up ...




This Heat Deceit
Another essential reissue, This Heat's classic Deceit completes an official trilogy of vinyl reissues f...




VIDEO-AVENTURES Camera (In Focus) Camera (Al Riparo)
Megaphone, in association with Knock'em Dead pull out a real diamond here: tape-loops experiments, musique concrè...




Rafael Anton Irisarri A Fragile Geography
Rafael Anton Irisarri's A Fragile Geography is a record cast in a climate of unsteadiness and transition, reflecting up...