For the 30th birthday of INA, the GRM has decided to present in this CD box some of his archives. INA - GRM (Institut National de l'Audiovisuel - Groupe de Recherches Musicales) in Paris, France, is the pioneering organisation of electroacoustics, acousmatics and musique concrète, with a history going back many decades, as active today as ever, recording and releasing a long string of historically important, but also new and innovative, electracoustic works, while also engaging in research into new techniques and teaching. The Acousmonium of the GRM is utilized giving renowned concerts of electroacoustic music.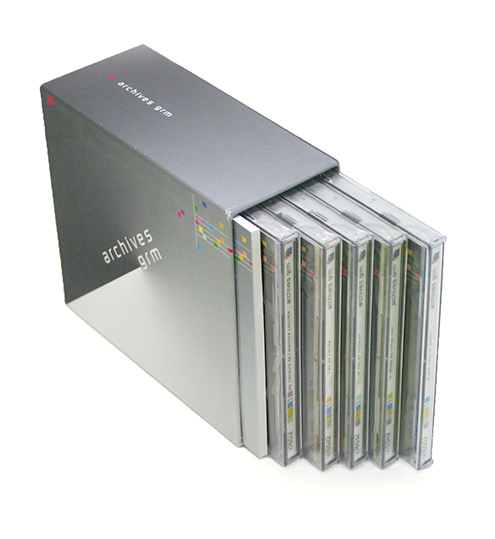 CD1 'les visiteurs de la musique concrete' : Andre Hodeir - Pierre Boulez - Jean Barraque - Darius Milhaud - Roman Haubenstock-Ramati - Henri Sauguet - Edgar Varese - Andre Boucourechliev - Claude Ballif - Iannis Xenakis - Olivier Messiaen. CD2 'L'art de l'etude : Pierre Schaeffer - Monique Rollin - Michel Philippot - Philippe Arthuys - Luc Ferrari - Francois-Bernard Mache - Mireille Chamass-Kyrou - Ivo Malec - Philippe Carson - Akira Tamba - Beatriz Ferreyra - Alain Savouret. CD3 'Le son en nombres ' : Francois Bayle - Dieter Kaufmann - Jean-Claude Risset - Ivo Malec - Denys Smalley - Gilles Racot - Yann Geslin - Benedict Maillard - Jean Schwarz - Francis Dhomont. CD4 'Le temps du temps reel' : Bernard Parmegiani - Ake Parmerud - Denis Dufour - Horacio Vaggione - Alain Savouret - Francois Bayle - Gilles Racot - Daniel Teruggi - Ramon Gonzales-Arroyo - Michel Redolfi. CD5 'Le grm sans le savoir' : Bernard Parmegiani - Robert Wyatt/F. Bayle - Francois Bayle - Alain Savouret - Jean Schwarz - Michel Portal/J. Schwarz - Boris Vian/B. Parmegiani - Robert Cohen Solal - Guy Reibel - Edgardo Canton - Christian Zanesi.
Notes
Tracklisting
Cardboard box with five CD's in single jewel cases celebrating the 30th Anniversary of Groupe de recherches musicales (GRM now INA-GRM directed by Daniel Teruggi) including 80-page booklet with 101 pictures. Each CD comes with a 24- to 32-page booklet.
Recorded at Studio GRM Paris. Pre-mastered at GRM.
Pressed and produced in France by SNA.

1-1 André Hodeir – Jazz Et Jazz 3:21
1-2 Pierre Boulez – Étude 1 2:43
1-3 Pierre Boulez – Étude 2 3:00
1-4 Jean Barraqué – Étude 5:40
1-5 Darius Milhaud – La Rivière Endormie 8:19
1-6 Roman Haubenstock-Ramati – L'Amen De Verre 5:17
1-7 Henri Sauguet – Aspect Sentimental 7:57
1-8 Edgard Varèse – Désert: Interpolation 1 3:20
1-9 André Boucourechliev – Texte 2 4:40
1-10 Claude Ballif – Points-Mouvements 10:19
1-11 Iannis Xenakis – Concret PH 2:50
1-12 Olivier Messiaen – Timbres Durées 15:08
L'Art De L'Étude
2-1 Pierre Schaeffer – Étude Pathétique 4:05
2-2 Monique Rollin – Étude Vocale 1:12
2-3 Michel Philippot – Étude N°1 5:14
2-4 Philippe Athuys* – Boîte À Musique 2:55
2-5 Pierre Schaeffer – Étude Aux Allures 3:31
2-6 Luc Ferrari – Étude Aux Sons Tendus 2:49
2-7 Luc Ferrari – Étude Floue 2:18
2-8 Luc Ferrari – Étude Aux Accidents 2:15
2-9 François-Bernard Mâche – Prélude 5:31
2-10 Pierre Schaeffer – Étude Aux Objets, 1er Mvt 3:37
2-11 Mireille Chamass-Kyrou* – Étude 1 5:13
2-12 Ivo Malec – Reflets 2:34
2-13 Philippe Carson – Phonologie 6:53
2-14 Akira Tamba – Étude N°2 3:28
2-15 Beatriz Ferreyra – Mer D'Azov 3:36
2-16 Alain Savouret – Étude Aux Sons Réalistes 4:09
2-17 Alain Savouret – Étude Numérique 6:37
Le Son En Nombres
3-1 François Bayle – Eros Bleu 7:40
3-2 Dieter Kaufmann – Voyage Au Paradis 3:56
3-3 Jean-Claude Risset – Sud 5:51
3-4 Ivo Malec – Week-end 7:57
3-5 Denis Smalley – Wind Chimes 6:47
3-6 Gilles Racot – Anamorphées 7:21
3-7 Yann Geslin – Variations Didactiques 5:04
3-8 Bénédict Mailliard – Affleurements 4:25
3-9 Jean Schwarz – Quatre Saisons (Hiver) 5:45
3-10 Francis Dhomont – Novars 6:50
Le Temps Du Temps Réel
4-1 Bernard Parmegiani – Exercisme 3 6:02
4-2 Ake Parmerud* – Les Objets Obscurs 4:43
4-3 Denis Dufour – Pli De Perversion

Synthesizer – Denis Dufour, Yann Geslin
Performer – TM+
Violin – Laurent Cuniot

7:12
4-4 Horacio Vaggione – Ash 7:04
4-5 Alain Savouret – La Complainte Du Bossué

Double Bass – Frédéric Stohl

8:54
4-6 François Bayle – Mimaméta 6:11
4-7 Gilles Racot – Subgestuel

Percussion – Les Percussions De Strasbourg

5:23
4-8 Daniel Teruggi – Instants D'Hiver 6:41
4-9 Ramon Gonzales-Arroyo* – De La Distance

Double Bass – Jean-Pierre Robert

5:38
4-10 Michel Redolfi – Appel D'Air 3:47
Le GRM Sans Le Savoir
5-1 Bernard Parmegiani – Indicatif Roissy 0:07
5-2 Robert Wyatt / François Bayle – It 3:38
5-3 Bernard Parmegiani – Indicatif France Culture 1:14
5-4 Alain Savouret – Valse Molle 10:14
5-5 Bernard Parmegiani – Indicatif Stade 2 0:26
5-6 Jean Schwarz – Il Était Une Fois

Other [Dance] – Carolyn Carson

7:41
5-7 Jean Schwarz – Sonal France Culture 0:17
5-8 Michel Portal / Jean Schwarz – Chantakoa 4:51
5-9 Boris Vian / Bernard Parmegiani – L'Alcool Tue

Vocals – Caroline Cler

4:13
5-10 Robert Cohen-Solal – Les Shadoks 7:58
5-11 Guy Reibel – Canon Sur Une Trompe Africaine 2:57
5-12 Edgardo Canton* – Rengaine À Pleurer

Vocals – Mouloudji
Lyrics By – Jean Tardieu

2:51
5-13 Bernard Parmegiani – La Roue Ferris 10:48
5-14 Christian Zanési – Sonal RATP 0:04