Within the history of 20th century music, and across the legacies of musical Minimalism, few voices command more respect and adoration than that of Charlemagne Palestine. Discovered by Tony Conrad working in the shadows, once unveiled, the pianist, organ player, and composer, rapidly became a seminal voice in the 1960's and 70's New York sonic avant-garde - contributing many the ideas which came to define that movement. While Palestine has returned to us in recent years - entering his most prolific period, for decades he was lost from view. In 1974, he released two albums - Four Manifestations On Six Elements, and Strumming Music - both seminal works within the cannon of Minimalism, before pushing onward across other creative paths for the next 25 years. Since the late 90's, Palestine has sculpting a towering body of astounding work - making up for lost time, but his most coveted, sought after, and beloved works remain those found within his slim output from the middle of the 70's. Long thought to be all there was, we are overjoyed to announce a momentous event - the release of long lost recordings, made in 1974, now emerging in the hands of Alga Marghen.
 
In 1974, Ileana Sonnabend - one of the most iconic voices in contemporary art, commissioned Palestine to create a limited edition double LP to celebrate the opening of her new Soho gallery - the final result of which was Four Manifestations On Six Elements. Several recording attempts were made - the first in Pennsylvania, on Swarthmore College's Bösendorfer Imperial Piano. Created late at night, under the guidance of Mayo Thompson and Kurt Munkacsi, in the college's cavernous theater, these stunning recordings, which make up Alga Marghen's LP Arpegiated Bösendorfer + Falsetto Voice, are of profound historical importance - standing on their own in shimmering beauty, while offering remarkable insights into the formation of the album which has become adored and so well known.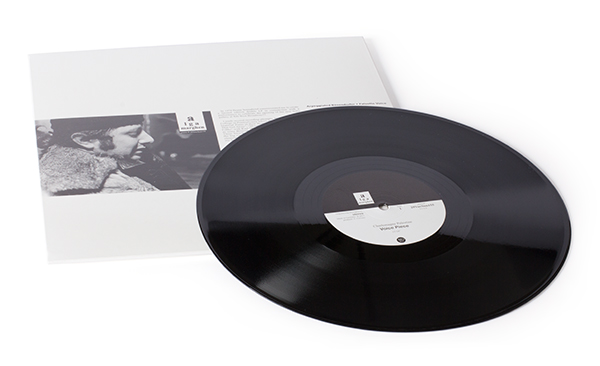 The fact that the recording, which make up Arpegiated Bösendorfer + Falsetto Voice, were pushed into the shadow for over 40 years, seems confounding. While different than Four Manifestations On Six Elements, they are equally as astounding, and as such, among the most important recordings from the history of Minimalism ever made. They encounter Palestine consumed by extraordinary creative powers - charting sonic territories which no composer had yet to trace. Stemming from his technique of strumming the piano - repeating a succession of notes to generate overtone harmonics, Swarthmore's Bösendorfer becomes a immersive, rippling cloud of ambience and rhythm - later enforced and heightened by entry of a falsetto voice. Profound, consuming, and enough to bring the most hardened listener to tears, beyond the stunning quality of Palestine's piano playing, it is the second element which makes these recording so singular and unique. Though singing has been given an occasional presence in the composer's more recent works, it is entirely absent from his early releases. This is a rare glimpse into an aspect of his work from this period that few have been allowed to recognize - amounting to stunning revelation of towering beauty and overwhelming humanity and intimacy.
   
Musically overwhelming and overflowing with history, Arpegiated Bösendorfer + Falsetto Voice is unquestionably one of the most important releases of this year, decade, and century. Brought to light within the incredible body of efforts that makes Alga Marghen so great, and issued as part of their VocSon series, the LP is available in a tiny edition of 405 copies. If there is one album to buy this year, this has got to be it! One of the greatest albums of musical Minimalism, that the world never heard.
Cat. number: cat No. plana-P 29VocSon.155
Year: 2017