Born out of necessity and a love of the music and the records, the aim of this book is to offer a guide to a selection of independent labels and their releases of free jazz, improvisation and generally jazz outside of the mainstream between 1965 and 1985, with 1965 being the year when ESP-Disk' started out as the first independent label dedicated to the music covered in this book, and 1985 being the year that the CD slowly started to take over as the main sound carrier. However, we have stretched the frames a little bit on a few occasions. 60 labels are presented, each with an introduction and a discography, either complete or by the author´s personal choice. There are also 64 sleeve illustrations, including some extremely rare ones, as well as forewords by Swedish sax player and composer Mats Gustafsson and Rune Grammofon founder Rune Kristoffersen.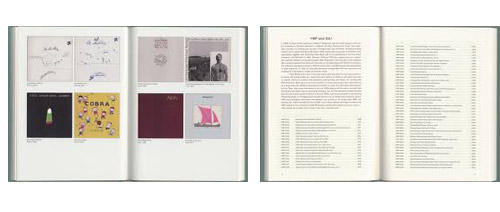 Finally, there is a conversation between Kristoffersen and music writer Rob Young. Author Johannes Rød is working freelance as an art historian and conservator and has written several books on visual art. He is also an avid record collector since the late sixties. The book has 128 pages with layout and design is by Kim Hiorthøy, and it comes in a beautiful hardback Geltex cover.
The main body of the book is an alphabetical listing of sixty independent labels from the US, UK and mainland Europe. Major labels such as Impulse!, Blue Note and Atlantic have deliberately been omitted as their output is widely documented elsewhere and in some cases their independent status has been compromised in more recent times. Rød is at pains to point out that the selection of labels and the listings of their output is entirely subjective and largely a matter of personal choice. For labels with an output consisting mainly of free jazz or avant garde releases the entire catalogue is listed. In the case of those who also issued more mainstream jazz releases the entire catalogue is listed if the total output is small, an example being the London based Cadillac label founded by John Jack. For larger companies Rød has merely made a personal selection, a good illustration of this being ECM where the author has selected a mere ten discs from the company's very early years (1970-73). Occasionally listings will stray slightly outside the time restaints for reasons of completeness and continuity.

Each entry includes a brief history of the label followed by a list of recordings with their dates and catalogue numbers. Details of instrumentation and track listings are not included. Rod's starting point for the project was the ESP Disk label founded in 1964 in New York by Bernard Stollman, the name a shortened version of the original Esperanto Disko. This is the kind of obscure fact that makes this book so fascinating (similarly the German JAPO label was an abbreviation for "Jazz by Post"). ESP Disk was the recording home of Albert Ayler who's 1965 album "Spiritual Unity" was the label's second release and was a record that had a profound influence on many of the other recordings listed in this book.

Given Rød's involvement in the world of visual art it is perhaps not too surprising that he also pays considerable attention to the designs of the sleeves in which these recorded artefacts were contained. Halfway through the book there are sixty four colour illustrations of influential album sleeves, many of them from the collections of Rød and Kristoffersen. Most of these still look remarkably contemporary and several represent genuine design classics. The illustrations are drawn from both sides of the Atlantic with ESP Disk's distinctive cover art and photography leading the way, the label's graphic designers including Howard Bernstein, Dennis Pohl and Jordan Matthews.