**few copies back in stock** Grey-area reissue of this legendary album: another masterpiece of British jazz reissued on LP, where it joins other long unavailable classics such as Amancio D'Silva's Integration, recently released on Pheon.
Recorded in '69, Greek Variations & Other Aegean Exercises is irresistible on two counts. First, for its daringly conceived and brilliantly performed music, inspired by Greek folk songs and instrumental textures and deep enough to reveal all its treasures only after many repeated listenings. Second, for being recorded at the moment when the Don Rendell/Ian Carr Quintet, a major force in British straight-ahead jazz since '62, had broken up and Carr's equally influential jazz-rock band Nucleus was rising from the ashes.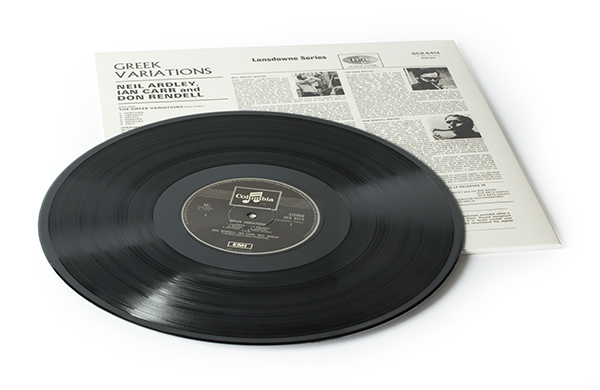 The first half of the album has composer Neil Ardley directing a fourteen-piece chamber orchestra featuring Rendell and Carr, plus a supporting cast of creme de la creme British musicians in "The Greek Variations," a six-part suite based on a traditional Greek folk tune. The second half features in turn a quintet led by Carr—Nucleus in all but name—and a quartet led by Rendell, on shorter suites maintaining a Greek flavour and ambience.
An undercurrent of brooding turbulence surfaces at various points in the "Variations" suite, as though some sort of tidal wave might erupt from the Aegean at any moment, but at other times the mood is sunnier and vivacious (or delicately moonlit), and there are lovely solo passages, both improvised and composed, from Frank Ricotti on marimba/vibraphone, Karl Jenkins on oboe, Rendell on alto flute (on which he has a voice as distinctive as on tenor sax) and Carr on flugelhorn. Comparisons with the Miles Davis and Gil Evans collaborations inevitably spring to mind. But Carr, though strongly influenced by Davis, is ultimately his own man, and Ardley is absolutely so too, and the result is an entirely fresh approach to composed/improvised orchestral jazz.
The three Carr-composed tracks are performed by Carr plus Nucleus founding members Brian Smith, Chris Spedding, Jeff Clyne and John Marhsall. "Wine Dark Lullaby" and "Orpheus" conjure up balmy Mediterranean nights, soft and lush, while "Persephone's Jive" is a wild Greek dance made ever more urgent by the sustained clatter of Afrobeat in Spedding's aggressive, staccato comping. Only a few minutes long, but still one of the highlights of the set.
The closing Rendell-composed tracks feature Rendell alongside Stan Robinson, Neville Whitehead and Trevor Tomkins. The wistful "Farewell Penelope" could almost come from a film noir soundtrack, with Rendell's tenor evoking a lonely night-time cityscape. "Odysseus, King of Ithaca" and "Veil of Ino" are fiercer, showing off his well loved ruff 'n' tuff side. (AllAboutJazz)