In the Box (3LP Box)
Label: Spittle, Italian Records
Format: 3LP Box
Genre: Experimental
In stock
* Last copies, reduced price *. A happening -- maybe one could call it that. Confusional Quartet is one of the most original and unique bands to ever come out of Italy, and one of the few bands able to switch from the prog rock era to dislocated art forms, painting their music with traces of early electronica and a post-punk twist (read: no wave). A bridge linked the band from Bologna (rock) to the musical past and present of the nation, with senses of urgency and creativity on top and a revolutionary aesthetic revealed between the lines. No lyrics -- the music was truly instrumental, incorporating no social issues, but evoked a future no less narrow with their sonic scenario.
It's really hard to pinpoint the band; they even re-created a singular version of Domenico Modugno's 1958 Sanremo Music Festival-winning "Volare" in a truly devolved way. Italian music history undergoes shock therapy in the exotic manifesto "Samba Paperino" and in the jazz-rock ostinato of "Pronipoti." Now listeners can finally share the whole experience of this truly unique band with this comprehensive box. The first LP contains their 1980 self-titled LP, the second contains their 1981 self-titled 10" EP, and the third contains their 1981 triple-7" flexi disc Documentario, along with previously unreleased bonus tracks. Each LP is presented in its own cover and printed inner sleeve. Limited edition of 500. RIYL: Devo, DNA, The Contortions, Magma.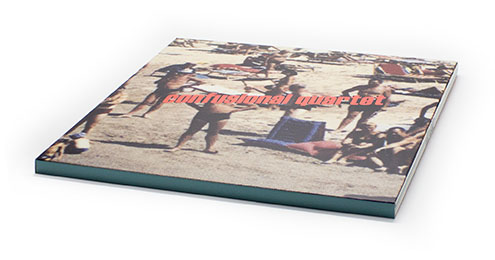 Futurism with its dynamic force, youthful spirit, attention to innovation and a bit of Italian histrionism; the sixties with their hopeful and playful atmosphere and their crisp and catchy music; Italy with its beautiful sun, beaches, Mediterranean brightness and laxity; minimalism with its focus on the deepness of details; all the things happening in Bologna in the late seventies, among some of the newest and most creative experiences in film, performance, fashion and music. With these elements and a strong, confessed musical influence of an unlikely pair like Area and Devo some of the freshest and most original music ever was produced by the Confusional Quartet (Lucio Ardito, bass guitar; Gianni Cuoghi, drums; Enrico Serotti, electric guitar; Marco Bertoni, keyboards), with the help of the inventive craftmanship of their sound engineer Gianni Gitti. Composed as short, fast changing miniatures with crazy rhythms and outstandingly playful and catchy tunes, blending diverse musical genres, very nicely arranged and enriched by a creative use of the recording studio, this 3xLP box represent their almost complete recorded output (including alternative versions and a previously unpublished piece) and show a musical maturity which is quite amazing for a group in which three members out of four were at the time still under 18!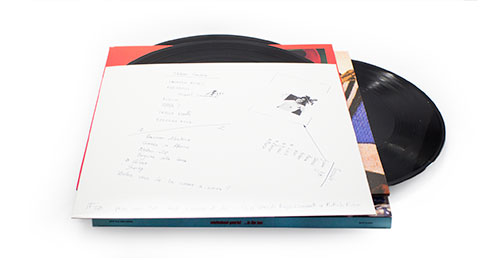 Cat. number: SPITTLE64BOX
Year: 2016
Notes:
3 x LP, edition of 500 copies