**2008 release, long out of print, very few copies available** New release in Tiliqua Records ongoing Archival Series is this quintessential album by Takayanagi Masayuki. It was his debut recording as a leader with his newly erected unit The New Directions, a trio consisting out of bassist Yoshizawa and drummer Toyozumi "Sabu" Yoshisaburo. Recorded at the Teichiku Kaikan studios on 18 September 1969 (released in 1970), "Independence – Tread on Sure Ground," is largely regarded as the first true classic of Japanese free jazz. The group thrashes out an entirely new Japanese methodology for improvisation based on Takayanagis theories about progressive art. As Alan Cummings explains in his liner notes, the groups sonic outburst is pregnant with an urgent intensity similar to a violent rotating windstorm. "An electric guitar string is pinged with a sour and markedly unlovely resonance. It is left to fade away naturally, its dying whisper replaced with a wavering feedback tone that grows steadily in volume and thickness. Against the slow feedback wave, a sudden loud percussive crash, urgent staccato rolls across the toms, and the dry rasp of a rattle. A choppy, non-sequential series of chords from the guitar, still mouth-puckeringly bitter is set against the warmer resonance of an alternately bowed and plucked double bass. Each instrument sounds self-contained, like lunar bodies spinning on their own axes at different tempos, but locked together by unfathomably complex rules of motion. Additional percussive rattles and scrapes have been overdubbed to fill in the blank space. Tendrils of feedback snake in and out, like cosmic dust from some cataclysmic celestial event. The playing is exploratory and deliberate, technically adept and keenly judged, easily sustaining interest and motion across the tracks eleven minutes. Its sense of focused concentration is more akin to the European free improvisation of AMM or The Spontaneous Music Ensemble than the violent ecstasies of American fire music." - Alan Cummings – from the liner notes.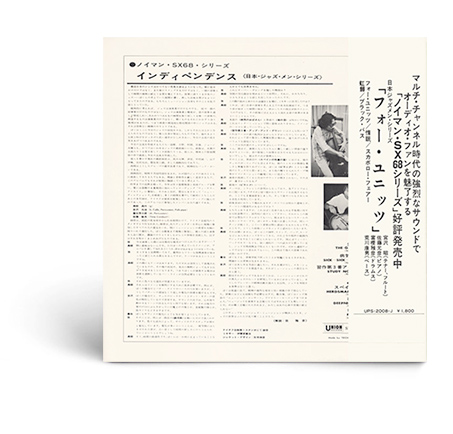 The CD reissue includes also the bonus track "Mass Projection" which was originally issued on the compilation album Guitar Workshop (Teichiku, 1970). This CD is housed in a high quality mini-LP styled gatefold sleeve, completed with obi and extensive 4-paged illuminating liner notes by Alan Cummings. Original artwork is faithfully reproduced. One time only limited pressing." - Tiliqua.
Notes
Tracklisting
Recorded at Teichiku Kaikan Studio on September 18 1969 (tracks 1-6), and February 2 1970 (track 7).
Track 7 was originally included on the compilation "Guitar Workshop" (Union Records, 1970).
Digitally remastered from the original mastertapes.
Gatefold mini-lp sleeve reproduction of the original album with 4-page booklet.
Thanks to Koma-san, Uchida Shizuo, Alan Cummings, Takayo & Yukino.
There are no tracklisting associated with this item