"Claus Bohmler works with the media. Since they seem to function so well, he takes them apart, examines them, and then, perhaps, assembles them anew. This process doesnt create chic elements for the living rooms of the communication-theorists, the sociologists, or the simulation-apocalyptic, but rather the same sort of rudimentary raw material as found in notebooks, drawings, miniture cameras, radios, photostats, and cassettes. Its these poor media that open eyes and ears. Not bound to a cultural-bureaucratic administrative machinery, they atand their ground by presenting an opulence of idea-productions that fragmentate, ferment, combine, and experiment, because according to Bohmler, every substance is good for thinking" - K. Gallwitz. "Especially language materializes, for to Bohmler it is not only commentary, but also a starting point, composition, confusion, and instruction at the same time. Imagine a rhinoceros as a gramophone. With the apt title Materialien zur Postmoderne in Bild und Ton, Bohmlers record for this device present a complex, compact matter. Side A composes three movements with magnetic tape. The concatenation of tapped, blown, plucked, and played sound produces a changing atomosphere and, as with any series of fragments, could go on sounding forever. The enclosed score of this Muzak for progressive idyllists, housewives, and cardrivers - all of whom are not annoyed by sporting airplanes - was written during the recording of the white colored record; its coverdesign mixpickles Stockhausen, Rams, typewritter-esthetic, and fashion. The other side of the record includes a speech by Bohmler about the new German design ("die kombi-nation steht Kopf!") By acoustic revision, the sequence of the recitation is made brittle, pointed, and - again through arrangement of simple elements - the message is decomposed and multilayered. Bohmler, who designs media-furniture, is a polygot: he speaks and write music for all. His living room lecture. Cover: two-color print of a drawing by Claus Bohmler. 30cm, 45RPM, Edition Block, Berlin, No. EB 120. White record, score included." - Broken Music. Featuring Holger Hiller. Original copies from 1986. Highly Recommended!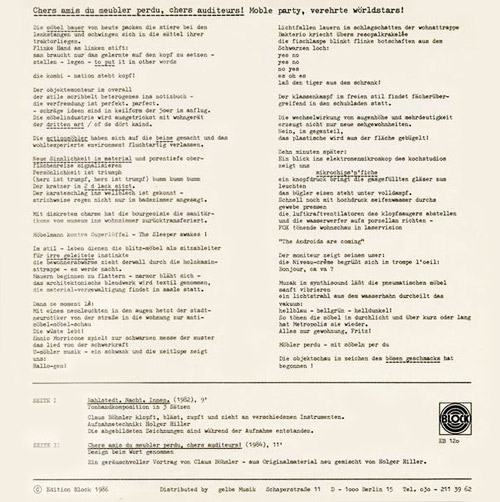 Notes
Tracklisting
Comes with insert reproducing some og the drawings that were produced during the recording of "Rahlstedt. Nacht. Innen." (1982).
"Chers amis du meubler perdu, chers auditeurs !" (1984) is based on a performance by Claus Böhmler in German, English and French.
There are no tracklisting associated with this item