Milestone reissue! Evan Parker's monolithic 1978 solo record Monoceros was originally released on Incus in 1978, and distinguishes itself in several respects: first, because it was recorded by the direct-cut process, whereby the sound pathway went directly from the microphone to a vinyl master. By virtue of eliminating the tape intermediate, the hope was to reduce noise and limit the need for processing and filters. The important functional consequence of this technology was that the musician (and the technicians) had to get it right the first time. In the context of free improvisation, direct-cut served as self-imposed discipline for purists only. In the present day, this process is mostly obsolete.

On Monoceros, Parker explores a wide range of soprano saxophone work, though most of it is hardly recognizable as such: squeaking, squawking, and birdlike noises persist throughout. The first piece on the record spans a long 21 minutes of essentially uninterrupted solo saxophone, facilitated by Parker's exceptional technical command of the instrument: circular breathing, triple-tonguing, false fingering, etc. The guiding principle of this music, as realized by Parker, was to use technical prowess to remove the barriers between the sounds in his head and the sounds coming from his horn. Generations of saxophone players who followed in Parker's footsteps owe a huge debt to his innovations on the instrument. Indeed, none of Monoceros is easy listening: Parker seems driven to play as freely and outspokenly as possible.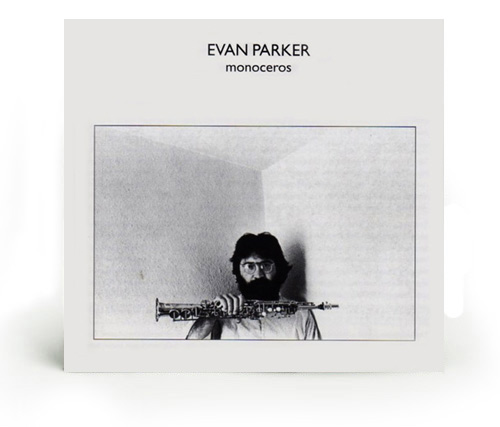 In the pantheon of saxophone colossi, there is a special place reserved for Evan Parker. Taking late Coltrane as his jumping off point, Parker has expanded the language of the saxophone as much as anyone over the past three decades. A central figure in the European Free Improv scene alonside Derek Bailey, Peter Brotzmann, John Stevens, Alexander von Schlippenbach and many others, Parker has been a significant force for creative music in an astonishing array of settings.
"Eight years after Topography Of The Lungs, and two years after his Saxophone Solos, Monoceros was the most muscular statement of Evan Parker's solo saxophone muse. Superbly recorded, it seemed to place the listener within the chaotic air flows of the saxophone's own tubing. Philip Clark said: "Parker's dialogue with the saxophone throws up so much that is unexpected, and indeed unknowable, that the problem he faces is how to keep pace with his own invention." TheWire Best Albums of 2015
Notes
Tracklisting
Digitally remastered CD reissue of this album that originally appeared on Incus in 1978.
Recorded 30th April 1978 at Wyastone Leys, Monmouth. "The material here is the complete Monoceros session."
There are no tracklisting associated with this item