Necessary, first ever vinyl reissue of a truly seminal double LP set originally appeared on the Chatham Square imprint in 1975. Canadian artist and film maker Michael Snow was originally a jazz pianist, and he has continued to be involved in music throughout his long career. He arranged for Albert Ayler, Don Cherry, Sunny Murray, John Tchicai, Gary Peacock and his then neighbour Roswell Rudd to record the landmark improvised soundtrack to his film New York Eye And Ear Control (perhaps the first freely improvised recording ever), and has been improvising himself in his group CCMC for more than 30 years. Also a conceptual composer, Snow befriended both Steve Reich and Philip Glass in the late 60s and this double LP is a happy by-product of their association. "Falling Star ts", which covers the entirety of the first LP, is a tape of a piano melody first played back at hyperspeed, then slower and slower until it becomes recognisable before transforming into a thunderous, quivering bass boom. Also included is an intentionally distorted, repetitive stride piano experiment and a whole side of whistling.

"During the years 1973 to 1978 I was represented by the Bykert Gallery in New York, which had the most prestigious stable of any gallery I have been associated with: Dorothea Rockburne, Chuck Close, Brice Barden, and other exhibited there. Klauss Kertess, one of the owners of the gallery, started a record company called Chatam Square, which issued the first Philip Glass recordings. In 1975, Kertess asked me if I would like to issue a recording of my own music.
I attempted to make an integration of the album jacket design, the label design for the two LPs, and the music itself.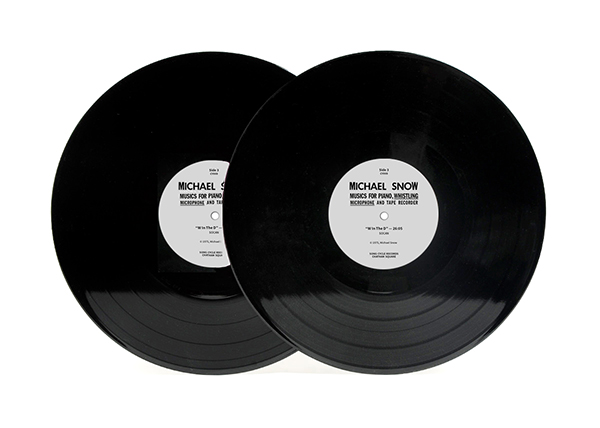 The title of the album Michael Snow: Music for Piano, Whistling, Microphone and Tape Recorder (1975), is quite explicit. The four faces of the album jacket are covered with a printed text that I wrote. By being printed in four diminishing size of type on the four faces (large on the front, diminishing on the two inner faces, and smallest on the back cover), the text design parallels the form of one of the pieces on the album, Falling Stars, which uses a little piano composition I composed and played. By means of recording at different speeds from one tape recorder to another, I made a piece in which this piano "phrase" is first played very fast (and high). The phrase is then repeated, slowing down to a normal recording speed, and then continues to slow down. The pieces takes two sides of an LP, the second side consisting entirely of the slowest version.

One of the two pieces, W in the D, is a twenty-six minute recording of solo whistling I did with a hand-held microphone as an instrument. The work is constructed of a large number of separated whistled  phrases, each of which is preceded by the sound of my breathing in. My breathing in (and out) is recorded differently during each phrase by my moving the microphone closer to or further away from my mouth. Each whistled phrase is a newly invented "line" of no particular genre that could be sustained for as long as I had air in my lungs. The amount of air inspired determined the length of the "line", and each line is different from its predecessor or its follower. There is no development; each virtuoso whistle is frame by the recorder intake of breath. The piece was "improvised", but it is not jazz. W in the D was recorded and had its first public appearance prior to its release on the Chatham Square recording. I had been invited to present something in an evening of performance at NYU. I had all the lights in the auditorium turned off and played Whistling in the Dark through the auditorium PA."
"
Film critic Jonathan Rosenbaum once remarked that Canadian filmmaker, artist, and musician Michael Snow may be the most important living North American artist, and I'm tempted to agree.  Snow is best known for 1) his "Walking Woman" paintings which became a mass reproduced image in Canada in the '60s–the equivalent of Warhol's Campbell's cans here and the "star" of his film NEW YORK EYE AND EAR CONTROL, which many of you may know from 2) the ESP soundtrack which features Albert Ayler, Don Cherry, Sunny Murray, John Tchichai, etc.  What you probably didn't know is that Snow instructed them to abandon playing a "head" (melody at the beginning and end) and just dive right into free playing, which makes the album a landmark in the evolution of free improvisation.  3) His landmark WAVELENGTH, a continuous 45 minute zoom from one end of a loft to an extreme close-up of a postcard on the wall at the other end.  The film is a favorite of mine and John Oswald notes it as an inspiration for PLEXURE; moreover Stanley Kubrick borrowed the last shot for the ending of THE SHINING.
As a musician, Snow played straight-ahead jazz professionally in the '50s, free improvisation with the Artists Jazz Band and CCMC from the '60s to the present and released two solo LPs– MUSICS… and THE LAST LP in 1989.  The first two sides of this set are a piece called "Falling Starts," in which a tape of a short piano melody is played first at hyper-speed, then slower and slower until it becomes recognizable and the until each note becomes a thundering, quivering bass boom.  Only the Dead C's RUNWAY cassette surpasses this for low end speaker mayhem.  As process music, it resembles Steve Reich's unrealized piece "Slow Motion Sound" (in which a music phrase would be slowed down on tape without altering the pitch); as it happens, Snow and Reich are friends (Snow participated in two performances of "Penulum Music" in 1969; Reich used a still from WAVELENGTH on the cover of his Shandar LP; and Snow used snippets from that LP in one section of his film RAMEAU'S NEPHEW).  As early as 1970, Snow's films and Philip Glass's music were being compared (in an article by the playwright Richard Foreman), and this LP was released by Glass, yet despite these associations Snow is seldom recognized as a minimalist musician/composer.
The other piano/tape piece here, "Left Right," features SNow alternating notes and chords in the bass and treble registers in a very repetitive stride piano pattern.  The sound is intentionally distorted and a metronome and telephone are heard.  As mid-'70s low-fi goes, this belongs next to the Screamin' Mee Mees or something–it's pretty brutal.  It's also interesting to note parallels with La Monte Young's early sixties piano playing, which stretched 12-bar blues structures into indefinite modal passages, and with Charlemagne Palestine's "Strumming Music," which also used strict left/right hand alternation to much different effect.
Furthermore, many of Snow's films are conerned with lateral movement (especially BACK AND FORTH and PRESENTS), which makes the title (and the use of a metronome–get it?) a pun on his own art (the totality of his art is kind of an anagram of itself–and not surprisingly, anagrams are a major subject in RAMEAU'S NEPHEW).  In fact, he details the many similarities between his music and his films in his extensive liner notes (which cover all four sides of the gatefold sleeve)." Alan Licht