"Recorded in 1970, Amon Düül's only album for Ohr was a visionary slice of acid-folk which has gained cult status as years passed by. Ritualistic folk-rock, pastoral hippie songs, stoned jams, Eastern flavors, mystical passages and heavy hypnotic riffing which are in fact very different from the early Amon Düül epic freaked-out improvisations (Psychedelic Underground) or Amon Düül II complex and psyched-up progressive works (Phallus Dei). These were in fact archival recordings done by a different incarnation of Amon Duul, one that combined members of both factions into a floating line up welcoming many a guest, and which were released by R.U. Kaiser without the musicians knowledge or authorization, most likely in order to catch up with Amon Düül II rising popularity. All in all, a mythical recording featuring such underground classics as 'Love Is Peace,' 'Snow Your Thurst Sun Open Your Mouth' and 'Paramechanische Welt.' Included also on our edition is their sought after Ohr single: 'Paramechanical World' / 'Eternal Flow.' Another legendary title from the Ohr catalogue rescued by Wah Wah for your listening pleasure. Strictly limited to 500 copies. Sleeve reproducing original artwork from the Ohr original issue. Featuring bonus tracks 'Paramechanical World' and 'Eternal Flow' (originally released as 7" single)."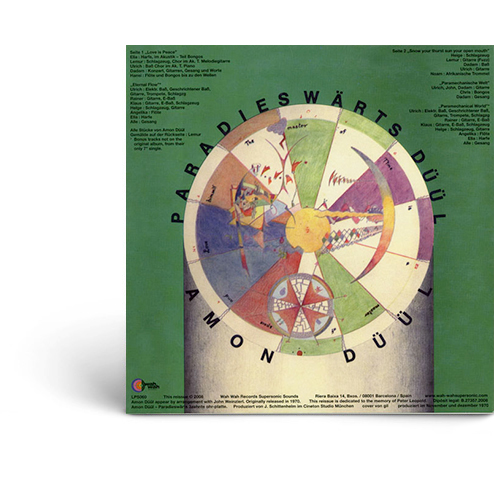 Notes
Tracklisting
ltd 500, Produced in Cineton Studio München December 1970.
Reissue of the original LP on Ohr.
A2 and B3 are bonus tracks, taken from their 7".
There are no tracklisting associated with this item