Considered one of the most influential recording in the history of electronic music, Song Of The Second Moon is far more than an historical curiosity. For the very first time electronic music was conceived as popular music, an incredibly listenable mélange of jazz and musique concrete. Composed by Dutch Philips Research Laboratories employees Tom Dissevelt and Dick Raaijmakers (Kid Baltan) between 1957 and 1961, Song Of The Second Moon's dynamic and playful futurism would inspire legendary figures from Jean Jacques Perrey to Glenn Gould. Indeed, Stanley Kubrick would at one point consider the LP as the soundtrack for his epic film "2001: A Space Odyssey".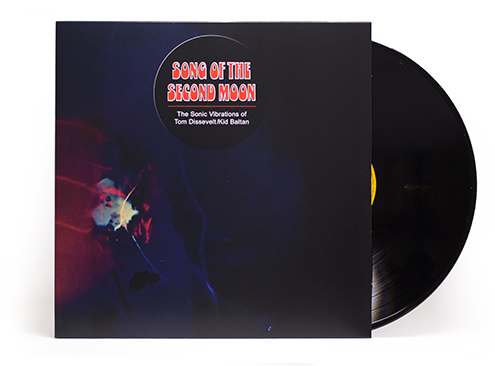 It is amazing what you may discover when you dig the vaults for unknown musical pleasures from the field of electronic music of the pioneer days. This album has been originally released in 1968 but it seems to be a kind of compilation with the best tracks the two electronic music prophets Tom Dissevelt (1921 – 1989) and Kid Baltan (aka Dick Raaijmakers, 1930 – 2013) have created in the late 1950s and early 1960s. Before that it has been released in 1962 under the moniker of THE ELECTROSONICS as "Electronic music". So much for the history of this Dutch project. While kneeling to the gods of Kraut and their epic cosmic journeys we should always keep in mind that courageous music aficionados from a classic or jazz background have been as far out before and maybe even further. There are shreds of melody here and there and there are passages that remind you of primitive rituals from wild folks somewhere in earthly places still undiscovered but most of the time this is a gathering of electronic sound eruptions, strange rhythmical patterns and swirling noises. It is definitely a mind expanding experience and has enough melody to conjure and enchanting atmosphere but should have left every regular music listener back then floored due to its radical approach to popular and progressive music. Nice Egyptian and quite mythical harmonies by an early synthesizer on a pulsating rhythm bed build the song "Sonic re entry", one of the more accessible tracks here that is still miles away from the ordinary and average found in music back then. Orchestral music and jazz are melted somewhere on this record. Elements of exotica, bits and pieces of gentle Latin sounds and whatever was popular back then have been swallowed by thinking machines. And suddenly a dark swing played by an orchestra hits your ears with quite mysterious harmony patterns interwoven with the one or another occasional freak out either in an electronic manner or with a free jazz expression. This could make the soundtrack of a 1950s horror movie or any cool secret agent flick of the time and it even proves one more thing. It shows how well modern, yet handmade popular music and electronics could work together. All this happened years before there were bands like The Silver Apples or even HAWKWIND. I have no clue to whom I may recommend this but it is indeed a real masterpiece. All who enjoy the electronic works of Pierre Henry, musique concrète in general and Stockhausen should give it a try. Made by visionaries for visionaries.
Notes
Tracklisting
Original Philips/Limelight Recordings

Produced by Tom Dissevelt and Dick Raaijmakers.

(P) Originally Recorded 1957-1961. All Rights Reserved By Basta Music/Dick Raaijmakers.
There are no tracklisting associated with this item