**Long out of print, very few copies available** odd japanese african-themed psych rock nugget from 1972 ; lovingly reissued by johan wellens via his tiliqua imprint ... this is kind of all over the place ; switching between a king of "chooglin'" acid/boogie-rock and the kind of "studio full of exotic instruments and lsd" approach perfected around the same time by East Bionic Symphonia & Taj Mahal Travellers" (Mimaroglu)

One of the coolest records we've ever heard from Japanese drummer Akira Ishikawa -- even wilder than some of his famous funk sessions of the time! The set definitely lives up to its African Rock promise -- as it features lots of sparely percussive tracks that build beautifully -- clearly drawing from African inspiration, in the same way that other albums by Akira drew from American funk -- then also adding in some cool production and hip effects that help further some of the "rock" side of the agenda! At points, the record almost feels like a solo percussion jam -- but at others, the guitars really get heavy, with a jamming intensity that's simply mindblowing. There's lots of psychedelic overtones when the guitars come in -- and they make for a wicked contrast with some of the more organic, percussion-oriented moments.
All tunes are nice and long, and titles include the extended break cut "Pigmy", plus "Vita", "Na Tu Penda Sana", and "Wanyamana Mapambazuko". (Presented as a cool box set -- like the original album -- with liner notes in English and Japanese.)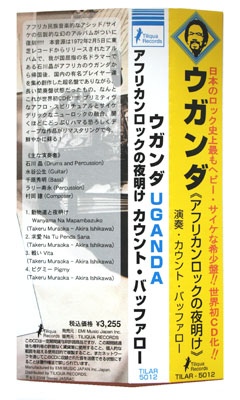 Notes
Tracklisting
CD comes housed in a miniature version of the actual slim cased LP box set, complete with obi and extensive 8-paged Japanese/English liner notes, illustrated with some archival photographs. One time only very limited press, housed in a sturdy hard card mini-LP styled slim box set gatefold jacket. Part of the 'Tiliqua Records Archival Series'.

Originally released on LP by Toshiba Records on February 5th, 1972. Under exclusive license from EMI Music Japan Inc. Digitally remastered and taken from the original mastertapes. This edition was produced and arranged by Tiliqua Records, copyright 2008.

Dedicated to and in memory of Ishikawa Akira. Special Thanks to: Muraoka Ken, Mogura-Dan, Uchida Shizuo, Alan Cummings, Takayo & Yukino.
There are no tracklisting associated with this item