On a personal note, I remember vividly when Hitoshi Kojo told me with excitement about a transhumance through UK with the specific purpose in mind of doing sessions with some of the great drone masters over there, namely : Colin Potter, Jonathan Coleclough and Paul Bradley...Retrospectively, I think I was as stirred as him.
The resulting collected material has been shelved for years (7 actually !), and I began to fear this estimable musical heritage could get lost...this was not taking into account Hitoshi Kojo's sense of perseverance.
It is now available in a splendid handcrafted ltd edition sleeve with cut-out made by patient graphic virtuoso designer Hitoshi Kojo himself – even before any listening, already a beautiful physical object to behold.
Most probably there have been a considerable volume of editing ahead, and an intense compositional shaping process searching for paths within the vertiginous sonic matter before reaching this radiating amalgam.
Rather than splitting the work in as many distinct collabs, the choice has been to mould it in a six long parts confluential movement distributed on 2 CDs. What we have are overlapping drone layers littered with elemental textures & debris, harmonic sets in imbricated rotation, where instruments, manipulated objects, field recordings are beyond simple coexistence...They mime nature itself...A perfectly balanced out aerial spiralling mass of sound...sweeping & virulent as well, when it comes to evoke hidden forces...Resonant, ecstatic surges, at times like sheets of ringing metal colliding with lingering enshrouded chants...The sound itself is dense, tight, with no gaps at all, though not opaque as such...In a way, it pretty much resist litteral description.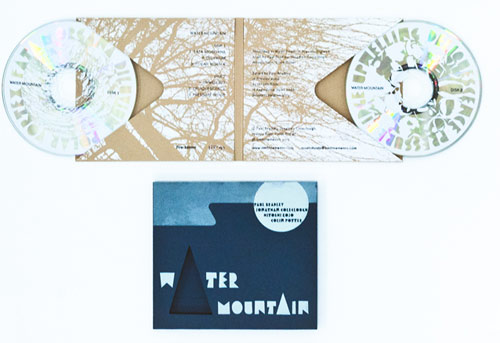 "Water Mountain" are two overused words in our western culture, but here they have a haiku strength, and implications far beyond the mundane...They channel the practise...

Although being an explicit reference to the Chinese term "Shanshui" [山水/ mountain-water] used to define amongst other a certain type of pictural landscape, usually more turbulent than the Japanese uncluttered paintings, and soaked with cosmology, and notions of struggling primordial energies, it makes no doubt that Hitoshi Kojo has relied on his own cultural founding values (perhaps even unconsciously) to name this creation. Water rituals in Japan are numerous, and some essential part of Shinto polytheist, animistic cults...Most shrines have "Chōzubachi "near their entrances, small basins with water where visitors can cleanse themselves...and mountains have always been worshipped, as embodiment of the very spirit of nature, and gateways to the other world.
This gives all another self-explanatory dimension to the title, and delivers an acute metaphor of the music impulse.
Undoubtedly ceremonial in its form"Water Mountain" creates the basis for an imaginary geography of our own...the reflection of an inner "island"...
Extended exposure to the sound seems to induce dissolution of all conscious thoughts, and a process of inner transformation.
All in all a very potent psycho-active brew able to infiltrate the smallest recesses of our beings, if only for a moment...a symbolic space of endless depth...a singular taking over liturgy, intoxicating and perplexing... -
Daniel Crokaert - October 2013