Abdul Wadud
Buidling on the momentum of their astounding reissue of Black Unity Trio's "Al Fatihah" back in 2020, Gotta Groove returns with what might just be the most hotly anticipated release of the year, the first ever reissue of Abdul Wadud's lone, solo LP "By Myself". Originally privately issued in 1978 and out of print and chased (for good reason) by collectors for decades, this thrilling gesture of free improvisation for unaccompanied cello is among the most singular documents of the 1970s New York loft scene. Playful, sorrowful, melodic, and percussive, ranging from screeching fury to flirtations with pop, there's never been anything like it, before or since.
By Bradford Bailey, 30 May 2023

In the era of reissues, the term "holy grail" gets thrown around a lot. As overused as it is, there are, however, slow trickles of highly sought-after masterpieces still emerging from the shadows that are every bit deserving of such a designation. Back in 2020, Gotta Groove Records managed to produce one such case, the first ever reissue of Black Unity Trio's privately issued LP "Al Fatihah", one of the rarest and most coveted artefacts in the canon of free jazz, recorded in 1968 by Abdul Wadud, Yusuf Mumin, and Haasan Al Hut, and released the following year. It was so hotly anticipated that the pressing sold out in a matter of days. Three years on, they return with a fitting follow up, which is just as coveted and exciting as the last, the first ever reissue of Abdul Wadud's lone, solo LP "By Myself". A thrilling gesture of free improvisation for unaccompanied cello that's had collectors paying crazy prices for rare copies for years, not only is it creatively brilliant, but it's one of the most engrossing listening experiences produced during the legendary loft era of free jazz. Issued by Gotta Groove in a stunning vinyl edition - timed with what would have been Wadud's 76th birthday - that perfectly reproduces the original edition, fully restored and remastered from the original tapes by Grammy-award winning mastering engineer Paul Blakemore, this is nothing short of a momentous event.





Born in Cleveland to a musical family, Abdul Wadud was classically trained on cello at Oberlin college in Ohio, laying the groundwork for an unparalleled career in music over the decades to come. Not only was he an artist of rare creative vision, he was one of free jazz's only cellists, and collaborated with nearly every notable name of his day. While still an undergraduate student at Oberlin, Wadud met the saxophonist Yusuf Mumin and the drummer Hasan Al Hut, with whom he formed date legendary outfit, The Black Unity Trio, who produced a single, furious free improvised LP, "Al Fatihah", in 1968 before parting ways.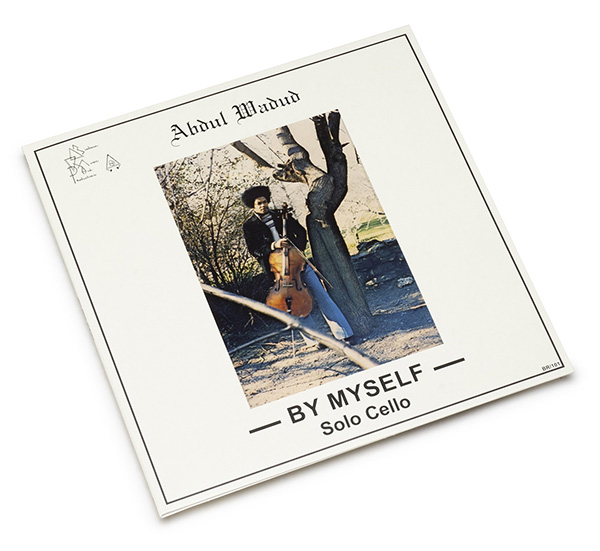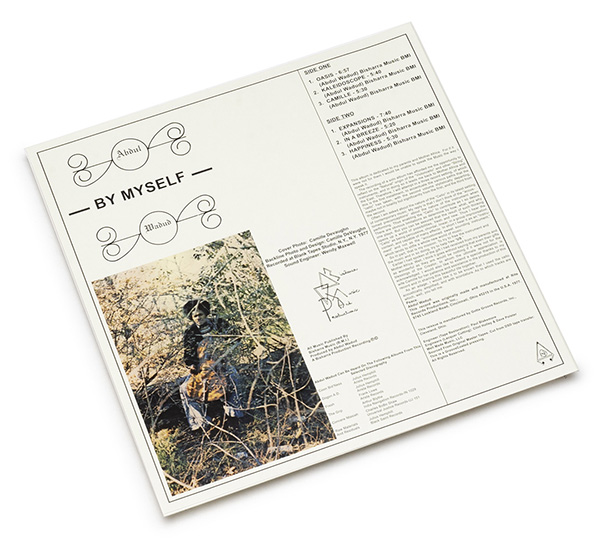 Following a brief spell in St. Louis, Missouri, working and recording within the Black Artists Group, Wadud relocated to New York where he completed of his graduate work, before joining the New Jersey Symphony, where he remained for seven years, followed by periods working within the Brooklyn Philharmonic, the Long Island Symphony Orchestra and other ensembles. These two distinct poles would establish the unique circumstances within which the cellist would work over the coming decade or so; dividing his time between paid work playing Western classical music in professional orchestras, and blazing a furious, collective and autonomous path downtown as a member of New York's thriving and fiercely independent "loft jazz" scene.

While Wadud recorded very little under his own name, he was incredibly active during the '70s and '80s, playing live in countless pick up ensembles, a number of which he led, and recorded extensively with some of the cream of the loft movement: Julius Hemphill, Frank Lowe, Arthur Blythe, Hamiet Bluiett, Charles Bobo Shaw, Human Arts Ensemble, James Newton, Anthony Davis, Oliver Lake, Leroy Jenkins, etc. While it's a tragedy that he didn't enter the studio more under his own steam, his lone LP, "By Myself", self-released on his own Bisharra Records in 1978, makes up for any losses in spades. There's a reason why it has become one of the most sought-after records in the entire canon of privately pressed 1970 free jazz. It's a truly remarkable and singular piece of work.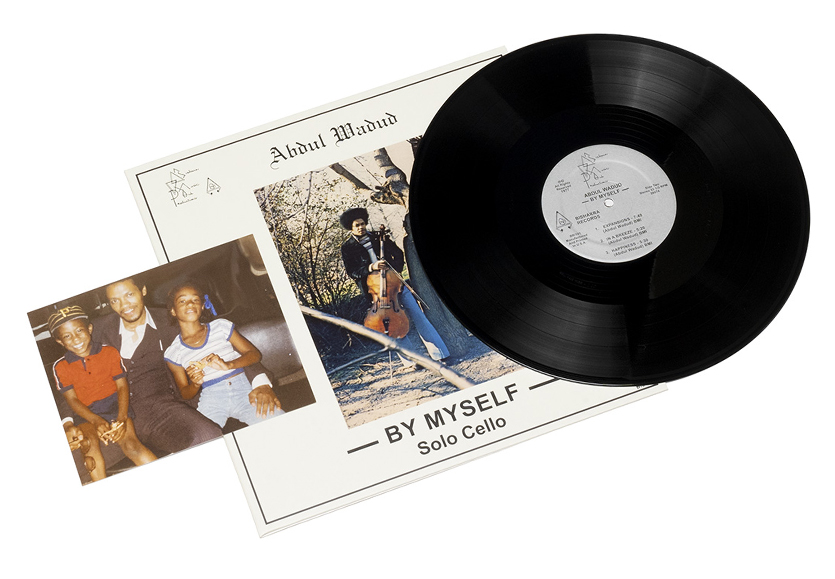 "By Myself" belongs to a larger body of recordings and performances within free jazz, that of solo / unaccompanied improvisation. Rendering the player vulnerable and exposed, with nothing to hide behind or respond to other than their own voice, it is an idiom that has predominantly been embarked upon only by the most skilled of players. Of the records where it is encountered - Roscoe Mitchell's "Solo Saxophone Concerts", Anthony Braxton's "For Alto", Leroy Jenkins' "Solo Concert", Marion Brown's "Solo Saxophone", William Hooker's "Drum Form", Muhal Richard Abrams' "Afrisong", Milford Graves' "Grand Unification", etc. - it is hard to think of one more accomplished or beloved than "By Myself".

Part of what sets Wadud's "By Myself" apart from the pack, is how for it ventures from the standard expectations of free jazz. There's little like it out there. Comprising six individual pieces across its two sides, the cellist displays a remarkable amount of range, drawing from the broad cultural legacies of the American diaspora. Sorrowful, melodic, and percussive, it delves into remarkable tonal relationships and screeching fury, while threaded with flirtations with unplaceable pop melodies that are filled with playfulness and humor, and are equally funky, wild, and exploratory, as he pushes his instruments in ways that it was never imagined to be played. In a word, "By Myself" is an album that could have been made by no one else, requiring the highest level of skill and creative genius of its player.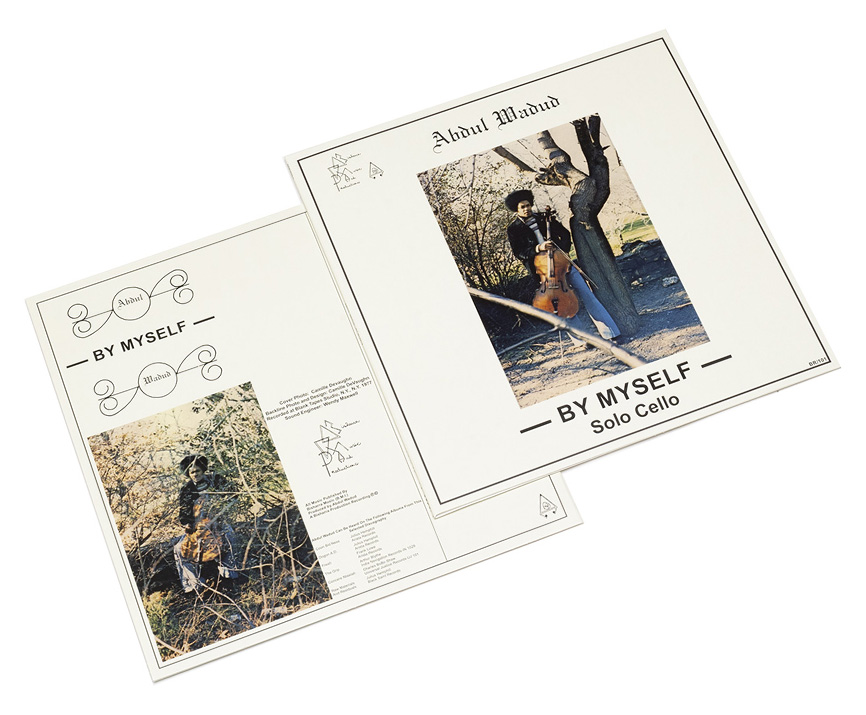 While Wadud remained active on the scene until the 1990s, fittingly laying his last recorded outing to tape alongside his longtime collaborator, Julius Hemphill, in 1992 before fading from view, he never recorded a follow up to "By Myself", leaving it as the lone, definitive document of his playing. Perhaps more tragically, the album has remained out of print and nearly impossible to find, given low original pressing numbers, for decades. Thankfully, working in close collaboration with Wadud until his passing in 2022, Gotta Groove has managed to make the impossible real by bringing it back in the world with its first ever authorized reissued. Needless to say, it's going to fly. Grab a copy while we have them, and bask the glory of pure unmediated creativity and art.