Alterations
From Paradigm Discs comes an absolute burner, the first ever vinyl reissue of Alterations' stunning second LP "Up Your Sleeve". Drawing on the collective radicalism of British free improvisation's leading lights - Steve Beresford, Peter Cusack, Terry Day, and David Toop - while harnessing an astounding range of sound sources, tactical approaches, and reference points, after 40 years out of print the album emerges as a missing link between contemporaneous bands like This Heat and Swell Maps, and the groundwork laid by The Scratch Orchestra, AMM, and Spontaneous Music Ensemble.
By Bradford Bailey, 27 May 2022

Compared to many of its European and American counterparts, the context of British free improvisation has always been a bit of an outsider in the mix. Radical, principled, and often bound to social and political upheavals of any given moment, the output of this scene - currently spanning more than a half-century of furious activity - includes some of the most singular and visionary gestures within the entire field of experimental sound. It was from this fertile territory - bubbling from the early groundwork laid by projects like The Scratch Orchestra, AMM, Spontaneous Music Ensemble, The Music Improvisation Company / Company, etc. - that Alterations emerged during the second half of the 1970s. A "supergroup" made up of Steve Beresford, Peter Cusack, Terry Day, and David Toop, the project produced a small handful of releases between 1978 and 1984, that remain some of the most coveted artefacts of the second wave of British free improvisation. After remaining out of print for more than 40 years, Paradigm Discs has lovingly delivered a long-overdue vinyl reissue of the second Alterations LP "Up Your Sleeve". Beautifully produced in an edition of 500 copies, immaculately reproducing the original cover and including a numbered 4-page insert, it's a truly astounding document of the heights of improvisational artistry that feels as fresh and forward thinking today as the day it was laid to tape.





Despite the fact that Terry Day had been part of the first wave of British improvisation as a member of The People Band during the 1960s, Alterations can be regarded as a definitive voice in the scene's second wave. Each of the other members - Steve Beresford, Peter Cusack, and David Toop - were in the process of laying crucial groundwork for the movement's evolutionary and forward push across the late '70s and '80s. The band had sprung from the ferment of the London Musicians Collective - founded in 1975 as an open network of players to explore the possibilities of free improvisation - to which all of the members belonged.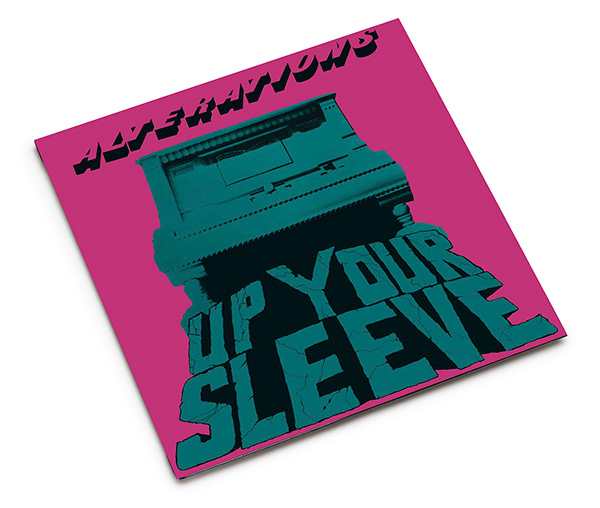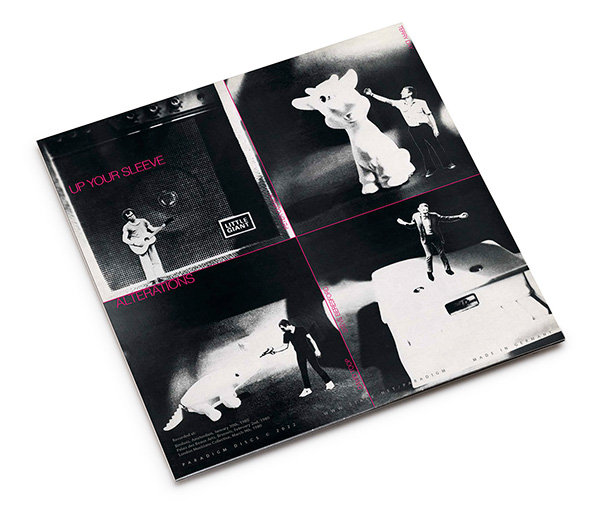 Alterations was radical from the start, even within London's pervasively radical scene. Individually and collectively, Day, Beresford, Cusack, and Toop actively dismissed all preconceived limits or terms applied to the process of music making, seeking and embracing only new ideas and approaches. Alongside numerous conventional instruments played by the group, a plethora of simple musical toys, sound makers and homemade instruments quickly entered the mix and produced astonishing results, sculpting a singular pallet of sound and tactical approach, the influences of which has echoed across the entire context of experimental music ever since.
The group's second LP, "Up Your Sleeve" - originally issued in 1980 by David Toop's Quartz label - took Alterations' visionary drive to the next level. In addition to the conventional instruments, that had defined their sound up to that point, across the album's two sides they now embraced noise and feedback, as well as fragments of familiar songs and a hearty indulgence in rhythm. In effect, it is a rare instance of free improvisation mining numerous contexts of music, while blurring the boundaries between them; partially a result of Beresford's parallel work with The Slits, The Flying Lizards, and New Age Steppers, Toop's work with The Flying Lizards, and the fact that all the members also worked within the post-punk/art pop supergroup, The 49 Americans, and tongue in cheek music hall outfit The Promenaders.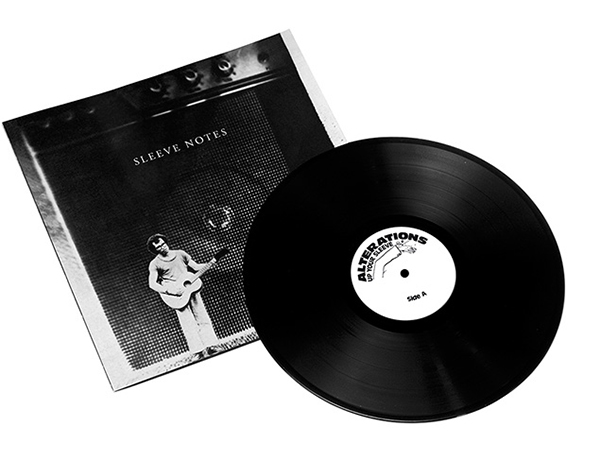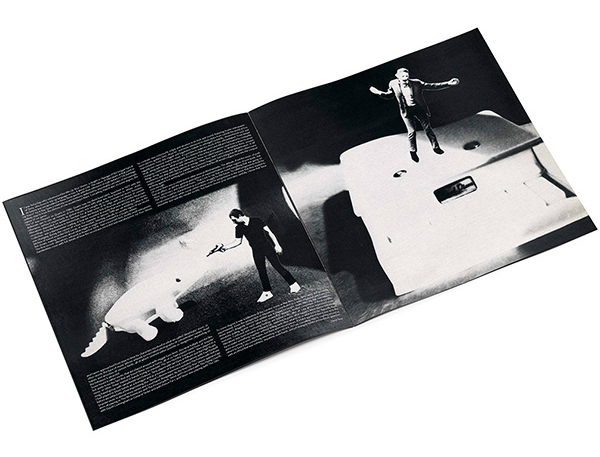 As a consequence, "Up Your Sleeve" feels like an acoustic, creative collage transpiring in real time; a missing link that rests somewhere between the adventurous context of British music that produced This Heat and Swell Maps, and the revolutionary gestures of The Scratch Orchestra, AMM, and Spontaneous Music Ensemble. Elegantly abstract, a host of timbral techniques and sounds, resting within a vast sense of space, intertwine within momentary fragments drawn from punk, new wave, and dub, that collectively ebb, flow, and rise in waves that stand as early and definitive gestures in noise.
Playful, fun, and radically rigorous in the same breath, "Up Your Sleeve" is quite frankly one of the most unique and unquestionably important records in early '80s experimental sound. It's hard to think of any other instance where such a vast range of sound sources and reference points work in such perfect harmony; a true testament to the artistic brilliance of Day, Beresford, Cusack, and Toop. An inevitable revelation for anyone yet to encounter it, and a truly thrilling listen from the first sounding to the last, Paradigm Discs' beautiful, first-time vinyl reissue of this masterstroke is issued in a very limited edition of 500, including a numbered 4-page insert, that shouldn't be missed.