Alvin Curran - The Works
Our Swimmer's first ever vinyl reissue of Alvin Curran's seminal 1980 LP, 'The Works', is nothing short of a historic event. Among the composer's most famous and sought-after releases, it's an absolute stunning piece of work - blending voice, piano, synthesizer, and tape into a seamless expanse of ambience, texture, and tone - that manages to turn experimentalism on its head over 40 years on.
By Bradford Bailey, 11 May 2021

With a career spanning more than half a century, the composer, Alvin Curran, stands among the most important figures in contemporary experimental music. Widely celebrated for his long-standing efforts within Musica Elettronica Viva - the collective which he helped found in 1966 with Frederic Rzewski and Richard Teitelbaum - his gestures as a solo-performer and composer have arguably yielded even greater levels of influence and change. Beginning to emerge during the mid-1970, Curran's first decade of solo recording remain among his most celebrated, but have largely remained out of print and virtually unobtainable since their originally releases. Our Swimmer's latest - a beautiful, first time vinyl reissue of his astounding 1980 LP, The Works - joins the effort to wind back this tide. Among the composer's most famous and sought-after releases, it's an absolute stunning piece of work that continues to turn experimentalism on its head over 40 years on.

A bridge between the American and European traditions of avant-garde and experimental music, Alvin Curran first emerged in Rome during the mid 1960s. Visionary, radical, poetic, and political, over the ensuing decades his musical gestures have yielded a sway and influence within experimental practice that has few equals. While MEV has certainly dominated the broader consciousness of Curran's activities, his solo gestures - far more personal, intimate, and irreverent than those created within MEV - can now be seen to have birthed a profound temperament that has evolved into a dominant gravity within the heart of experimental music itself.
Between mid-1970s and the mid-1980s, Curran was immersed in an incredibly prolific period, producing a suite of albums under his own name that have risen to mythic status. Among these, The Works, issued by Fore - a short lived Milan based imprint that released seminal recordings by Bill Dixon, Giacinto Scelsi, Burton Greene, and others - in 1980, this LP stands among Curran's most beloved and famous albums from this period. Falling directly between Curran's seminal LPs, Fiori Chiari, Fiori Oscuri and Canti Illuminati, The Works, a single composition, gracefully stretching across the two sides of the LP, features the composer on voice, piano, synthesizer, and tape. While realized and recorded on a trip home to the Untited States, the album draws on the period that had begun during the mid-1970s when he had returned to his roots in piano and vocals, performing regularly in cocktail lounges on Via Veneto in Rome.
The Works has been described by Curran as not having been created by will and direct purpose, but rather as a "providential accident". Combining piano and voice with found sound - recordings of cows munching grass, the Rome-Florence express train, a horse-fly caught against a window pane, the composer's footsteps, cicadas, an Amsterdam calliope, a tin can being kicked, etc. - and a custom-built Serge modular synthesizer, it is a slowly developing composition where space and ambient tapes are eventually overtaken by raga-esque chanting and frenetic piano playing, and where synthesizer washes become full-on workouts all leading to a coda where the listener is "finally carried off on the wheels of the Berlin U-Bahn." Truly stunning from start to finish, the long wait for a reissue of The Works on the format for which it was conceived has finally come to a close.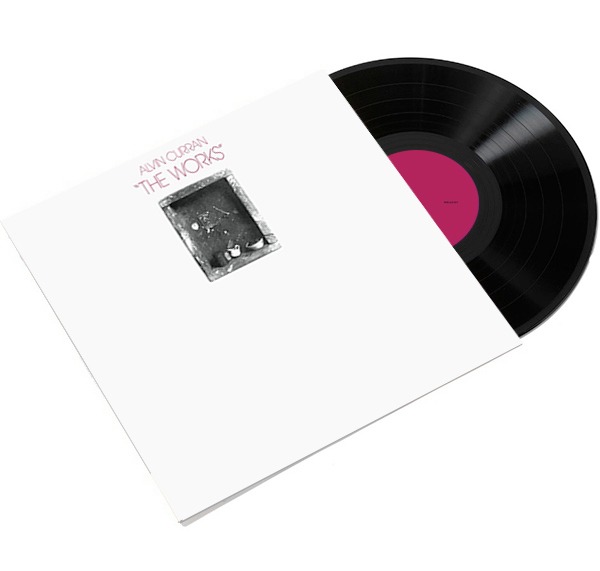 Democratic, irreverent and traditionally experimental, Curran travels in a computerized covered wagon between the Golden Gate and the Tiber River, and makes music for every occasion with any sounding phenomena -- a volatile mix of lyricism and chaos, structure and indeterminacy, fog horns, fiddles and fiddle heads. He is dedicated to the restoration of dignity to the profession of making non-commercial music as part of a personal search for future social, political and spiritual forms. Curran's music-making embraces all the contradictions (composed/improvised, tonal/atonal, maximal/minimal...) in a serene dialectical encounter. His more than 200 works feature taped/sampled natural sounds, piano, synthesizers, computers, violin, percussion, shofar, ship horns, accordion and chorus. Whether in the intimate form of his well-known solo performances, or pure chamber music, experimental radio works or large-scale site-specific sound environments and installations, all forge a very personal language from all the languages through dedicated research and recombinant invention.

With a fortuitous bang, he begins his musical journey (1965 in Rome) as co-founder of the radical music collective MUSICA ELETTRONICA VIVA, as a solo performer, and as a composer for Rome's avantgarde theater scene. In the 70's, he creates a poetic series of solo works for synthesizer, voice, taped sounds and found objects. Seeking to develop new musical spaces, and now considered one of the leading figures in making music outside of the concert halls -- he develops a series of concerts for lakes, ports, parks, buildings, quarries and caves -- his natural laboratories. In the 1980's, he extends the ideas of musical geography by creating simultaneous radio concerts for three, then six large ensembles performing together from many European Capitals. By connecting digital samplers to MIDI Grands (Diskklavier) and computers, since 1987, he produces an enriched body of solo performance works -- an ideal synthesis between the concert hall and all sounding phenomena in the world. He creates a visually striking series of sound installations, some of them in collaboration with visual artists including Paul Klerr, Melissa Gould, Kristin Jones, Pietro Fortuna, Umberto Bignardi, Uli Sigg. Throughout these years he continues to write numerous pieces for radio and for acoustic instruments.