Ariel Kalma - French Archives Vol. III
Black Sweat returns to their longstanding dedication to the output of the ambient and electroacoustic pioneer, Ariel Kalma, with "French Archives Vol. III", their third instalment of deep dives into the composers' archives. Gathering a towering twenty-six compositions from the period between 1964 and 1989, sprawling across a beautiful 4 LP box set - complete with a booklet that contains a wealth of images, archival material, details, and scores - of all of Kalma's incredible releases over the last half century, few offer more intimate and revealing access to his inner world than this.
By Bradford Bailey, 28 April 2023

Since their founding just over a decade ago, the Milan based imprint, Black Sweat, has left an indelible mark on the landscape of recorded music, issuing a strikingly diverse array of efforts spanning numerous fields and artistic disciplines, ranging from crucial historical gestures by Futuro Antico, J.D. Emmanuel, I.P. Son Group, Wayne Siegel, Zeit, Juri Camisasca, Frederic Rzewski, and numerous others, to contemporary offerings by Maurizio Abate, DSR Lines / David Edren, Al Doum & The Faryds, Everest Magma, and Langendorf United. Resting at the adventurous borders of creativity and sound, their latest release, "French Archives Vol. III 1964-1989", returns us to the archives of Ariel Kalma for their third instalment in the series, bringing us eight more sides of largely unavailable material by the artist. Spanning the years between 1964 and 1989 and sprawling across a beautiful 4 LP box set, complete with a wealth of images, archival material, details, and scores, it immerses the mind and the ear in the composer's sonorous experiments and stunning ambient harmonics, creating an astounding image of his practice and ideas.





The life and work of Ariel Kalma is a remarkable journey in sound. Born in Paris, he cut his teeth collaborating with Baden Powell and others during the late 1960s and early '70s, all the while privately making experimental tape pieces which deployed acoustic instruments, found sounds, and poetry, in conjunction with electronic processes and effects. In 1974, fallowing his passion for meditative music and drone, Kalma traveled to India to study the country's ancient, classical traditions - laying many of the roots for the singular approach to sound which would emerge as a remarkable series of LPs and cassettes over the coming decades.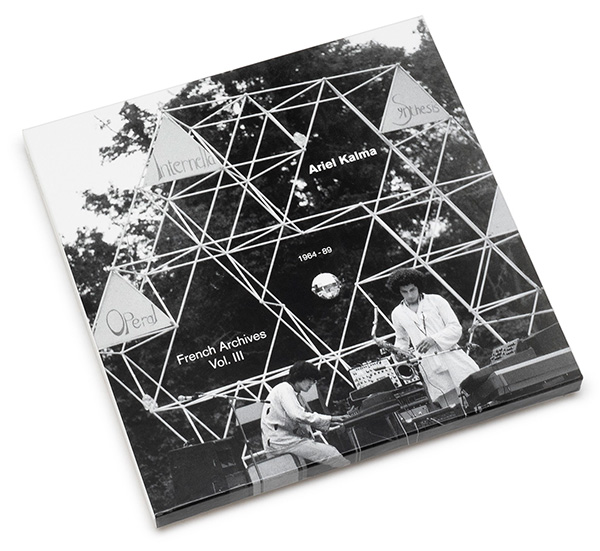 Upon his return from India, Kalma went to work as a recording assistant at the legendary studios of Groupe de Recherches Musicales, where he remained until 1979, sculpting a remarkable body of unique electroacoustic works that have arced across Black Sweat's previous two collections - "French Archives Vol. I" and "French Archives Vol. II", as well as Transversales Disques's noteworthing 2019 collection, "Nuits Blanches au Studio 116". Across the following decade or so, Kalma would blend the diverse musical touchstones from his remarkable journey - jazz, Indian Classical music, and electronic / electroacoustic experimentalism - into a singular body of ambient work that rested at the outer reaches of the developing New Age movement, issuing a steady stream of LPs - "Ariel Kalma", "Osmose", "Interfrequence", and cassettes - "Musique pour le rêve et l'amour", "Open Like a Flute", "Bindu", etc. - that have been pursued by a growing legion of fans ever since. Remarkably prolific, despite having issued a great deal, a mass of tracks remained unreleased in Kalma's archives, a truth proven by the first two volumes of Black Sweat's archival series, and pushed further by the third volume, gathering the greatest breadth of material of any of them yet.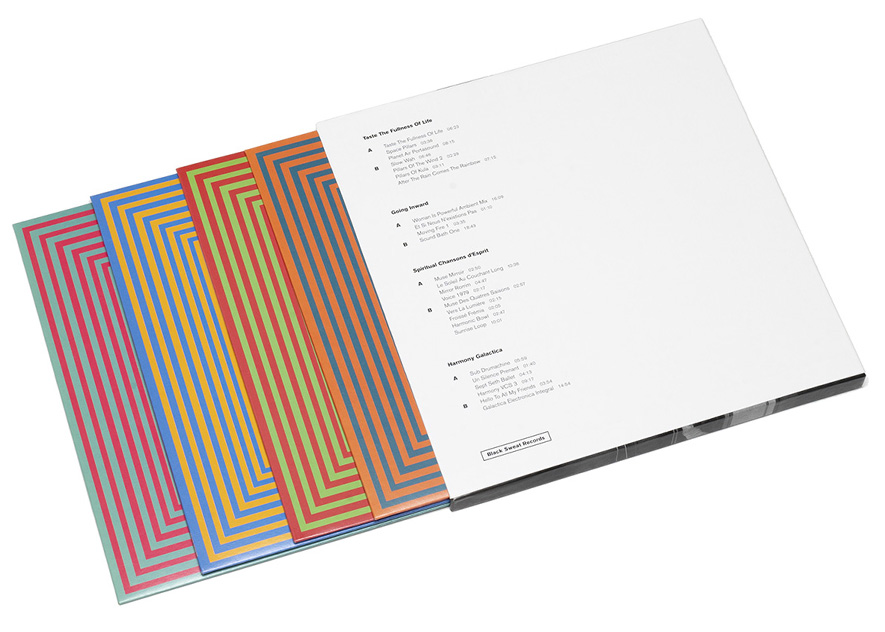 Where "French Archives Vol. I" covered the period of Ariel Karma's work between 1977 and 1980, and "French Archives Vol. II" covered between 1974 and 1985, "Vol. III" opens the lens even wider, to present work created by the composer between 1964 and 1989, including some of the earliest work - notably "Un silence prenant", a bristling musique concrète piece from 1964 - in his catalog to have ever been released. Notably, while a selection of the works in the collection have been privately issued by Kalma within digital only albums, none have ever seen a release on a physical format until now.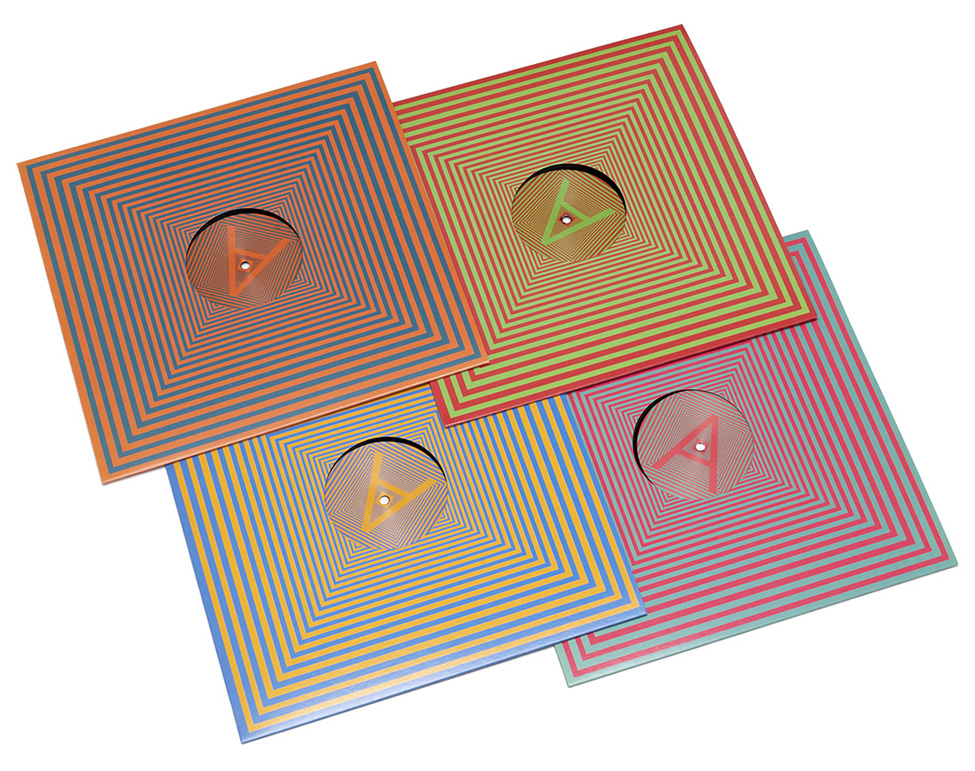 In addition to two early works from the 1960s, "French Archives Vol. III" presents eight incredible works from the 1970s - the rough period during which he was working at GRM - and sixteen from the 1980s, the period during which his spiritual journey and musical endeavors joined as a single, coherent force. Black Sweat's box set comprises four individual collections - one LP each - entitled, "Taste the Fullness of Life", "Spiritual chanson d'esprit", "Going Inward", and "Harmonica Galactica", each gathering a thematic body of work that defies chronology and helps offer a glimpse of the enduring pursuits within Kalma's practice. "Taste the Fullness of Life" begins with a work interspersed with the artists vocals of the same name, bringing us the closest to something that might be described as a song in his output, before diving into the hypnotic synths lines of "Space Pillars", that set the pace for much of the LP's immersive ambiences, taking slight deviations with brilliant works like "Slow Wah", a saxophone work recorded in 1975 utilizing a Wah-wah pedal and tape loops.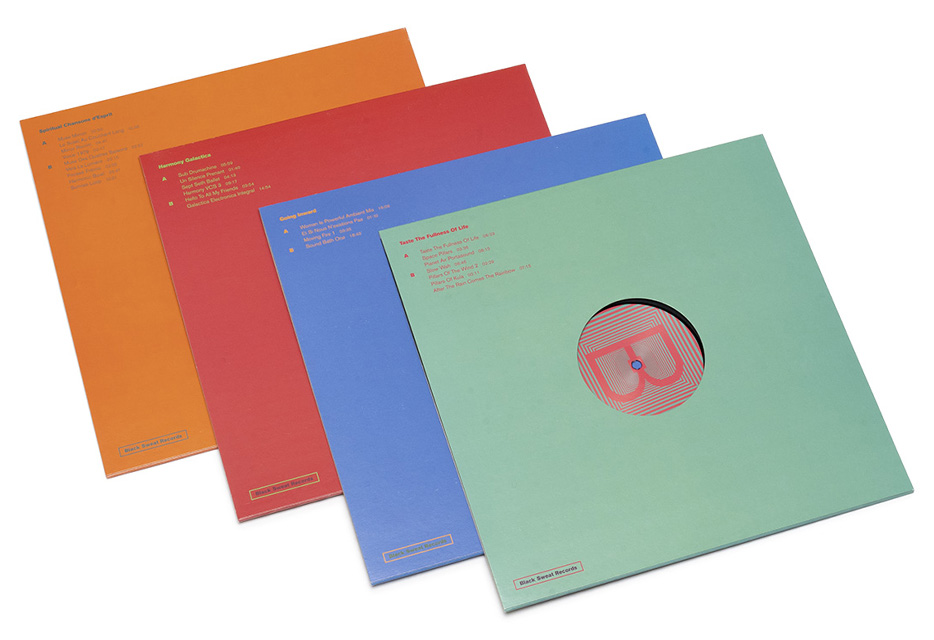 "Going Inward", the next LP in the collection - encountering Kalma oscillating between tribal electronic dances, metallic rhythms, carpets of synths and baths of gong and bell - begins with "Woman Is Powerful Ambient Mix", a brilliant and raw piece of work recorded live on Yamaha Portasound PS-20, Wasp synthesizer, and flutes, during a tantra workshop with Margot Anand in 1981, that flirts with some of the territory explored by the movements of DIY tribalism that were emerging at the borders of industrial music at the same moment. This is followed by the early 1960s concrete piece, "Et si nous n'existions", further shedding light on Kalma's avant-garde roots, before presenting two works from the early '80s, the rippling percussive piece, "Moving Fire 1", and the droning immersion of "Sound Bath One". Across the length of "Spiritual chanson d'esprit", the third LP in the collection, Kalma's voice is forwarded in a rage of works from the '70s and '80s, ranging from spoken narration to hypnotic chants embedded in sprawling ambiences and drones.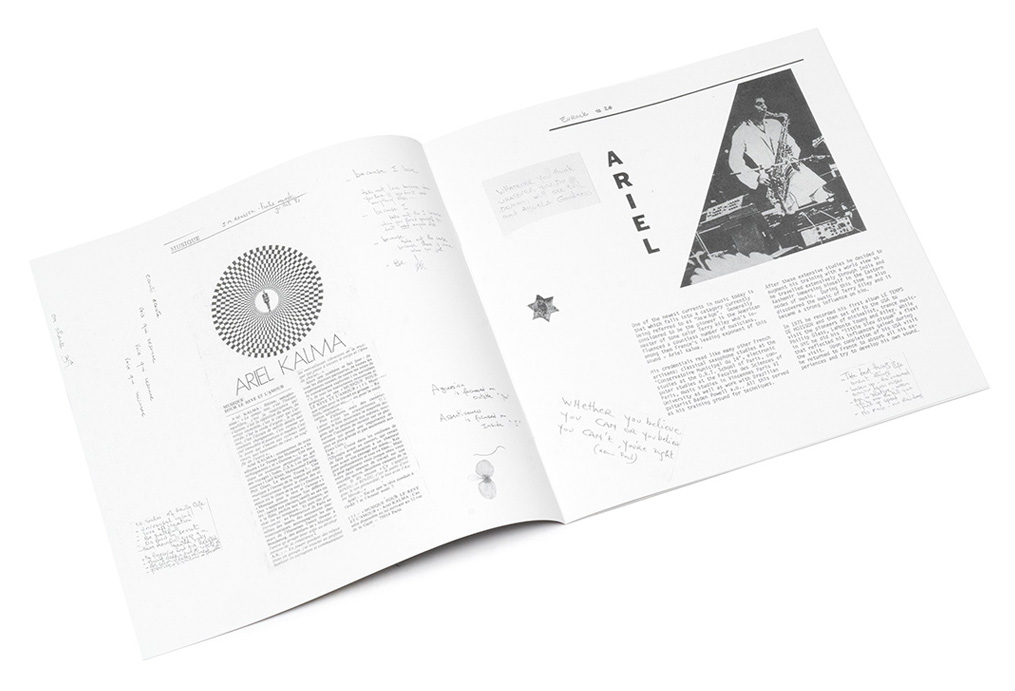 "Harmonica Galactica", the final LP in Black Sweat's incredible "French Archives Vol. III" box, gathers one work from the 1960s, the aforementioned "Un silence prenant", three from the 1970s, and two from the '80s, and offers a particular focus to Kalma's use of rhythm, interweaving his particular brand of deeply personal interstellar dreams with driving drum-machines and arpeggiating synths lines, pulsing saxes, overtones, and unexpected touches of fingerpicked guitar, collectively producing a deeply intimate immersion into his remarkable, and endlessly evolving world.





Like its predecessors, "French Archives Vol. III" is a truly remarkable and mind-bending piece of work on the part of Black Sweat, once again proving the huge, historical importance of what labels like this do. Collecting the explicit avant-garde practices which made up the core of Ariel Karma's earlier endeavors and artistic activity at GRM, his interest and study of Indian and African traditions, and the quests of New Age and ambient music for higher meaning and consciousness through sound, of the three, "Vol. III" arguably offers the greatest insight into Kalma's incredible practice, presenting it with an openness and directness that can be elusive when albums are refined into a final form.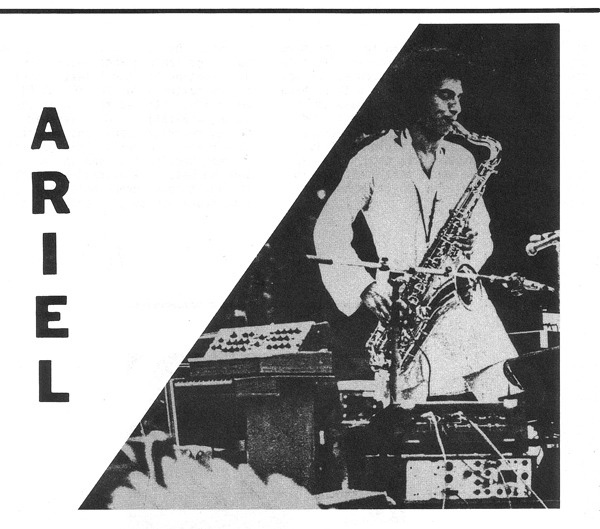 Gathering a towering twenty-six compositions from the period between 1964 and 1989, sprawling across a beautiful 4 LP box set, complete with a booklet that contains a wealth of images, archival material, details, and scores, it's impossible to recommend enough. Absolutely essential for any fan of Kalma, electronic, electroacoustic, or ambient music, the immediacy of DIY, or drama vibes of New Age.