Ariel Kalma - Osmose / Interfrequence
Diving back into the depths of their incredible catalog of vintage Ariel Kalma, Black Sweat returns with much needed represses of "Osmose" and "Interfrequence", two of the artist's most beloved works, that remained out of print for a number of years. Astounding hybrids of minimalism, kosmiche, electronic avant-gardism, and new age / ambient music, they're some of the deepest and most essential musical gestures from the late '70s and early '80s that we can call to mind. Truly stunning and absolutely essential for anyone that missed them the first time around.
By Bradford Bailey, 10 March 2022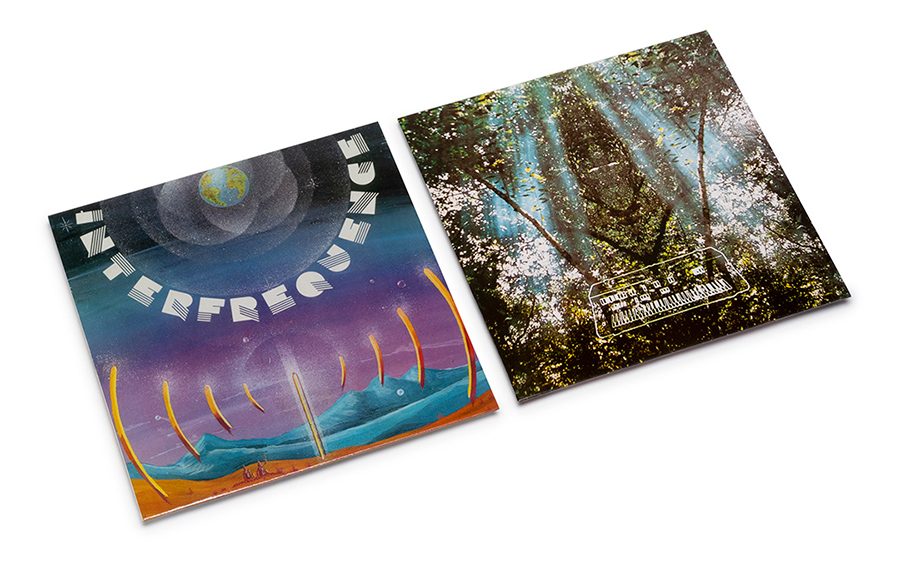 Since their founding nearly a decade ago, the Milan based imprint, Black Sweat, has left an indelible mark on the landscape of recorded music, issuing a strikingly diverse array of historical and contemporary efforts, spanning numerous fields and artistic disciplines. Within their incredible catalog, the label has always offered a special place of distinction to the French saxophonist and composer, Ariel Kalma, endeavoring to reissue the majority of his out of print and highly sought-after discography on LP. Given the coveted place that Kalma's music occupies today, the majority of these have sold their pressings as fast as they've come, and remained out of print ever since. Thankfully, Black Sweat has returned with brand new represses of two of his most most beloved works, "Osmose", originally released in 1978, and "Interfrequence", from 1980. Absolutely astounding, singular gestures that blur the boundaries between new age / ambient music and rigorous experimentalism, if you missed them the first time around this is a chance not to be missed.
The life and work of Ariel Kalma is a remarkable journey in sound. Born in Paris, he cut his teeth collaborating with Baden Powell and others during the late 1960s and early '70s, all the while privately making experimental tape pieces which deployed acoustic instruments, found sounds, and poetry, in conjunction with electronic processes and effects. In 1974, following his passion for meditative music and drone, Kalma traveled to India to study the country's ancient, classical traditions - laying many of the roots for the singular approach to sound which would emerge as a remarkable series of LPs and cassettes over the coming decades.
Upon his return from India, Kalma went to work as a recording assistant at the legendary studios of Groupe de Recherches Musicales, where he remained until 1979. Both of Black Sweat's represses - "Osmose" and "Interfrequence" - effectively booked Kalma's fine year at GRM, channeling the explicitly avant-garde practices that defined that studio into a body of sound which draws upon his interest and study of Indian and African traditions, as well as his developing of the quest for higher meaning and consciousness through sound that would firmly locate him within the new age and ambient musical traditions.





Osmose (1978)

Originally issued by SFP (Société Française de Production) in 1978, "Osmose" is Ariel Kalma second solo LP, and his first recorded outing to have appeared in roughly three years. Bridging minimalism and kosmische, the album is an astounding work of creative hybridity, illuminating Kalma's deep connections with the avant-garde and electronic experimentation, while foreshadowing the more ambitious and dynamic forms of new age and ambient music that would emerge in the hands of numerous likeminded artists over the coming decade.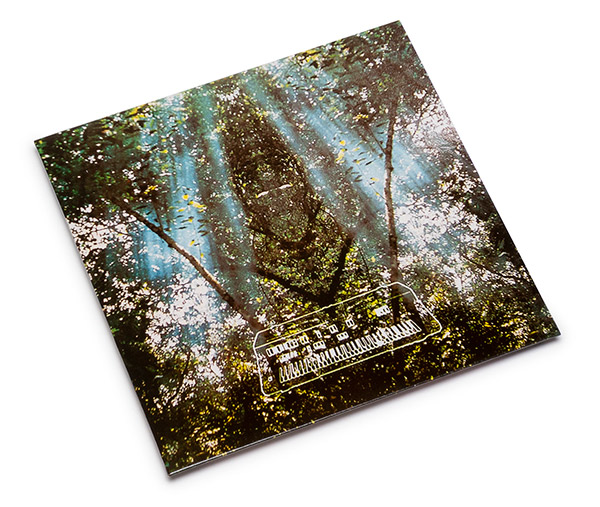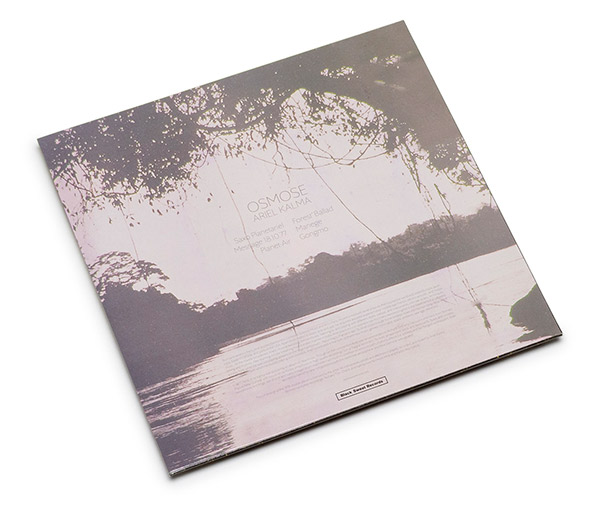 Comprising six tracks, the two sides of "Osmose" coleus around washes of synthesizer tones and drifting expanses of reverberant ambience, the totality of which bubbles with deep drones, field recording of a rainforest - crickets, frogs, and various insects, recorded by Richard Tinti - cycling sax lines (subtlety calling to mind Terry Riley's "Poppy Nogood"), and the sounds of numerous keyboards, harmonium, delay and effects. It is Kalma at his best and most experimental, pushing forward and channeling the deeper moods and emotional range that he had encountered in the traditions of India and beyond.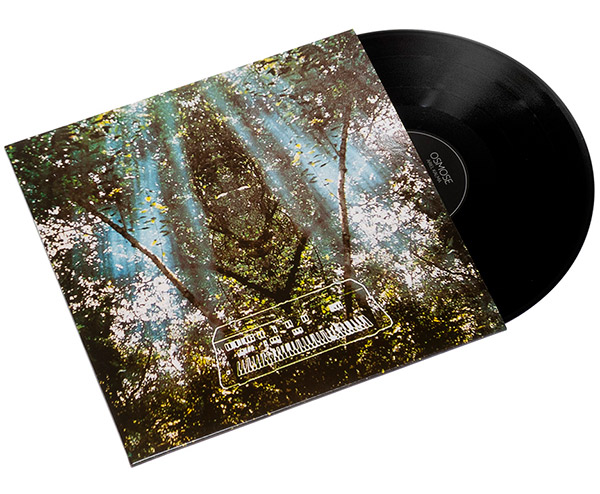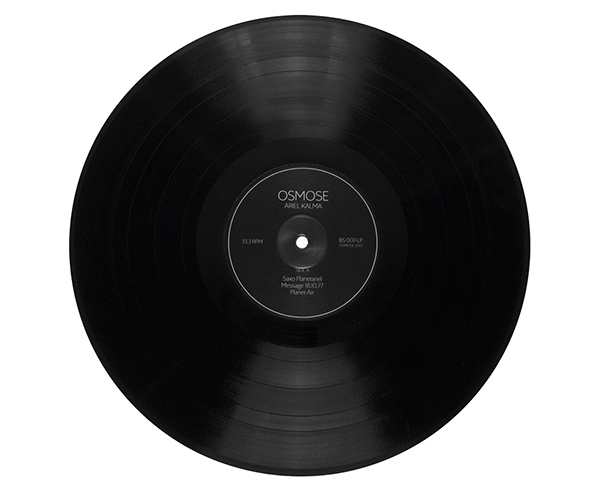 Anticipating the rough territories of sonic exploration that Brian Eno would begin issuing the following year on Editions EG, "Osmose" is easily one of the best and most creatively dynamic ambient records to have emerged during the late 1970s. An engrossing listen that evolves with every return, it is one of the crucial works within Ariel Kalma's catalog, around which his legend was born. Absolutely incredible, and as essential as they come. We've been waiting a long time for Black Sweat to bring it back.





Interfrequence (1980)

Originally released 1980 by Editions Montparnasse 2000, "Interfrequence" is Ariel Kalma's third full length, and his last album to appear on vinyl, prior to beginning an initiative of self-releasing his works on cassette that spanned the coming decade. Created shortly after concluding his tenure at GRM, like most of the artist's efforts from this period "Interfrequence" stems from Kalma's expansive personal research into the effects of combining electronics with natural sounds and acoustic instrumentation. However, the touchstones of minimalism and explicit experimentalism have momentarily lost the dominant hold that marked the album's predecessors. Here we encounter him moving deep into the kosmische realm, creating otherworldly electronic suites that share proximity with contemporary efforts by artists like Tangerine Dream, Cluster, Harmonia, Richard Pinas, and Klaus Schulze.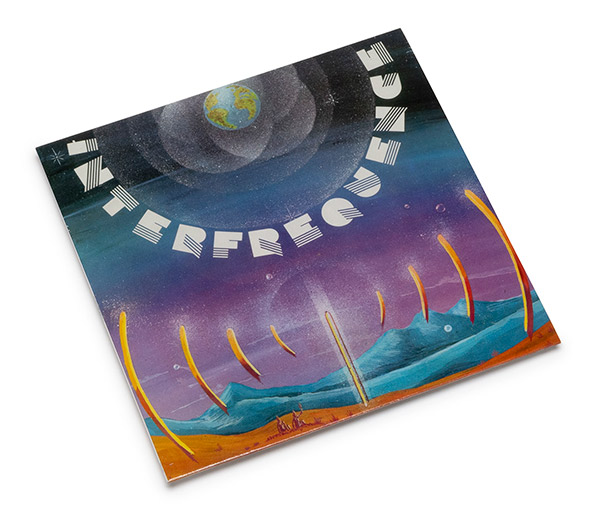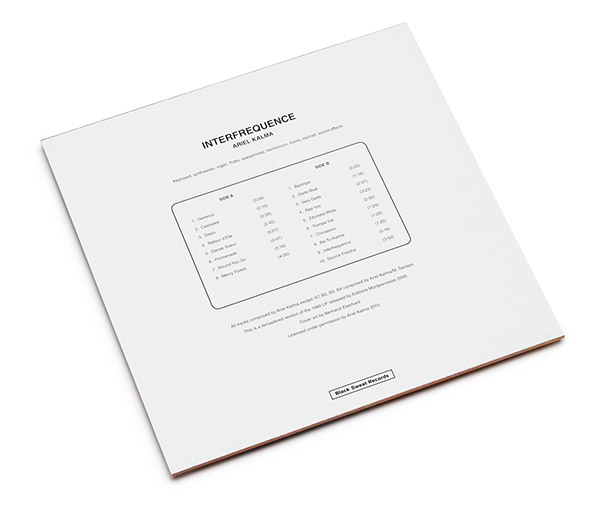 Comprising 18 short compositions, "Interfrequence" is among the most synth based and rhythmic of Kalma's early works. Drifting lines of texture and tone form the foundation for rippling arpeggiations and pulses, moving across dreamlike states, hypnotic depths, space-age psychedelic jams, and near dance inducing passages, that collectively form one of the most singular and free-standing works to have appeared during the early '80s.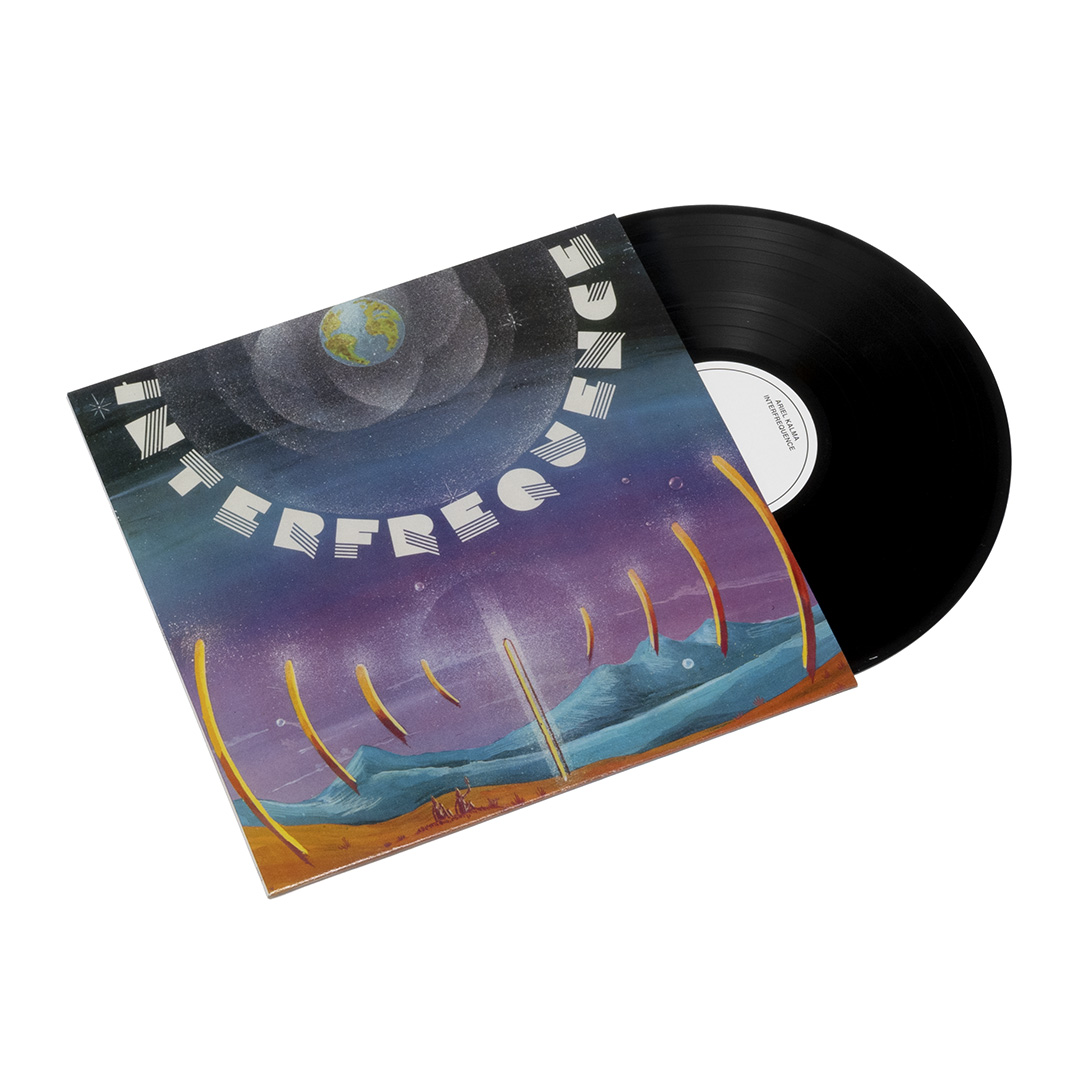 Riding the highs and lows of an inward, ecstatic journey that cracks the cosmos wide open, Kalma pushes hard into a new world of creative possibility across the length of "Interfrequence", drawing on a heady arsenal of moogs, organs, field recordings from nature, flute, saxophone, and clarinet. A perfect counterpoint to the efforts of his peers working in Germany and beyond, we've been waiting years for Black Sweat to bring the wonders of this album back into print. If you missed it the first time, don't sleep. If the last one was any indication, this pressing is going to be gone in a flash.