Lise Barkas & Lisa Käuffert
Opening a glimmering window into the brilliant scene currently percolating in Strasbourg, France, Morc Records returns with "Lo Becat", their first offering from the stunning creative duo of Lise Barkas and Lisa Käuffert. Rendered on two bagpipes, intertwining elements of traditional French folk with the tactics, ideas, and approaches of experimental music, the resulting sounds unfurl a singular iteration of intoxicating long-tone minimalism that leaves you riveted to the core.
By Bradford Bailey, 16 October 2023

During the mid 1950s, while the avant-garde composer and pianist, Charles Duvelle, was working at Radio France under Pierre Schaeffer, he was given the task of cataloging thousands of musical recordings from various corners of the world. Though the most significant outcome of this was his subsequent founding of Ocora Records in 1957 - one of the great arks of ethnomusicology - of arguably equal significance was Duvelle's observation of the unexpected sympathies between countless (and often ancient) traditions of music and the sounds then emerging from the European avant-garde. This epiphany implied a full circle: that the creative and intellectual heights of 20th Century music had simply returned to the place where music itself had begun and where many traditions had remained. The output of Ocora - making a vast number of previously inaccessible musical traditions available to a broad listenership for the first time - fed the work and imaginations of countless composers over the subsequent years, furthering this circle's momentum.

The likes of Terry Riley, La Monte Young, and Robbie Basho, among others, drew from the music of India; composers like Steve Reich and Midori Takada from Central Africa, Sandy Bull and Davy Graham from North Africa and the Middle East, and so on. Far fewer, however, have looked closer to home and tapped the traditional idioms of European folk music as sources of inspiration and understanding. This is precisely what the Strasbourg-based musicals and composers, Lise Barkas and Lisa Käuffert, have been doing for years, rendering astounding works of tense tonality and texture that are rooted equally in the future, present, and past.

Until now, each of these artists' output has primarily rested within the catalogs of imprints like Soleils Bleus, issued in tiny CDr, CD, cassette editions, making them fairly unobtainable. Now, thankfully, the venerable Gent, Belgium, based imprint, Morc Records, has emerged as the duo's latest champions, bringing forth their first vinyl release "Lo Becat". Issued in a 200 copies vinyl edition, this duo for bagpipes is a truly singular and astounding marvel, interweaving melodic elements with complex drones, at the juncture of Minimalism and ancient traditions of European folk. It's one of those records that can't help but blow minds and reform our current conceptions of experimental music emerging from Europe today.





For a number of years, we've been encountering whispers from a quietly emerging scene of experimental artists working in Strasbourg, France. At its centre are groups like Kreis / Collectif, L'Écluse, and the label Soleils Bleus, all which are marked by the involvement of the hurdy-gurdy and bagpipe player Lise Barkas. Over the last five or six years, she has a released a slow trickle of CDr, CD, and cassettes - sculpting a singular middle ground between ancient sounds of European folk and the radical approaches, ideas, and techniques of the avant-garde and experimental music. Everything we've heard has completely blown us away and left us with the feeling that this music should be heard by far more people than the small editions of her albums can achieve.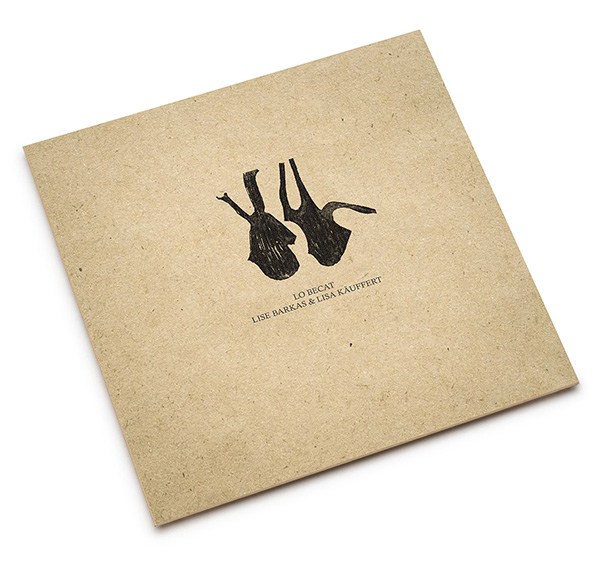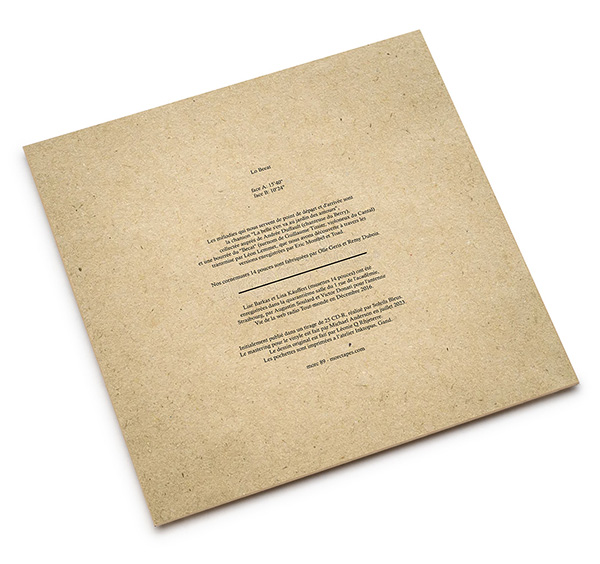 The first of these was a CDr, entitled "Lo Becat", issued in 2017 by Soleils Bleus, documenting Barkas' longstanding bagpipe duo with Lisa Käuffert (sometimes taking the name Lise & Lisa). It is the same recording that is reissued by Morc, marking the label's debut release with the pair. With a catalog already counting artists like Soccer Committee, Roxane Métayer, Annelies Monseré, Pefkin, and Luster, all of whom work at the junctures of experimentalism and folk, the match couldn't make more sense.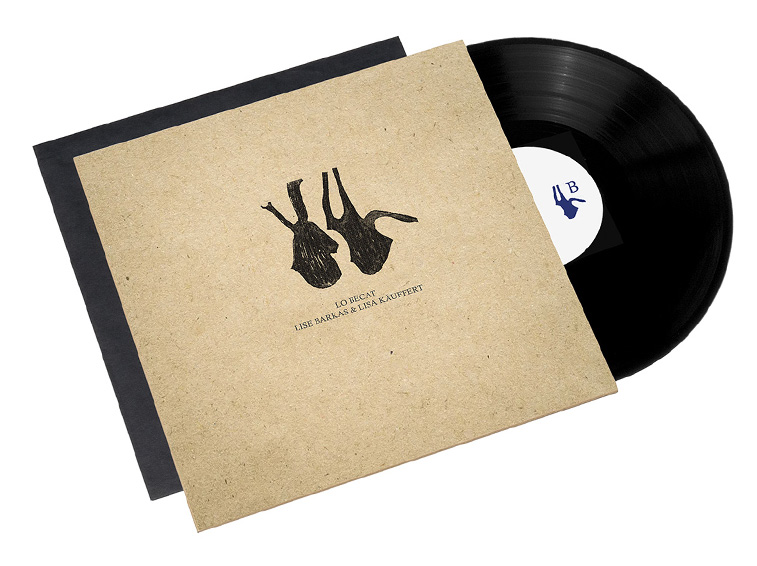 "Lo Becat" is a long-form composition that stretches across the two sides of the LP. Drawing upon both artists' roots in both traditional European folk and experimental music, the piece unfolds as a hushed and droning overture as the pair explore s and intertwines the harmonies emerging from, and uniting, their two bagpipes. As the piece progresses in all the glories of tonal minimalism, it slowly evolves into a sprawling instrumental reinterpretation of "La belle va au jardin des amours", a French traditional that's usually sung, rendering it as a striking storm of tonality, before harvesting a small portion of a French traditional dance tune, "Bourrée", that builds a sonorous bridge between that ecstatic and trance-inducing drones and folkloric dance music.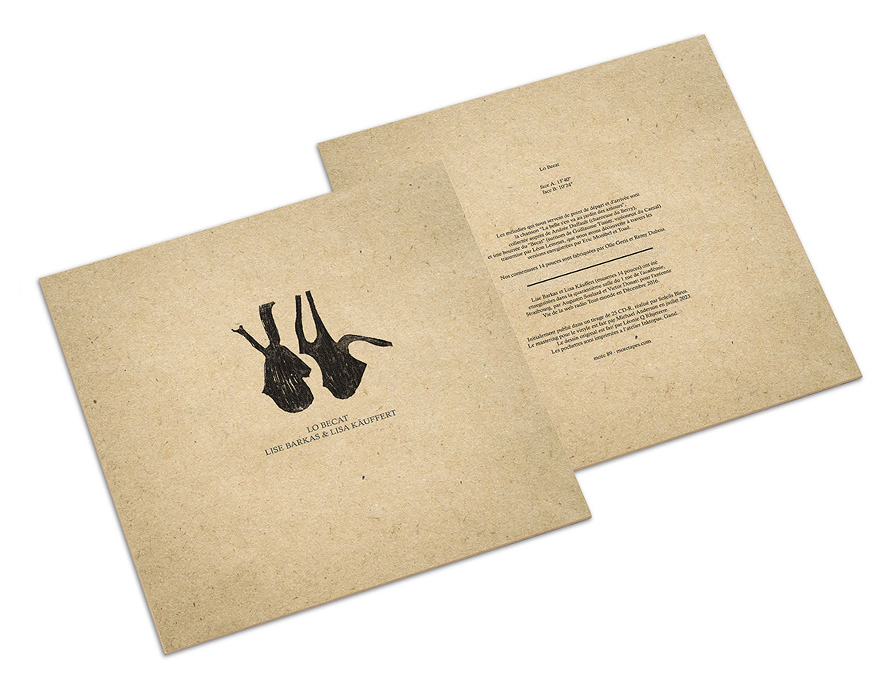 Staggeringly beautiful, utterly captivating, and creatively brilliant, once encountered it's hard to understand how Lise Barkas and Lisa Käuffert aren't already household names, or how "Lo Becat" has remained in relatively obscuring for the last six years. It's an absolute marvel and easily one of the best records to be reissued this year, made all that much more special by how fresh and new it feels. Unquestionably essential. Morc Records has done it again. We can't possible recommend this record enough!