Ben Vida & Lea Bertucci - Murmurations
Building on the back of an increasingly striking body of recordings issued by each artist in recent years, Ben Vida and Lea Bertucci deliver "Murmurations", their first excursion as a duo. A truly stunning, visionary expanse of texture and tonality - pushing electroacoustic practice and the very notions of language into uncharted realms - it's a startling proof of the power of collaboration and that together we can go places that we could never manage on our own.
By Bradford Bailey, 19 July 2022

It's fascinating where artists can arrive. Sometimes it's the result of luck. In others it's due to years of rigorous work or through unlikely combinations of individual creative practices. In the case of "Murmurations", the first release to feature the collaborative duo of Ben Vida and Lea Bertucci, all three are in play. Comprising ten tracks of visionary expression - incorporating elements of live tape manipulation, modular synthesis, sampling, and real-time instrumental and vocal improvisation - it encounters each artist entering a new stage of their career, harnessing the challenges posed by the other as a means to drive toward new creative unknowns. As joyous and playful as it is challenging and boundary blurring, issued in a limited edition on vinyl by Bertucci's Cibachrome Editions, it's easily one of the most surprising and exciting records we've heard this year.





Both long standing figures in New York City's experimental music scene, Ben Vida and Lea Bertucci have followed very different paths through the world of sound. Vida first emerged in Chicago during the 1990s as a member of Town And Country with Joshua Abrams, Jim Dorling, and Liz Payne, in addition to producing solo works and playing in a diverse number of projects, from radically experimental outfits like Pillow, to iconic indie rock bands like Joan of Arc. While always forward thinking and ambitious, very little of Vida's early output foreshadowed the radical realms of experimentation, following a relocation to New York, that has emerged across a series of stunning albums since the early 2010s. Heavily rooted in modular synthesis, and embracing a position of unrelenting abstraction, it was here that Vida would make his name, pushing the boundaries of electroacoustic music into his own highly individualized realm.
Lea Bertucci, on the other hand, sprouted from New York's noise scene, initially producing a body of brittle, challenging compositions that incorporated various combinations of saxophone, electronics, and tape during the first part of the 2010s. While no less visceral or energetic, the passing years have witnessed her increasingly pushing into more constrained and considered territories of acoustic phenomena, site specific resonance, and complex harmonic interplay, that consistently rethink the terms of minimalism, infusing it with tension, dissonance, and a deeply emotive, human touch.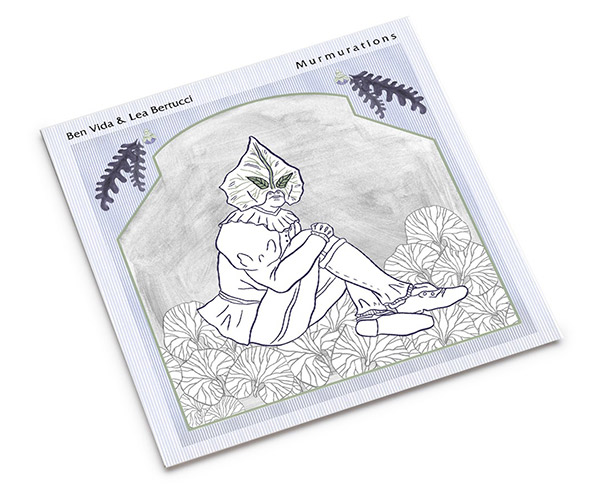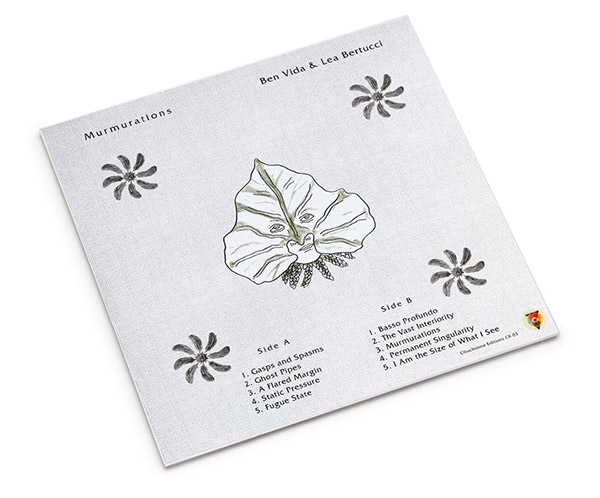 While having both occupied roughly the same scene in New York, for numerous years - each pursuing electroacoustic music toward markedly different ends - it wasn't until the Summer of 2021, while living on opposite sides of the same mountain outside of Woodstock - a couple of hours north of the city - that the pair fell into a state of collaboration. One conversation led to the next, slowly developing into a unique form of nonhierarchical improvisation that challenged and rethought the nature of conversation and language itself; intertwining their respective practices into a series of fluid compositions where the identities and locations of each artist become progressively obscure.
Issued by Bertucci's Cibachrome Editions, "Murmurations" is the first culmination of this process. Comprising six instrumental works, as well as four that place both artists' long-standing engagement with the human voice at centre stage, the album presents a fascinating, uncharted position between the efforts of experimental vocalists like Joan La Barbara, Katalin Ladik, Jeanne Lee, and Linda Sharrock, musique concrète, sound poetry, free improvisation, and electroacoustic music; abstractions and deconstructions of language that seem to exist entirely within their own making.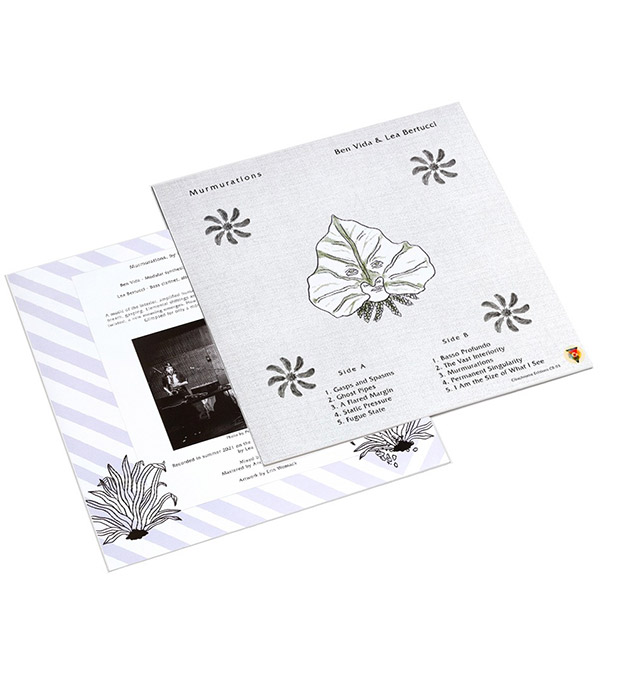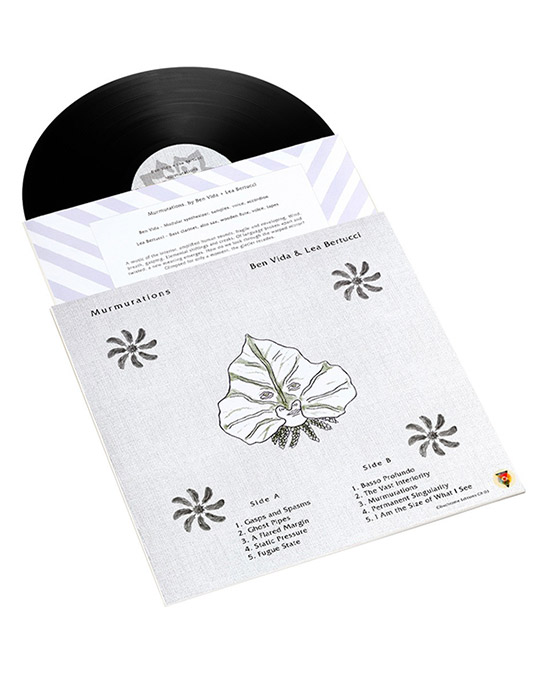 Confounding the expected relationship between improvisers, "Murmurations" encounters Vida and Bertucci engaged in an intimate series of conversations that rest beyond the realm of words, challenging perceptions of identity, temporality, and location by placing aspects of themselves in the other's hands. Central to this is the pair's unique approach to structure and form, in addition to their chosen instruments and electronics. Rather than utilizing oscillators, Vida's modular synth manipulates pre-recorded samples of Bertucci playing bass clarinet, sax, wood flute; rendering his own image as a warped mirror - in and out of time, and in and out of harmony - of the artist with whom he converses. Against this, Bertucci's real-time tape manipulation - blending the artefacts of both artists together - further abstracts senses of who, what, and where, while her practice of over-amplification - capturing, in addition to tones and timbres, the discrete sounds occurring within the chambers of her instruments - constantly reimagines and reinvents their possibilities, identity, and scope. The outcome, incorporating a dizzying array of experimental practices - resting somewhere at the outreaches of each - seethes with life, taking on inexplicably organic forms; tonal utterances dancing in a world of pointillistic texture that spins the head like a top.
An absolutely masterful piece of work, threaded with risk, ambition, raw immediacy, and precision. While astounding artists in their own right, deserving every bit of the accolades they've thus far received, Ben Vida and Lea Bertucci seem capable of something profound together that has yet to have heard. "Murmurations" is everything we hope to hear from an experimental endeavour and so much more. Issued on vinyl by Cibachrome Editions in a very limited edition of 500 copies, it's impossible to recommend enough. Ten out ten, and mind-bendingly good. Once the word gets out, this one isn't going to sit around for long.