Bodies of Water
In what can only be described as one of the most unique and engrossing releases we've encountered all year, the Zurich based Institute of Landscape and Urban Studies delvers "Bodies of Water", a triple LP box set gathering the entirety of their trilogy dedicated to sonic realities of water. Seamlessly joining sound art, field recording, sonic ecology, and scientific research, each LP addresses a specific environment, weaving rigorous research and documentation into a constellation of pieces that echo with a musicality and abstraction that places the soundings of the environment in close conversation with the histories and practices of experimental music. Beautifully bound in a glacier grey linen box, containing photo books, liner notes, and three marbled LPs, the scope, dimensions, and beauty of these recordings is truly beyond remarkable.
By Bradford Bailey, 25 November 2022

Every so often, a release crosses our path that entirely stands out from the rest. "Bodies of Water", a triple LP box set by the Zurich based Institute of Landscape and Urban Studies is certainly one such case. Resting at the juncture of sound art, field recording, sonic ecology, and scientific research - addressing the politics and varying realities of climate change - not only it is a truly engrossing listen, but it is pregnant with the multifaceted meanings of a rapidly changing world. Comprising the Institute's three previous LPs - "Melting Landscapes", "Dammed Landscapes", and "Buried Landscapes" – that collectively trace the dramatic metamorphosis of water in their own distinct ways - often defying everything we might expect of the sonic make up of each respective place and drawing out its profound musicality - the box set is beautifully bound in glacier grey linen with three marbled LPs, in addition to photo books that document the landscapes to which the LPs correspond, and additional linear notes. Few objects that we've encountered better address the role of sound in one of the most pressing issues that faces the world today.





The Institute of Landscape and Urban Studies is a research team based out of the department of Architecture at ETH Zurich in Switzerland. It comprises unique constellation of individuals and groups concerned with the large scale environment, engaging with a variety of fields ranging from cities and other urban areas, landscapes and territories, and policy-making. The "Bodies of Water" project, spanning multiple years of intensive work that culminated as three LPs issued between 2018 and 2022, was instigated and enacted in various capacities by Christophe Girot, Ludwig Berger, Laura Endres, Fabian Gutscher, Dennis Häusler, Johannes Rebsamen, Matthias Vollmer, each regarding "sound as a primary element of the spatial structure and aesthetic quality of a landscape" within a practice that deploys experimental fieldwork to analyze, remodel, and recompose sonic spaces.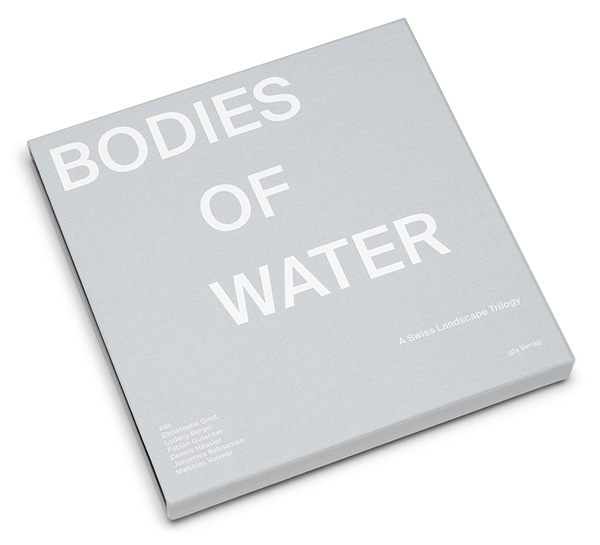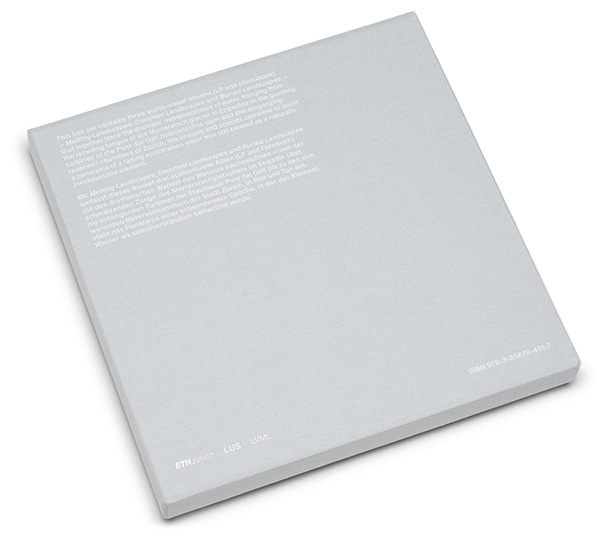 Gathering the entirety of the Institute's trilogy of releases, tracing the dramatic metamorphosis of water - "Melting Landscapes", "Dammed Landscapes", and "Buried Landscapes" – the "Bodies of Water" box set immerse the ear in aquatic environments as diverse as the receding areas of the Morteratsch glacier in Engadine, the turbines of the Punt Dal Gall hydroelectric dam in Italy, and the evacuating reservoir chambers of Zurich, each of the respective bodies of field recordings collectively intertwine to construct a dynamic image of a fading epoch when water was regarded as a inexhaustible element, played against the realities of the contemporary world.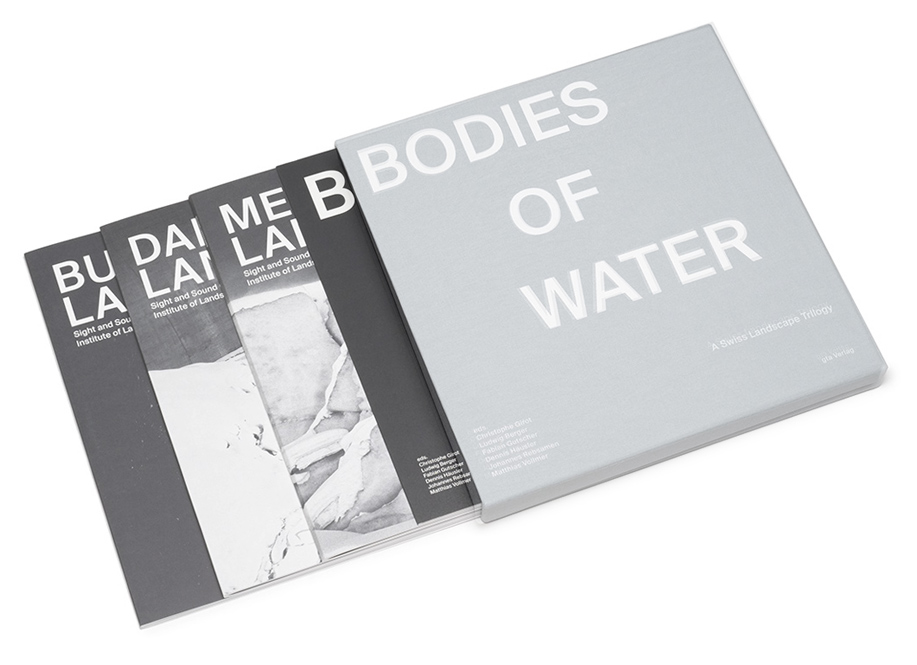 The first of these albums, "Melting Landscapes" was originally released in 2018 to great acclaim, garnering exclamations like "Top Ten Field Recordings & Soundscape of the Decade", "Top 20 Albums of the Year", "Best Winter Album of the Year" and "Best Records of 2018" from various outlets. The two sides of the LP comprise recordings made between the summers and winters of 2015-2018, documenting the rapidly melting Morteratsch glacier in the Swiss alps - describe by Christophe Girot as "profoundly shaping the alpine region in recent years", becoming "an omnipresent and tangible phenomenon, and an iconic symbol of ongoing climate change" - through underwater and contact field recordings, in addition to analogue photographs that are gathered in its accompanying booklet. Using underwater and self-made contact microphones, the members of the Institute captured the sounds of moving ice masses, constructing a sensory experience that takes on multiple dimensions of meaning. Presenting a striking gesture in ambience, laden with pointillistic detail, perhaps most moving about the album's twelve pieces is how acutely they retain the images at their source, while leaving the sense that they grew from other worlds, echoing elements of electronic music and synthesis within the deepest aspects of the natural world.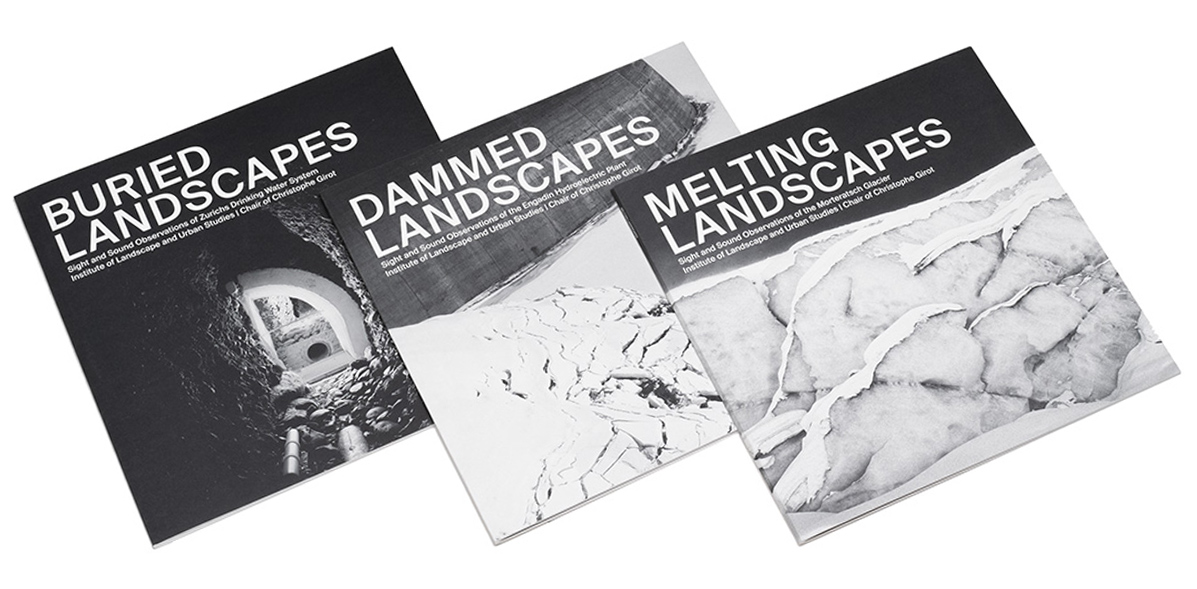 "Bodies of Water" continues with "Buried Landscapes", an album that utilises recordings made within the hidden network of galleries, pipes, turbines and reservoirs that supply Zurich with its water, to depict a surprising juxtaposition of structures, including the the archaic water galleries at Kohlbodenquelle carved directly into the moraine substrate, a high-tech underground lake pumping station at Tiefenbrunnen, and the Modernist concrete water reservoir at Lyren buried in the foothills of the Uetliberg. Here the Institute constructs three long form works, drawing the listener into a complex and immersive listening experience that entirely defies what anyone might expect. While the presence of water - bubbling, dripping, and flowing - is present within each piece, as the album progresses its dynamic intersections with other environmental elements takes on a greater role. The architecture and infrastructure emit a stunningly beautiful array of interwoven harmonics, culminating as a truly unique form of minimalism, laden with drones, textures, and echoing space, revealing water in its most abstract, least visible, and essential form.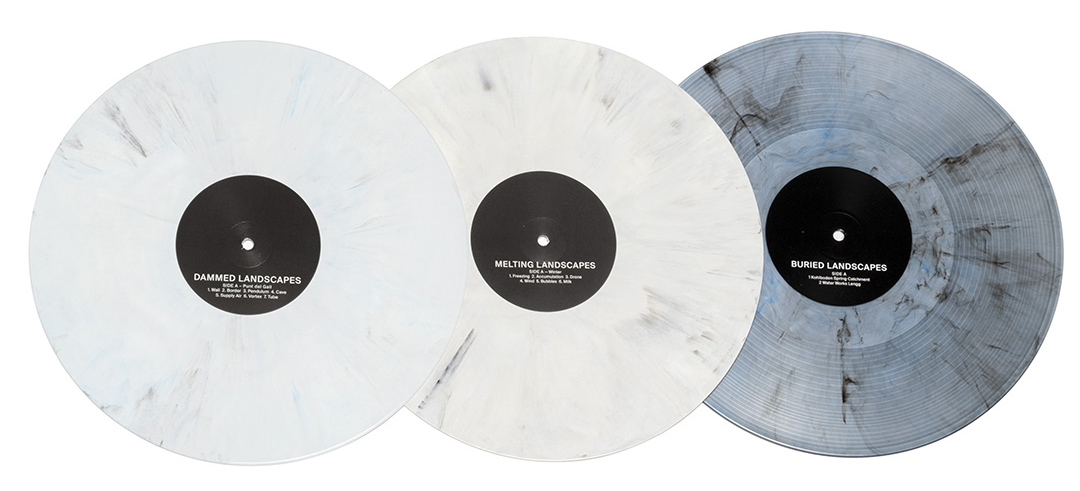 The third LP in the box, "Dammed Landscapes", was created by Christophe Girot by recording and documenting infrastructure and immediate surroundings of the pumped-storage power plant at Punt dal Gall and Ova Spin in Grisons over the course of three years, utilizing underwater, airborne, electromagnetic, and vibrational recordings, as well as lidar technology. The outcome, across fourteen discreet works, plus the depths of literal and symbolic meanings of these structures and environments, unfolding as an overwhelming sensory experience of place, materiality, time, and space. Not unlike the other two LPs in the collection, "Dammed Landscapes" is striking for what it is and what it implies, again allowing the presence of water to intertwin and dance with sounds that seem to defy their origin of source. Unexpected tonality, resonance, and texture meet within vast ambiences, at times feeling like pure documentation of immersive qualities, and others coming far closer to a resemblance of the radical abstractions of post war avant-garde electronic music in what can only be described as a thrillingly immersive listening experience with vast potential for reading and interpretation.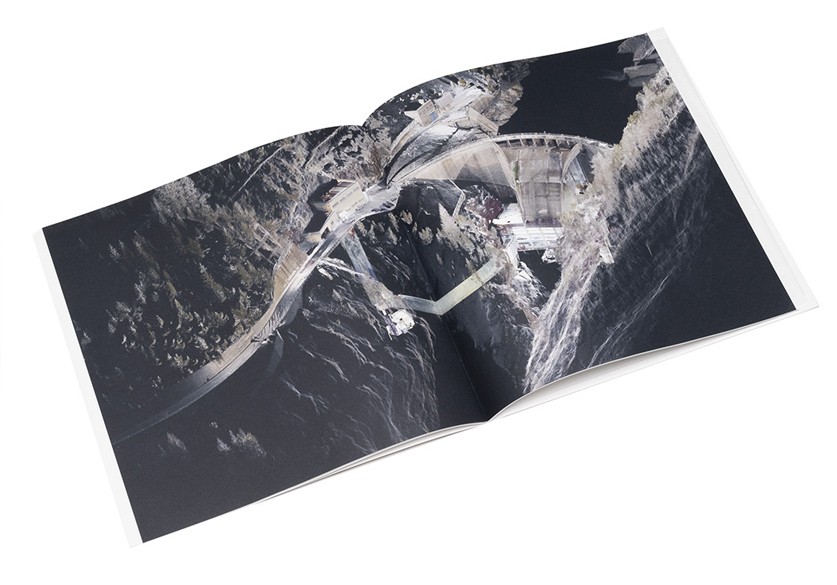 Gathering The Institute of Landscape and Urban Studies' complete trilogy of works dedicated to water, "Bodies of Water" - stretching across three astounding LPs with extensive companying photographic and text-based material - is unquestionably one of the most standout and singular distinct releases we've encountered all year. If ever there was a moment to capture a glimpse of the vast potential of field recording and sonic ecology, this has to be it. Ten out of ten and beyond. We can't recommend it enough.