Tony Conrad, Arnold Dreyblatt, Jim O'Rourke
Black Truffle marks its 100th release with one of the most striking and important archival album's we're likely to encounter all year: Tony Conrad, Arnold Dreyblatt and Jim O'Rourke's "Tonic 19-01-2001". Capturing three luminaries of sonic experimentalism working as a trio in New York in 2001, across the album's two sides - complemented by beautiful liners penned by Dreyblatt - a mind-blowing immersion in drone and tense harmonics reaches toward remarkble creative heights, with every moment serving as a potent reminder of what a truly amazing artist Conrad was.
By Bradford Bailey, 10 March 2023

From its humble beginnings back in 2009, Oren Ambarchi's imprint, Black Truffle, has steadily picked up the pace and emerged as one of the most exciting labels working within the field of experimental sound. Guided by an artist's ear, it has delivered an incredible stream of contemporary and archival releases from David Rosenboom, Alvin Lucier, John Duncan, Crys Cole, Keiji Haino, Annea Lockwood, Kassel Jaeger, AMM, Charlemagne Palestine, Alvin Curran, Will Guthrie, and numerous others. Now, 14 years in, the label has hit a monumental milestone with its one hundredth release, a stunning archival recording, "Tonic 19-01-2001", capturing Tony Conrad, Arnold Dreyblatt and Jim O'Rourke live in New York shortly after the turn of the new millennium. A mind-blowing immersion in drone and tense harmonics, it's an absolutely astounding effort by three of the most important voices in experimental sound that takes the listener on a travelling journey back to a time when Conrad was still with us and carving an uncompromising path. Issued on black vinyl with a very special set of liner notes by Dreyblatt, this is quite possibly the best archival release we'll see all year. Truly amazing and impossible to recommend enough.





"Tonic 19-01-2001" is an encounter with three of the most important voices in the history of experimental sound. Tony Conrad, who sadly left us in 2016, was one of the originators of Minimalism and drone, both as a solo artist with groundbreaking works like "Four Violins", composed in 1964, as well as within the original incarnation of La Monte Young's Theatre of Eternal Music, alongside Young, John Cale, and Marian Zazeela. Trained at Harvard as a mathematician, Conrad moved to NY during the early sixties, becoming a founding member of Fluxus, as well as helping lay the roots of musical Minimalism, conceptualism, and Structuralist film, before leaving the city during the 1970s to teach and explore various forms of radical art making. For decades, with the exception of his legendary 1973 LP, "Outside the Dream Syndicate", made with Faust, almost nothing survived or was heard of his musical practice, before he returned to the scene during the mid '90s and began playing and recording regularly, both solo as well as within numerous collaborators, most notably alongside artists like Jim O'Rourke.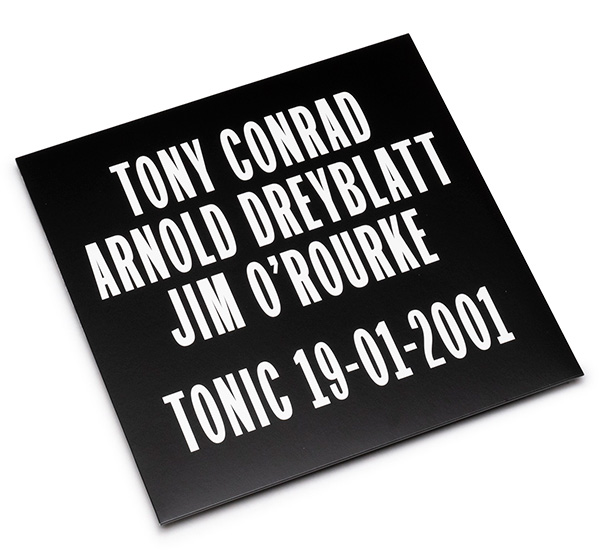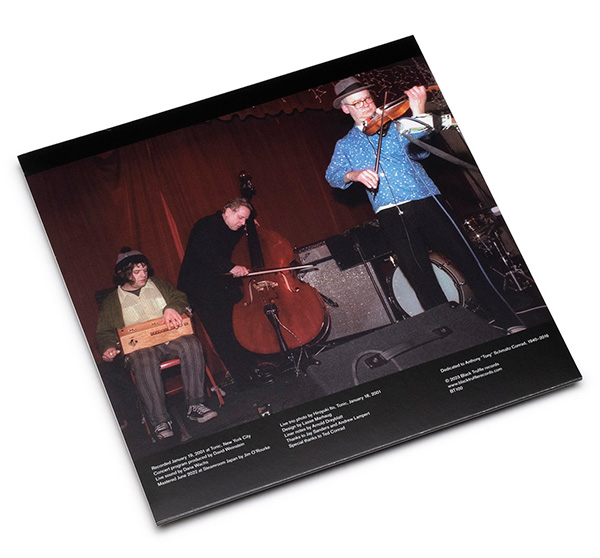 O'Rourke had initially emerged in Chicago during the late '80s as one of the beacons of an incredible scene of musicians gestating in that city, carving a relentlessly singular path across numerous idioms of music; noise, free improvisation, computer and electronic music, as well as unexpected rethinking of the idiom of rock within Gastr Del Sol. Fiercely principled on creative terms, and a die hard music fan in his own right, O'Rourke was an advocate for numerous artists that he felt deserved far more attention than they received and often went to great lengths to shine light their way. In addition to John Fahey, Conrad was one of the most noteworthy cases. Within various ensembles, the two collaborated and recorded regularly together during the '90s and early 2000s, prior to O'Rourke's relocation to Japan. One of the other artist's that fell under his gaze was Arnold Dreyblatt, who had left the US for Germany in 1984 and had become fairly neglected by American audiences over the years since. Not only did O'Rourke performed the composer's music regularly, but he helped reissue it on a number of occasions.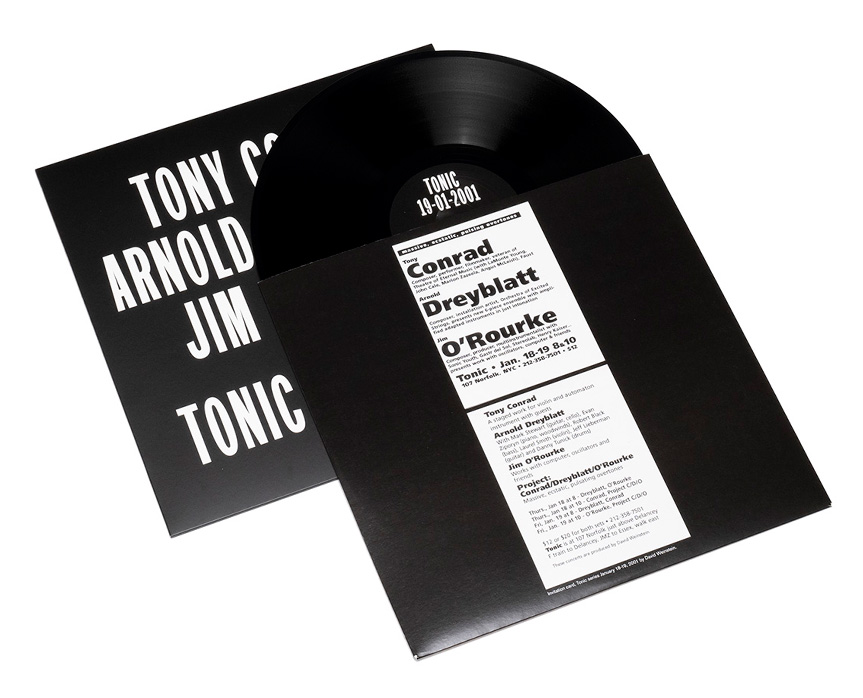 Dreyblatt was one of the central architects of the second wave of Minimalism. A student of Pauline Oliveros, La Monte Young, and Alvin Lucier, and a close friend and collaborator of Ellen Fullman, the bassist and composer was a definitive voice among the early 1980's New York avant-garde, releasing two seminal albums - 1982's "Nodal Excitation", reissued in 2015 by Drag City, and 1986's "Propellers in Love", that rest at the axis of important change within the canon of American minimal music. After remaining quiet for the better part of the decade following his relocation to Berlin, Dreyblatt came back with a force in the mid '90s, first with "Animal Magnetism", issued by Tzadik in 1995, and then with the incredible "The Sound of One String", via Table of the Elements, bringing his work to an entirely new generation.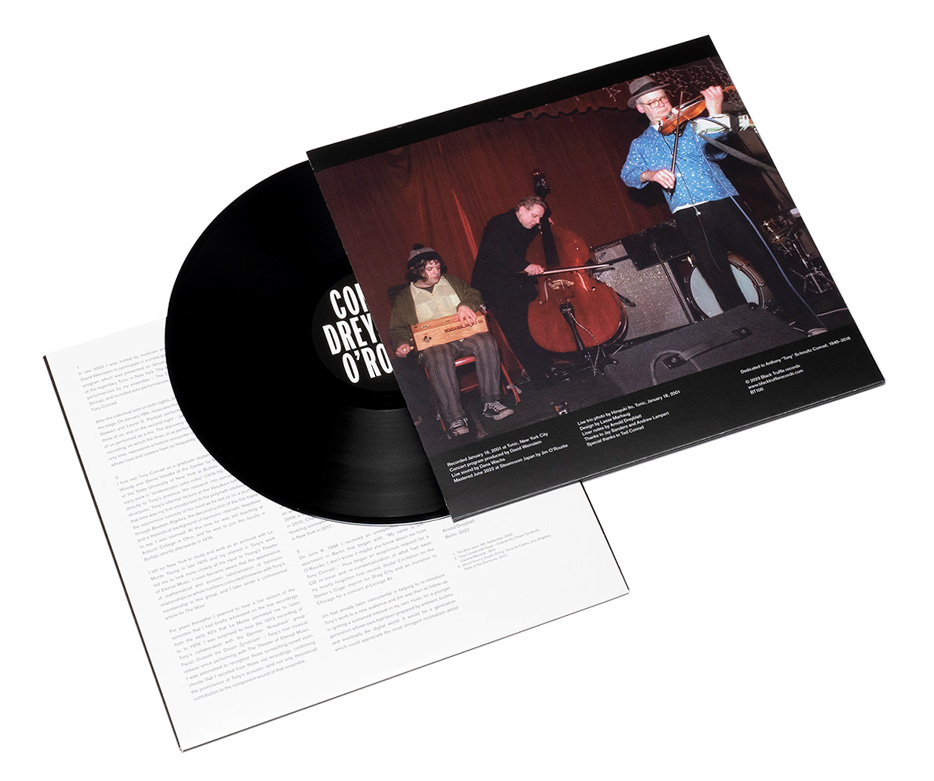 This sets the stage for three incredible artists orbiting each other during the 1990s and early 2000s, Dreyblatt having first encountered Conrad's violin chords during his tenure as an archivist for La Monte Young in 1975. "Tonic 19-01-2001" draws on material from a a two-night programme organised by David Weinstein at legendary New York experimental venue Tonic in January 2001, where Conrad, Dreyblatt and O'Rourke presented individual projects before performing a collaborative set each night, the first with members of Dreyblatt's ensemble and the second a trio of the three, the later of which makes up Black Truffle's LP. Conceived as a cross generational collaboration, highlighting the profound impact of Conrad's pioneering minimalism on Dreyblatt and O'Rourke, it is an astounding thing to behold.

Harnessing 'massive, ecstatic, pulsating overtones', as the flyer for the concert promised, the two sides of "Tonic 19-01-2001" overflows with the tension and beauty that only Conrad seemed to be capable of producing with bowed strings, as amplified, slowly shifting combinations of precisely chosen pitches shimmer with complex beating patterns and difference tones. Though produced by three individuals known for their own distinctive bodies of the work, the music encountered here is an egoless expression of Conrad's desire 'to move away from composing to listening', to 'working "on" the sound from "inside" the sound'.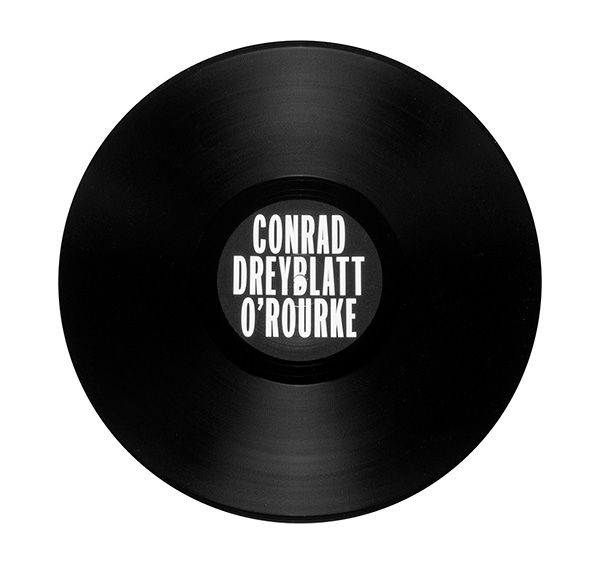 Amounting to an almost psychedelic form of drone - as dense and complex as it is minimal and contained - "Tonic 19-01-2001" is a near perfect counterpoint to Conrad's "Four Violins", illuminating the rigorous, exploratory journey that he had been on for decades. A truly astounding body of collaborative music, taking us back to the halcyon days of the early 2000s, this is as good as archival releases get. A truly monumental achievement on historical and creative terms, there couldn't be a more fitting recording to emerge as Black Truffle's 100th release.