Deux Filles
At long last, the Berlin based imprint, Our Swimmer, delivers the first ever, standalone vinyl reissues of Deux Filles' remarkable two LPs, "Silence & Wisdom" and "Double Happiness", originally self-released in 1982 and 1983 respectively. Laden with mystery and conceptual playfulness, they stand as two of the most singular musical gestures of their era, falling within a strange and unexplored zone between ambient music, bedroom DIY, post-punk, and the explicit experimentalism of tape music and synthesis. Truly remarkable and not to be missed.
By Bradford Bailey, 02 August 2022

The culture of underground music that emerged in the UK during the late 1970s and early '80s is most strikingly singular and unpredictable in the contexts of creativity of the 20th Century. From the ashes of punk's first wave came projects like Dome, This Heat, The Durutti Column, Nurse with Wound, Coil, Lifetones, Young Marble Giants, and numerous others, incorporating radically experimental temperaments into their sound. Among the most mysterious and unique of these projects was Deux Filles, the short-lived duo of Simon Fisher Turner and Colin Lloyd Tucker, both of whom would go on to have esteemed, albeit very different, careers of their own. Gathering a cult following over the years after the project's dissolution, the band's two LPs - 1982's "Silence & Wisdom" and 1983's "Double Happiness" - would eventually become some of the most sought-after artefacts of British music of their era, commanding staggering prices on the secondary market. Thankfully, at long last, Our Swimmer has brought them both back with beautiful, brand new vinyl editions. Falling somewhere between folk, rigorous experimentalism, post-punk, ambient music, and art world conceptualism, there's been nothing like them before or since.





Deux Filles was decisively shrouded in mystery from the start; a conceptual hoax that purported to the musical excursions of Gemini Forque and Claudine Coule, two French women who met as teenagers under tragic circumstances and became fast friends and recorded two albums. As the story goes, this meeting took place on a holiday to Lourdes, during which Coule's mother succumbed to a lung disease, and Forque's mother was killed in an accident. The two teens bonded over their shared grief and worked through their bereavement with music - recording two albums, and playing throughout Europe and North America - before disappearing without trace during a trip to Algiers in 1984. In the years since, a single letter appeared, written by Coule, claiming that the pair had journeyed to India on a spiritual quest, where they encountered further hardships.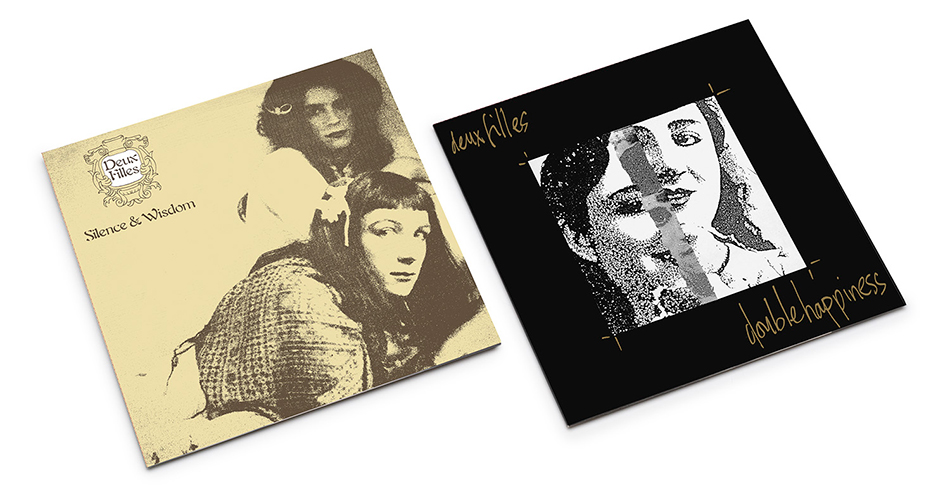 It's an incredible story, however, in reality, Deux Filles was the brainchild of the UK based duo, Simon Fisher Turner and Colin Lloyd Tucker, dressed as women - their live performances included - who had initially come together in an early incarnation of The The. Fascinatingly, Turner was an actor and teen singing star who would go on to compose soundtracks for Derek Jarman, and eventually to create a noteworthy body of experimental recordings for labels like Editions Mego, Mute, and Tapeworm. Tucker, on the other hand, began his career as a library music engineer at De Wolfe, before forming experimental wave group The Gadgets, and a body of pop infused solo projects that have slowly appeared over the decades since.
Like a number of projects that emerged from the UK during this rough period, the music made by Deux Filles defies any easy association. It isn't pop. It isn't post-punk. But, it's also not really experimental music either. It's a hybrid of all three and a bit more, combining lo-fi proto-dream-pop instrumentals with samples, tape experiments, ambient textures, and drum machines, falling somewhere between the territories explored by Bruce Gilbert and Graham Lewis's post Wire project, Dome, and Vini Reilly's work under the monkier The Durutti Column.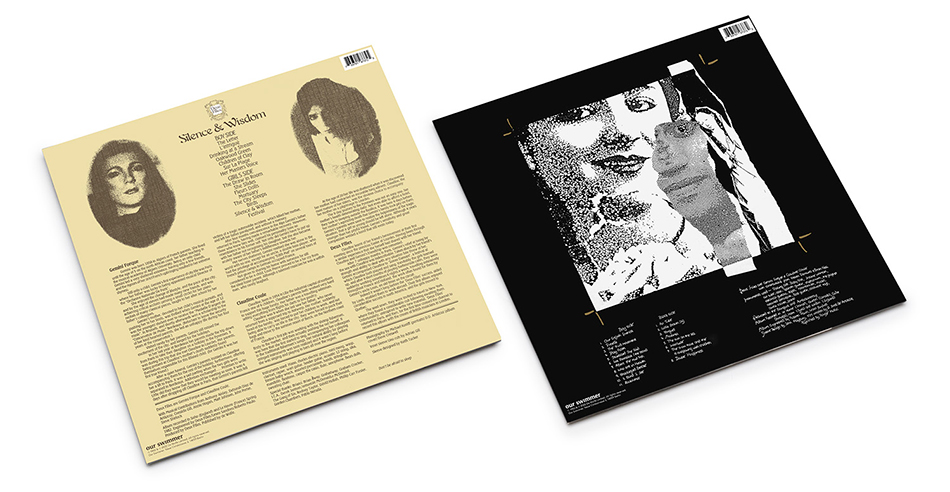 The band's debut, "Silence & Wisdom", self-released by Simon Fisher Turner's imprint, Papier Maché, works like a a series of musical vignettes or a score for an unrealized arthouse film, with processed guitars, sheets of synthesizers, echoey pianos, and washed-out vocal snippets intertwining as a singular sonic universe of fantasy and artistic rigor, playfully divided into a "Boy Side" and a "Girls Side". Overflowing with melodrama, its lilting guitars and space use of vocals drenched in echo, for all its timeliness with its own era, "Silence & Wisdom" feels shockingly ahead of its time, making it understandable why the album was largely overlooked upon its release, but has gathered an increasing following over the decades since. In the world that has followed on from the dreamy, texture laden, guitar driven electroacoustic music that emerged during the late '90s and early 2000s from the likes of Fennesz and Oren Ambarchi, the logic of this music seems that much more apparent, while still being entirely its own thing.
Deux Filles second LP, "Double Happiness", was released the following year in 1983 by, also by Turner's imprint Papier Maché. Here, in humorous nod to the first, the sides are divided into a "Boy Side" and a "Black Side", though, like nearly every concept lingering below the project's output, it's hard to know exactly what that's all about. Drawing on roughly the same pallet of guitars, synthesizers, pianos, vocal snippets, samples, tape experiments, ambient textures, and drum machines, the album is as much similar as it is different than its predecessor. It feels technically tighter and more refined, and perhaps, subsequently, a bit less DIY. Rather than a shortcoming, it appears a strength and a honing of vision. Maybe there's a story in there of the girls getting it together. Who knows. Alongside this, is subtle change in mood. "Double Happiness", as the title might imply, is less moody and melodramatic. A great deal of the album feels almost joyous, and veers toward beautifully executed guitar work that often makes it feel like a long-lost cousin of The Durutti Column from the same era. Inexplicably, of Deux Fille's two LPs, "Double Happiness" has always existed slightly in the shadow of "Silence & Wisdom". Taking nothing away from its predecessor, the strengths of which lay in slightly different areas, in many ways, it's the stronger of the two. Whatever the preference, it's a record that wows 40 years on, and is not to be missed.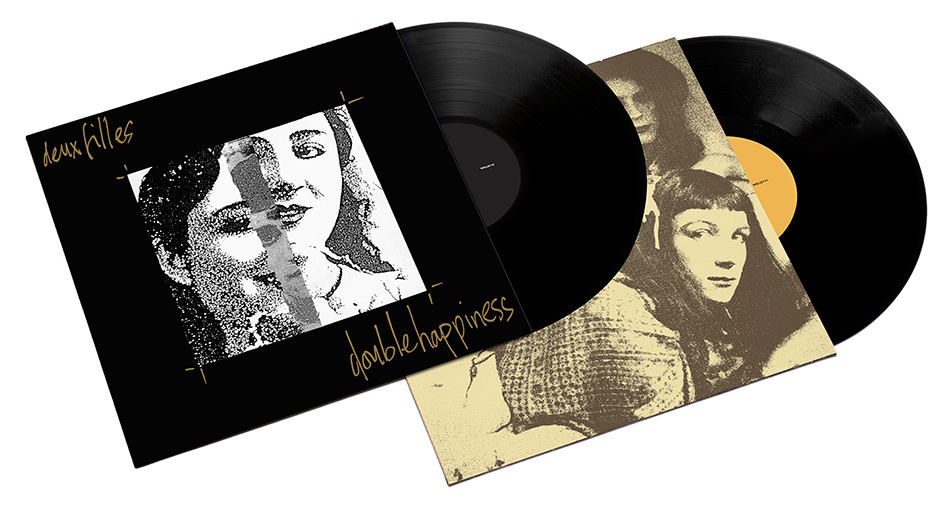 It's impossible to express how happy we are to have Deux Filles' "Silence & Wisdom" and "Double Happiness" back in our hands. Our Swimmer's beautifully produced reissues are the first pressing to have appeared in stand-alone form since their initial release, making it a truly historic event. Some of the best and most unique ambient music we're bound to see reissued this year. Grab your copies fast before they disappear again for good.