Dickie Landry
The venerable Unseen Worlds returns, rounding out the year with three of their most important reissues to date, Richard "Dickie" Landry's seminal LPs "Solos" and "4 Cuts Placed in 'A First Quarter'", originally released in 1973 by Philip Glass' legendary private imprint, Chatham Square, as well as his groundbreaking 1978 collaboration with the conceptual artist, Lawrence Weiner, "Having Been Built on Sand". Unveiling startling connections between avant-garde jazz, minimalism, and the art world unfolding in New York during the '70s - and out of print since their original releases - each is absolutely incredible and impossible to recommend enough.
By Bradford Bailey, 11 November 2022

Since their launch in mid-2000s, the New York based imprint, Unseen Worlds, has continued to set an incredibly high bar through the earth-shaking quality of their releases. Equally dedicated to the artefacts of history and the contemporary, they've always taken their time, issuing each release with remarkable care, while humbly delivering tectonic shifts in the landscape of sounds. Over the last couple of years, they've dropped some incredible records by Sam Gendel, '"Blue" Gene Tyranny, Carl Stone, Robert Haigh, Federico Mompou, and James Rushford, Silvia Tarozzi, Philip Corner, John McGuire, and others, but their latest batch is easily among the closest to our heart. Retuning their gaze to one of the artists that helped launch their efforts more than a decade ago with "Fifteen Saxophones", they've brought us the first time vinyl reissues of three of Richard "Dickie" Landry's most important LPs, 1973's "Solos" and "4 Cuts Placed in 'A First Quarter'" and his 1978 collaboration with Lawrence Weiner "Having Been Built On Sand". Easily among the most important documents of 1970s American avant-gardism, bridging the realms of free improvisation, minimalism, and conceptual art, they are unquestionably high among the most essential reissues of the year.


For nearly half a century, Richard "Dickie" Landry was at the center of the New York avant-garde. Born in the small Louisiana town of Cecilia in 1938, he began making pilgrimages to the city while still in his teens in search of the city's most cutting edge gestures in jazz, and relaxed there not long after, falling in with a close knit community of artists and composers like Keith Sonnier, Philip Glass,Joan Jonas, Gordon Matt Clarke, Richard Serra, Robert Rauschenberg, Nancy Graves, Lawrence Weiner, Steve Reich, Jon Gibson, and Robert Wilson. Landry remains one of the few artists of his generation who made important waves within numerous creative idioms. Having been trained from a young age on saxophone, not only is he a remarkably respected solo performer and bandleader, but he was an early and long-standing member of Philip Glass' ensemble, playing on seminal records like "Music With Changing Parts", "Music in Similar Motion / Music in Fifths", "Music in Twelve Parts", "North Star", and "Einstein on the Beach", and played with Talking Heads and Laurie Anderson. He was also one of the most important photographic documenters of the New York Scene, until he left the city for his native Louisiana, following 9/11.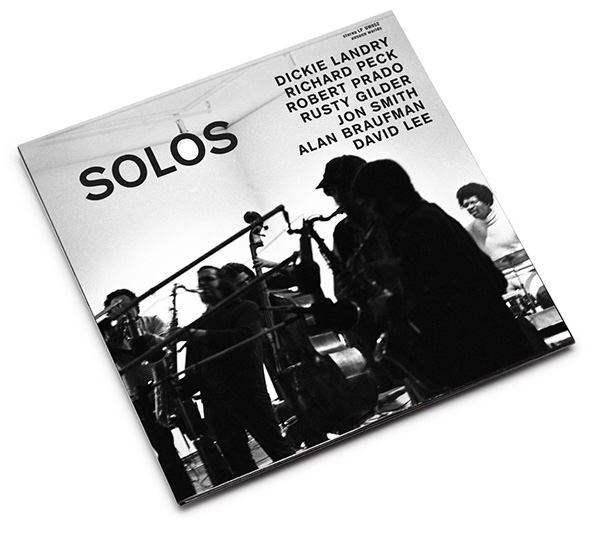 Dickie Landry "Solos" (2LP, 1973)

Three years into his membership in the Glass Ensemble, and following a period traveling the world with Robert Rauschenberg, opening his exhibitions with solo saxophone concerts, on February 19, 1972, Landry gathered a group of musicians at the Leo Castelli Gallery on West Broadway in Soho to perform a wholly improvised concert, the products of which would be his first LP as a leader, "Solos", issued the following year on Philip Glass' newly formed, private imprint Chatham Square Productions.

"Solos" features the playing of Landry alongside fellow Glass ensemble reed players, Jon Smith and Richard Peck, Rusty Gilder and Robert Prado, both doubling up on bass and trumpet, the drummer David Lee Jr., and Alan Braufman (who many will know from his stunning 1975 India Navigation LP "Valley of Search", reissued to great acclaim a few years back) on alto sax. Mirroring the long jam sessions that took place in Landry's Chinatown loft, over the course of several hours the ensemble stretched out in the gallery, weaving references to Coltrane, Coleman, and Ayler into an expanse of sound that had very few equivalents in its moments; a driving from of free jazz that incorporates numerous other idioms into its midst.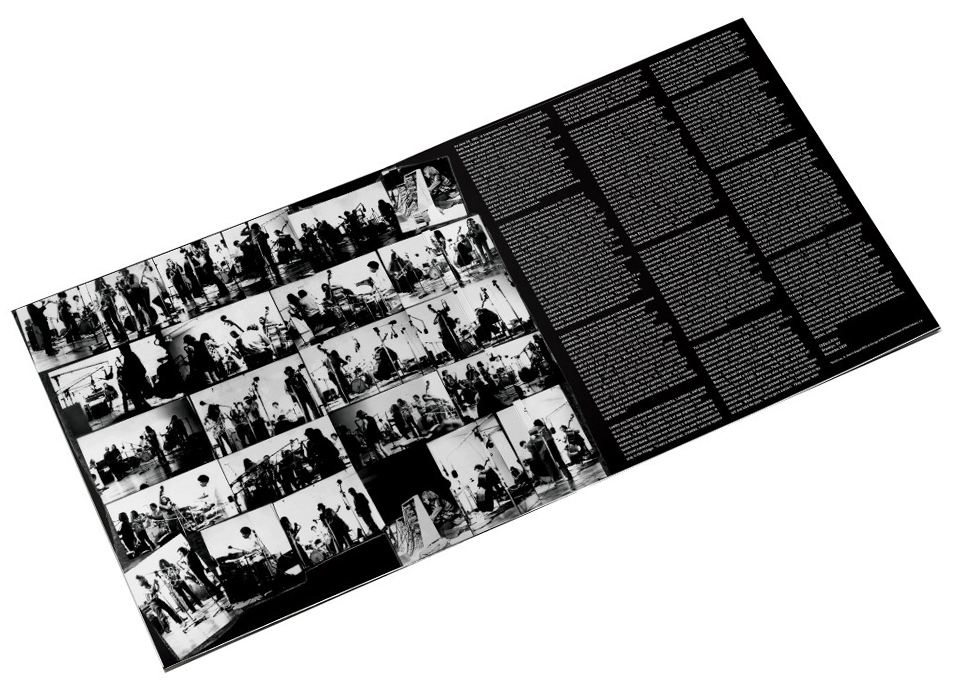 Filled with incredible energy and marked by brilliant playing by every member of the ensemble, the four long-form works that that stretch across the double LP that comprises "Solos", roughly orient themselves around the shifty centrality of each player, effectively forming a conceptually loose series of solos that catapults the album between hard blown free jazz, hard bop, and flirtations with modal spiritual jazz, all of which incorporate subtle elements drawn from rock and funk.

An absolute joy and listening from start to finish, not only is Dickie Landry's "Solos" a crucial, largely overlooked artefact of 1970s New York free improvisation and jazz, it represents a definitely important juncture between the minimalist scene, the art world, and other extensions of the music avant-garde of its moment. It's crazy to think that it's remained out of print for the better part of 40 years. Unseen World's stunning double LP vinyl reissue perfectly reproduces the original Chatham Square gatefold sleeve with documentary photos by Tina Girouard and Suzanne Harris. Fully remastered from the original master tapes, with new liner notes by Clifford Allen, it's hard to think of a record that we could more highly recommend this year.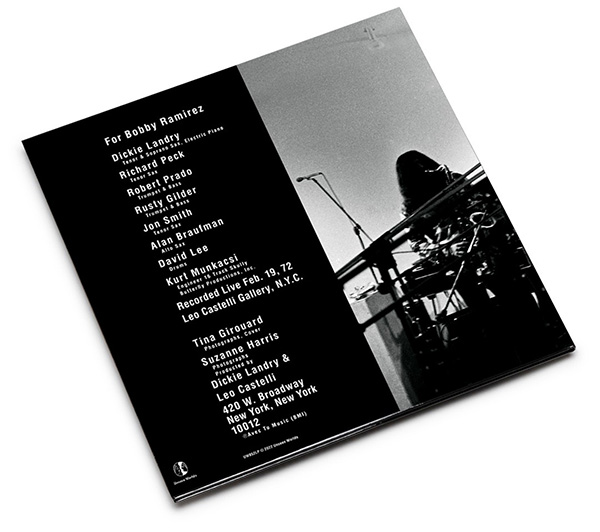 Dickie Landry "4 Cuts Placed in 'A First Quarter'" (1973)

Dickie Landry's follow up and companion piece to "Solos", also originally issued by Phillip Glass' Chatham Square Productions in 1973, is a sonic result of a collaboration between the saxophonist and the legendary conceptual artist Lawrence Weiner. Perhaps even more than the former, it offers a rare window into the collision of creative worlds that was common in New York during this period, and held a defining sway over Landry's life. As he remembers, "I was working for Keith Sonnier at Castelli Gallery and met Lawrence. He asked 'can you make a video for me?' So we did "To and Fro..." At some point he was working on "A First Quarter" (1973) and wanted me to do the music. I said 'I already have the music.' He said 'what do you mean?' I had recorded several pieces with Kurt Munkcasi and walked around the set playing the music on a boom box."

Of course, what Landry was referencing was not the album that was to come, which was recorded to a high standard and eventually settled as four of the most beautiful and sophisticated musical gestures of their moment. Viewed collectively as a full-length LP, "4 Cuts Placed in 'A First Quarter'" is more diverse in its make up than "Solos". The album launches with "Requiem for Some", an ensemble work inspired by Gil Evans' long, placid tones, featuring the playing of Landry, Rusty Gilder, Richard Peck, Robert Prado, and David Lee, Jr. (all of whom also played on "Solos"). Overwhelmingly beautiful, perhaps of all the works Landry committed to tape, it is here where we can observe his incredible talents as a composer. This is followed by "4th Register", a grainy delayed solo tenor piece, bridging a gap between the minimalist works like Terry Riley's "Dorian Reeds" and solo improvised free jazz, which foreshadows Landry's won "Kitchen Solos" from his 1977 album, "Fifteen Saxophones", by several years.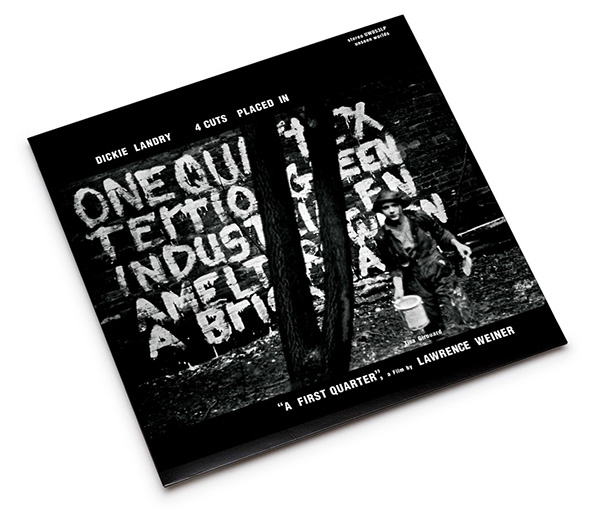 The second side of "4 Cuts Placed in 'A First Quarter'" is given over to two equally potent and visionary works, "Piece for So" and "Duo Vivace". The first is a work that Landry composed for Rusty Gilder, a little-known bassist who shines across the work's 12-minute length, perfectly balancing harmonic and rhythmic complexity with deft hands. The later, a duo between Landry and Richard Peck, is a fantastic sparring session for two tenor saxophones which encounters the pair locked in a conversation of rapid-fire tones that resembles the beating wings of birds in flight.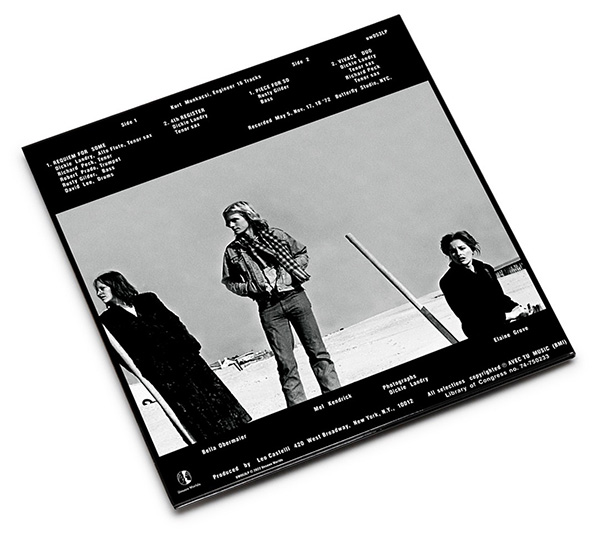 While it's impossible to pick favorites, especially given the relative diversity displayed by his recorded output, "4 Cuts Placed in 'A First Quarter'" might be Landry's most defining artistic statement, covering a vast amount of ground with effortless grace. This first-time vinyl reissue from Unseen Worlds brings the album back into print for the first time in decades, making it available to brand new generation of listeners. Perfectly reproducing the original Chatham Square sleeve, and fully remastered from the original master tapes, it's a thing of beauty that can't be missed.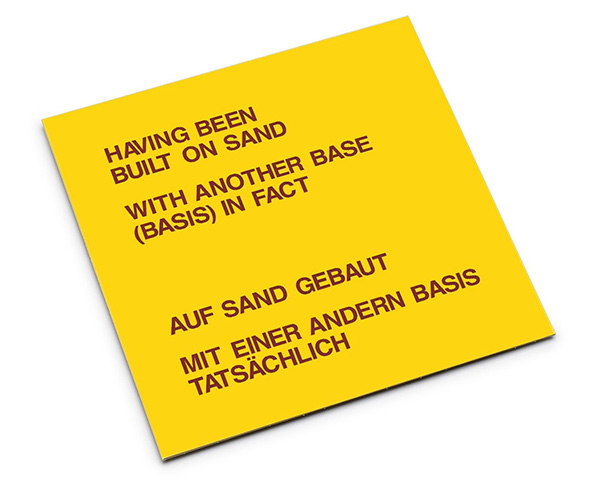 Dickie Landry, Lawrence Weiner "Having Been Built on Sand" (LP, 1978)

While everything Dickie Landry released is a window into the collision of different creative worlds happening during the 1970s, few better unveil this than his 1978 LP, "Having Been Built on Sand", created with the legendary conceptual artist Lawrence Weiner. Originally conceived as a very limited vinyl edition released by the Rüdiger Schöttle gallery in Munich with sleeve design by Weiner, the album comprises eight untitled tracks featuring Weiner, Tina Girouard, and Britta Le Va reciting texts in English and German that are accompanied by Landry's woodwinds, all recorded in the natural reverb of Robert Rauschenberg's studio, a former mission and chapel in Lower Manhattan.

Falling somewhere between sound art, concrete poetry, and the collision of jazz and poetics that emerged during the 1950s, "Having Been Built on Sand" is a startlingly original piece of work, the blocks of text relating, repeating, and inverting between themselves, all the while intersecting with Landry's delivery of stunning tonal lines, creating multiple dimensions of complexity, meaning, and scope, in much the way that these artists constantly worked over their careers, while never quite achieving something like this.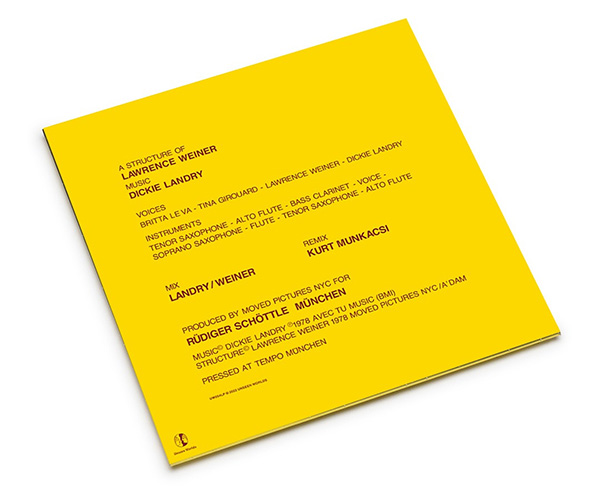 What's most surprising about "Having Been Built on Sand" is how musical it is, feeling more direct and immediate than Robert Ashley's roughly contemporary (and not unrelated) efforts for voice and instruments, while somehow more in line with later efforts by artists like Cheri Knight, Greta Lindholm, and Kristin Oppenheim; voices dancing and weaving amongst themselves, often rhythmically, played against the abstract meanings and sounds sent among them by Landry's breath, tonal control, and the inherent percussiveness, overlapping with his counterpart's vocal phrases, advancing and receding declarations of presence and intent.

Brilliant on countless terms, and wonderfully listenable, Dickie Landry & Lawrence Weiner's "Having Been Built on Sand" is nothing short of a revelation, having remained out of print and virtually unobtainable, beyond paying high figures on the secondary market when a rare copy shows up, more or less since it was originally released. One of the great artefacts in the canon of "artist records" that we can't thank Unseen Worlds enoguh for bringing back. Absolutely wonderful and impossible to recommend enough.