Dreams
Incorporating the Hungarian folk music of his childhood, popular music, and numerous other musical references into the language of jazz, it's a roving, completely unique body of sounds
By Bradford Bailey, 15 June 2020
Perhaps more than any other, jazz is a music bound to the struggle for freedom. It is a profoundly human music that presents - among so many other things - a creative means through which to challenge and resolve the oppressive structures of daily life. Born within the harsh realities of African American communities during the early part of the 20th century, the purity of its expression, with the images freedom that it presents - equally visible within the organization of its sounds and the ways in which its creators communicate and interact - resonated far beyond the boundaries of its own context. New and distinct realizations quickly sprouted across the globe, allowing artists from diverse backgrounds to come together in conversation.

It is from within these remarkable narratives, that the Hungarian guitarist Gabor Szabo's incredible LP, Dreams, sprang. Released in 1968 on his own Skye imprint, it's a towering piece of work, regarded by many to be his greatest achievement, that has sent collectors scrambling for decades. Thankfully, at long last, the Russian imprint, Ebalunga!!!, has made this masterpiece available to a new generation with an incredible expanded edition, available on either LP or CD. Beautiful inside and out, it's hard to express how excited we are to have it in our hands.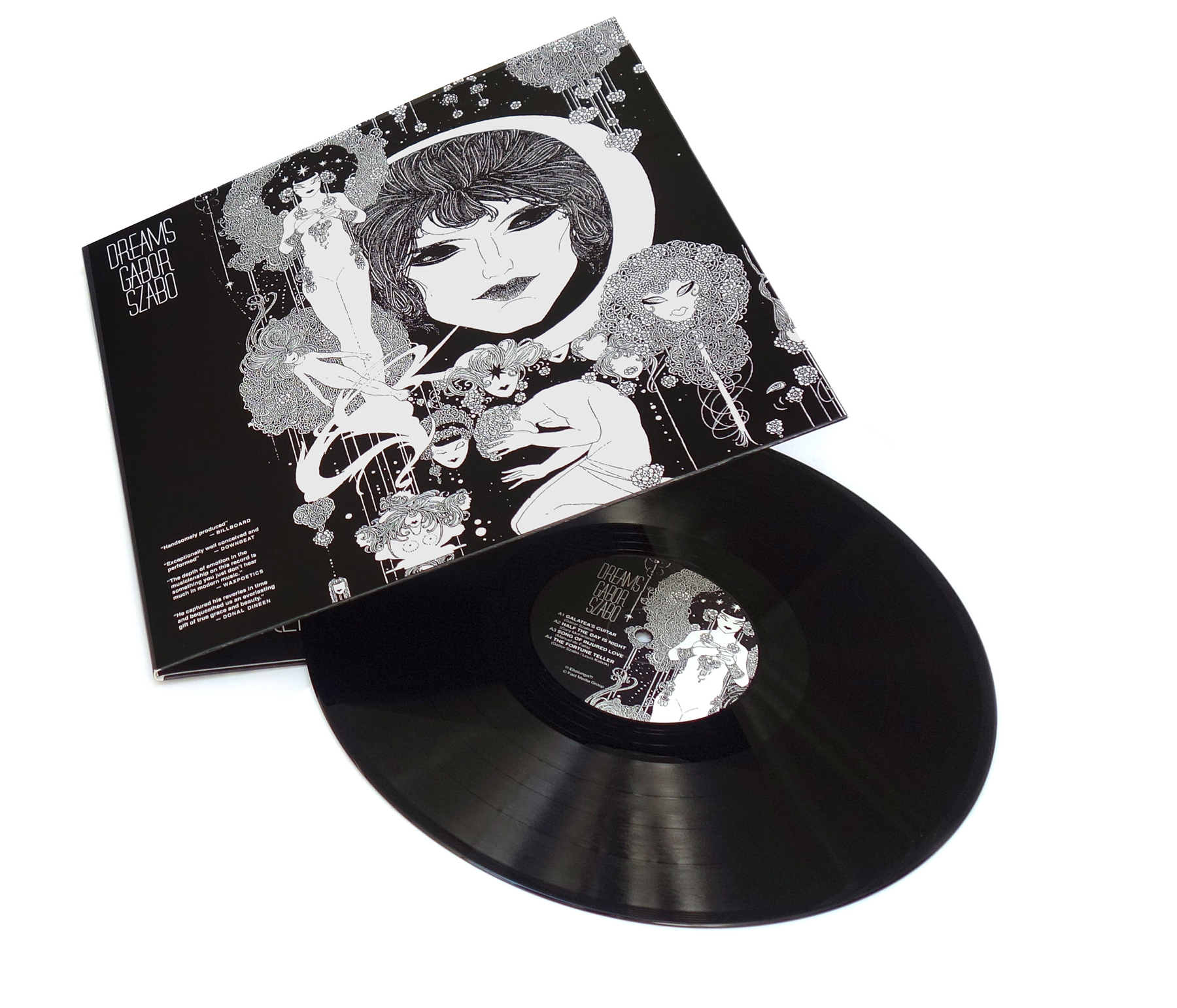 Gabor Szabo (1936 - 1982) was no stranger to the struggle for freedom. His early years in Hungry fell under the dark cloud of fascist rule, war, and genocide, only to be replaced with the iron curtain at the dawn of the Cold War. Inspired by the jazz that he heard on Voice of America radio broadcasts, he began playing guitar at the age of 14. In 1956, as the Russian tanks hit the streets, he escaped Hungary, fleeing to the United States, where his talents - first witnessed publicly at the 1958 Newport Jazz Festival - eventually won him a place at the prestigious Berklee School of Music in Boston.

In 1961 Szabo became member of Chico Hamilton's quintet, holding the position until 1965, while also working with Charles Lloyd, Ron Carter, and Tony Williams, as well within a group led by Gary McFarland, before being offered a coveted spot on Impulse!, arguably the most relevant jazz imprint of the moment, producing a highly regarded string of LPs, across which his singular sound began to unfurl.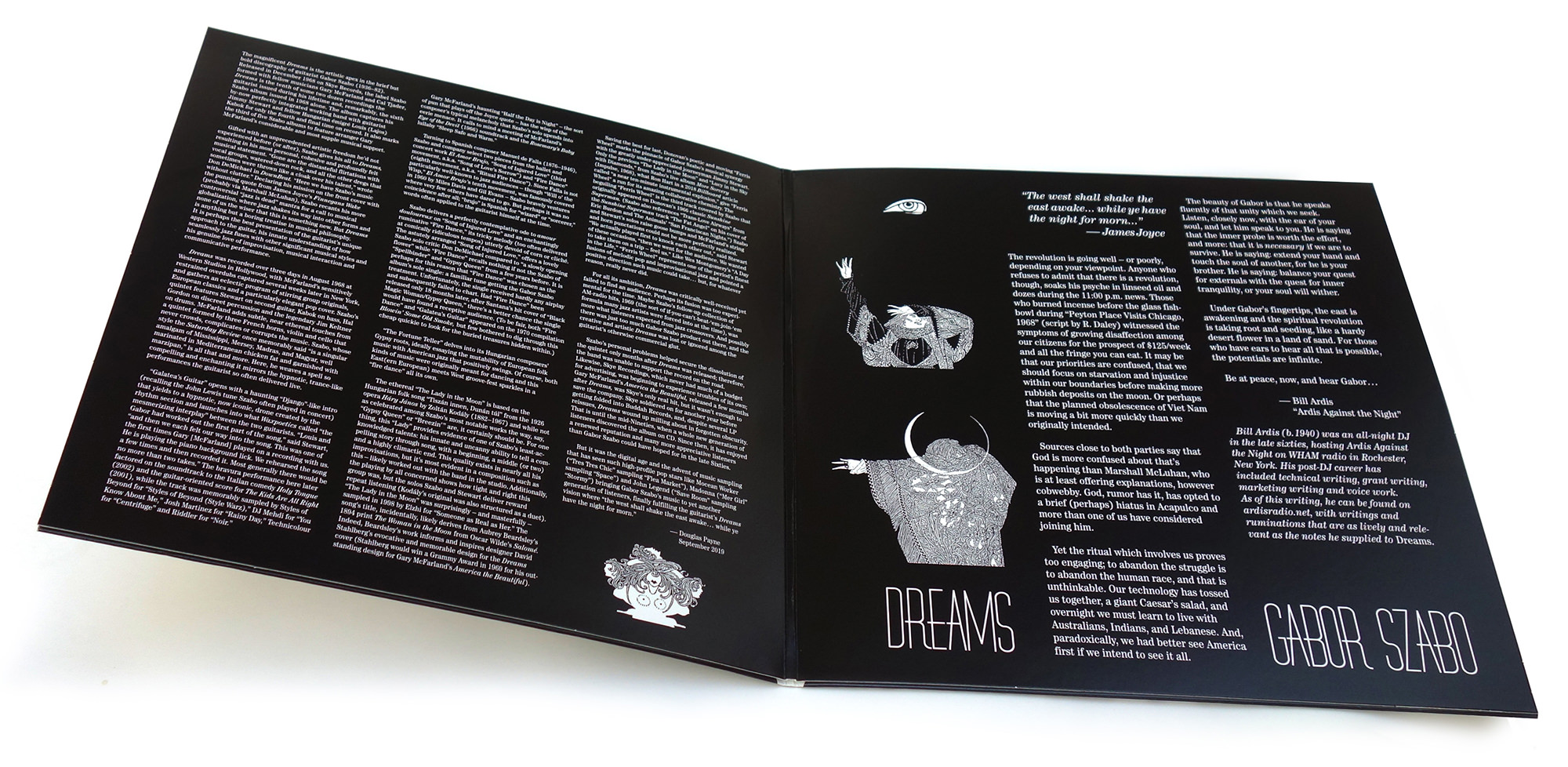 Not unlike his peers from Latin America and Africa, what propels Szabo's efforts beyond cultural appropriation or pastiche, is the honesty with which he incorporated his own cultural and experiences into the language of jazz. At its roots, Hungary is cultural product of ancient nomadic peoples; a melting pot that bears a striking resemblance to singular form of music that emerged in Szabo's hands.

Among the greatest triumphs of this is Dreams, originally issued in 1986 by Skye, the short-lived label that he founded and ran with Cal Tjader and Gary McFarland.
While undeniably part of the jazz language, Dreams is the culmination of Szabo's attempt to break into a freer, personal form that incorporate the Hungarian folk music of his childhood, popular music, and numerous other musical references. The result defies any easy description; a roving, completely unique body of sounds that sprawl across an immersive and intoxicating two sides, rendering the images of an imagined journey across culture and time, without ever leaving its own moment.

Against a band that is liberated and driven by personal expression, Szabo threads his singular solos and interventions, carrying subtle traces of psychedelic jams, raga guitar, and the musics of North Africa and the Middle East.
Tightly wound, yet free. Funky and mellow. Transient while entirely its own place, despite being a masterpiece, Dreams tragically fell out of print not long after its initial release, mirroring Szabo's sad demise at the age of 46 after a long battle with drug addiction. The album, discovered and championed by record collectors ever since, remains a gift of grace and beauty that is almost impossible to get off the record player once heard.

Ebalunga!!!'s extended and remastered edition, also available on CD, comes with 2 bonus tracks: the radio versions of Fire Dance and Ferris Wheel, originally released as 7" single in 1969, as well as exclusive liner notes written by researcher and biographer Douglas Payne, packaged in its incredible, original artwork.