Ellen Arkbro
Four years on from her last minimalist marvel, "Chords", Ellen Arkbro returns with a brand-new body of compositions for Superior Viaduct's W.25th. Comprising a series of works composed for multiple organs in resonant spaces, across the album's length she displays a rare talent that rigorously pushes the instrument's potential for emotive tension and harmonic, microtonal dissonance, culminating in the most engaging body of drone recordings to appear in recent memory. Immersive and challenging slow burn from the first sounding to the last, we're fairly certain this is going be one of the talk about records of the year.
By Bradford Bailey, 31 August 2023

With good reason, we sing the praises of the San Fransisco based imprint, Superior Viaduct, at regular intervals. Since their founding in 2011, they have emerged as one of the premier labels for archival releases and reissues of ambitious underground and experimental music, often making the improbable and impossible real with some of the greatest holy grails in the history of sound. So far, in 2023 alone, they've already delivered stunning albums by Albert Ayler, David Cunningham, Cluster, La Monte Young, Byard Lancaster, and Sonny Sharrock, but reissues and archival releases aren't the extent of their focus. In 2016, they founded their sub-label, W.25th, as a vehicle for groundbreaking experimental contemporary works. With beautiful albums by Laraaji / Sun Araw, Cindy Lee, Sarah Davachi, Gavilán Rayna Russom, and numerous others already gracing the W.25th catalog, the label returns with its first release in two years, and easily among its most noteworthy to date, the Stockholm based composer Ellen Arkbro's "Sounds While Waiting". Comprising a series of works composed for multiple organs in resonant spaces, once again Arkbro, one of the most talented composers of her generation, delivers a brilliant gesture of contemporary minimalism, imbued with tension, urgency, life. Issued by W.25th as a beautiful vinyl edition, "Sounds While Waiting" is as essential as they come.





Born in 1990, Ellen Arkbro belongs to a generation of ambitious young composers who began to emerge from Stockholm during the 2010s. Working in both acoustic instrumentation and synthesis, her compositions are largely rooted in investigations of intervallic harmony in just intonation, manifesting as remarkably rich minimalist pieces which have been met by wide acclaim in live performance and via the LPs, "For Organ and Brass" (2017) and "Chords" (2019).

There's something difficult to pin down in Arkbro's work; a focus, consideration, and ambition that sets her apart from her peers. Her compositions, for all of their elegance and grace, feel hard thought and like every choice has resulted precisely the desired effect. This is unquestionably the case for her latest, "Sounds While Waiting", featuring four works composed for multiple organs in resonant spaces, and one for two organs and cymbals.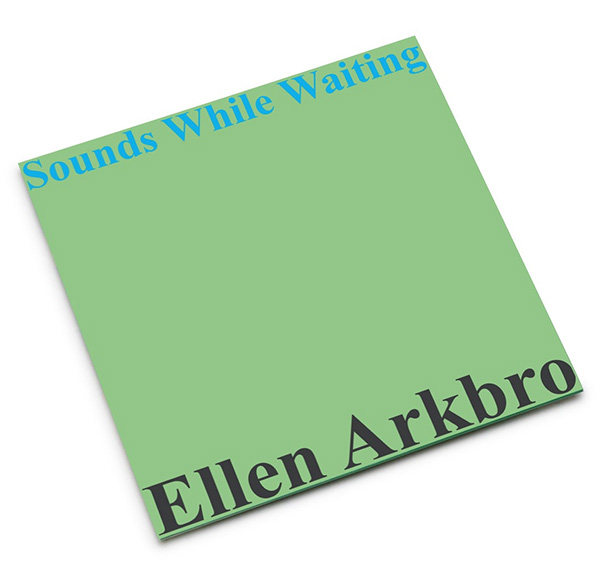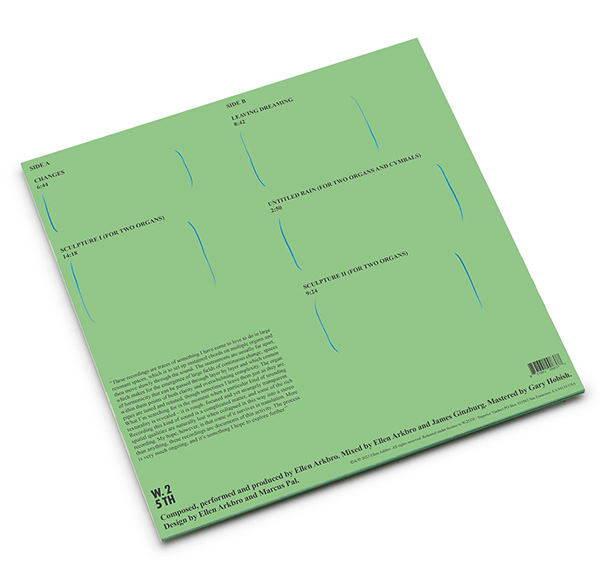 As Arkbro herself describes, these pieces: "set up sustained chords on multiple organs, and then to move slowly through the sound. The instruments are usually far apart, which makes for the emergence of large fields of continuous change, spaces of harmonicity that can be passed through layer by layer, and which contains within them points of both clarity and of overwhelming complexity. The organ pipes are tuned and retuned, though sometimes I leave them just as they are. The moment I'm after is when a particular kind of sounding texturality is revealed – it is rough, focused and yet strangely transparent."

Perhaps most poignantly, in a landscape of experimental music that's become increasingly saturated with long-tone church organ compositions that indulge in the natural beauty of the instrument and reverberant spaces, the pieces comprised by Arkbro's "Sounds While Waiting" veer the other direction, tapping the organ's broad potential for emotive tension and harmonic, microtonal dissonance, allowing sustain and duration to stand in the place of structural shifts. Each of the album's pieces, in the simplest terms, represents a welcome challenge that pushes the listener toward the unfamiliar and states of mild, sonorous disorientation.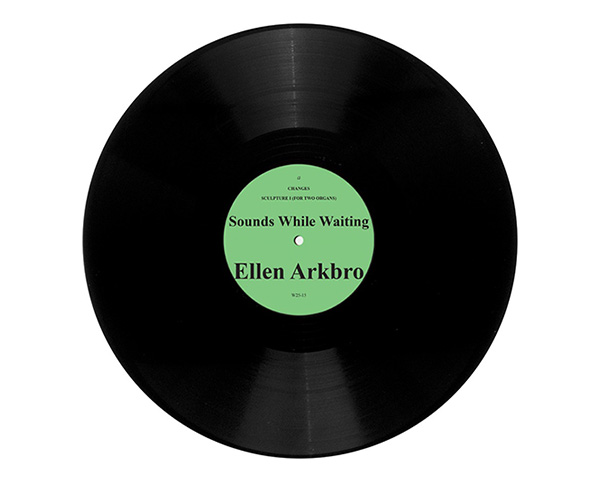 Just as she did with "For Organ and Brass" and "Chords", with "Sounds While Waiting" she miraculously manages to transform the most constrained material means into compositions of monumental scope. Easily one of the most engaging drone records in recent memory, and a much-needed reinvigoration of the organ, we can't sing its praises enough. Yet another high-water mark from Superior Viaduct's W.25th imprint that's not to be missed.