Ensemble Nist-Nah - Elders
From Black Truffle comes the latest instalment of Will Guthrie's incredible journey into the experimental potential percussion, Ensemble Nist-Nah's "Elders". Issued in beautiful CD and vinyl editions, the album encounters a stunning ensemble of players embarking into waves of hypnotic rhythm and intricate collective interplay on Javanese Gamelan and drum kits, as well as traditional and junk percussion, that culminates as one of the most exciting and engaging records we've encountered from Guthrie to date.
By Bradford Bailey, 05 May 2022

The France based, Australian percussionist, Will Guthrie, has been on fire over the last few years. 2020 saw the release of his stellar solo LP, "Nist-Nah", as well as two collaborations with Mark Fell, while 2021 was graced by his widely celebrate duo with James Rushford, "Real Real World", and the absolutely incredible solo LP, "People Pleaser - Part II". Continuing his long-standing relationship with Oren Ambarchi's Black Truffle, it's clear that this momentum isn't giving up across the length of one of his most exciting and singular offerings to date, "Elders", a mind-blowing body of compositions created with his Ensemble Nist-Nah, incorporating Gamelan performance, contemporary composition, noise, jazz, and everything in between. Issued in beautiful vinyl and CD editions, gathering six stunning works that gather in a wave of hypnotic rhythm and intricate collective interplay, it's easily one of our favorite records from Guthrie to date.





Having since relocated to France, Will Guthrie first emerged on the Australian scene around the turn of the millennium. Over the years since, he has developed a highly individualized percussive and sonorous language - improvised and composed - across a growing discography of solo efforts, as well as within in numerous collaborative projects with artists like Oren Ambarchi, Mark Fell, Hong Chulki, James Rushford, and Stephen Magnusson.
Back in 2020, Guthrie delivered the LP "Nist-Nah", comprising a group of compositions centered around the Gamelan, that had grown from his travels in Indonesia and his extensive studies of various forms of music created for that instrument. These initial explorations led to his founding of Ensemble Nist-Nah, a nine-piece percussion group, often expanded to include a number of others, playing drum kits, traditional and junk percussion, and a complete set of Javanese Gamelan instruments. Over the course of Covid-19 pandemic, this ensemble - propelled by a remarkable sense of enthusiasms and energy - has manage to rehearse, perform, and tour Europe, efforts that now culminate across the length of "Elders", issued by Black Truffle.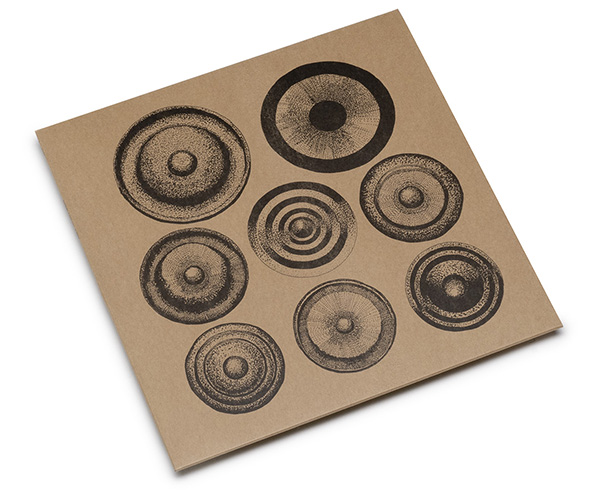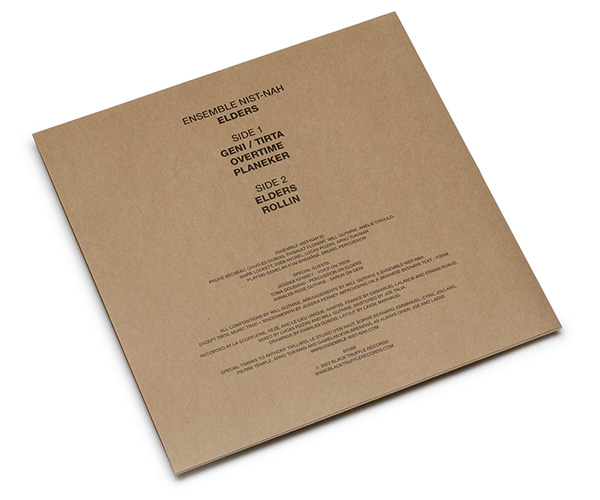 "Elders" gathers six compositions, primarily composed by Guthrie, performed by Ensemble Nist-Nah, featuring the contributions of Guthrie, Prune Bécheau, Charles Dubois, Thibault Florent, Amélie Grould, Mark Lockett, Sven Michel, Lucas Pizzini, Arno Tukiman, Kyai Bremånå, Jessica Kenney, Toma Gouband, and Annalee-Rose Guthrie. From the outset, it's startlingly clear that the tradition of Javanese Gamelan music is only a faint touchstone for a collective of artists who are intent on forging their own path. With a driving sense of metronomy that calls to mind seminal minimalist works by Steve Reich and Terry Riley, the album's first track, "Geni / Tirta", is propelled by rapid arpeggiation on drum kit, while melodic lines float above, shifting in tempo and intensity, before slowing into a heavy groove into which unexpected guest appearance of acclaimed vocalist, Jessica Kenney, appears among gong hits, shimmering cymbals, rustling bells, and gritty textures.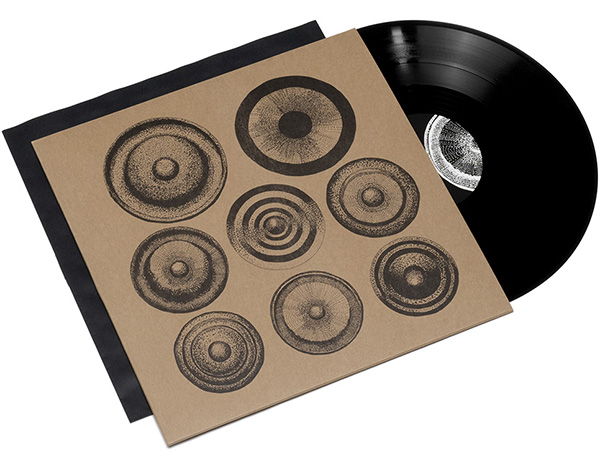 As the album progresses, a startling aural journey emerges, traversing a near countless number of possibilities - tonal, rhythmic, textural, and structural - within the ensemble's arsenal, from the shifting rapid-fire muted textures of "Overtime", to the ghostly bowed tones and ominous swells of the title piece, building into waves of low resonance and percussive clicks. On 'Rollin', twin drum kits crisscross metallophone patterns in propulsive polyrhythms, while 'Planeker' manages to achieve a warped fusion of territories explored by Harry Partch and Autechre, while remaining entirely its own thing.
Joyous, ecstatic, and free, Ensemble Nist-Nah's "Elders" is an absolute triumph of rigorous and exacting creative expression, exploding a new trajectory of Will Guthrie's singular and constantly evolving vision on the collective scale. Easily one of the best records we've heard from him within an absolutely stunning run of recent releases, it's available in both CD and vinyl editions, and couldn't possibly be recommended enough.