Ichiyanagi, Ranta, Kosugi
In the midst of an incredible run, the Belgian imprint, Metaphon, drops the first ever authorized vinyl reissue of "Improvisation Sep. 1975", documenting the incredible meeting of the composers Toshi Ichiyanagi, Michael Ranta, and Takehisa Kosugi. A truly astounding piece of work - blending equal parts of acoustic instrumentation and electronic processing - it's easily among the most striking gestures of experimental music ever laid to tape. Ten out of ten, and as good as it gets, with copies from the original 1975 edition as rare as hens' teeth and commanding crazy prices, it's impossible to express how excited we are to see this one back in the mix. Not to be missed!
By Bradford Bailey, 05 July 2022

Within the world of records, numerous factors contribute to the status of a holy grail. It could be based purely on rarity, the quality of the work, or the reputation of players at hand. Rarely is it equally a measure of all three, but Metaphon's latest - "Improvisation Sep. 1975" - the first ever authorized vinyl reissue documenting the seminal meeting of the composers Toshi Ichiyanagi, Michael Ranta, and Takehisa Kosugi during the summer of 1975, is exactly that. One of the rarest and sought-after records in all experimental music, with three of the 20th Century's most important and visionary voices at the helm, it's just as mind-bendingly good as you'd expect, and then some. Easily one of the most exciting and unexpected reissues of the year, and not to be missed.





Born in 1942 in Duluth, Minnesota, following studies in percussion and composition, Michael Ranta began his career working in the ensemble of his teacher Harry Partch during the mid 1960s, before moving to Cologne in 1967, where he joined Karlheinz Stockhausen group and worked with Mauricio Kagel, Helmut Lachenmann, and Josef Anton Riedl, among others, as well as founding Wired with Karl-Heinz Böttner and Mike Lewis, one of the three bands that is represented on Deutsche Grammophon's highly sought after "Free Improvisation" triple LP box set, released in 1973. While these years laid the groundwork for a life in Germany, where he would permanently relocate in 1979, Ranta spent the majority of the 1970s living and working in South-East Asia, first he worked in the electronic studio of the Japanese radio, before moving to Taiwan, where he lived between 1973 and 1979. It was during this period that he also began working extensively with Japanese composers and musicians, eventually leading to his meeting with Toshi Ichiyanagi and Takehisa Kosugi, two of the most important and forward-thinking voices of their generation.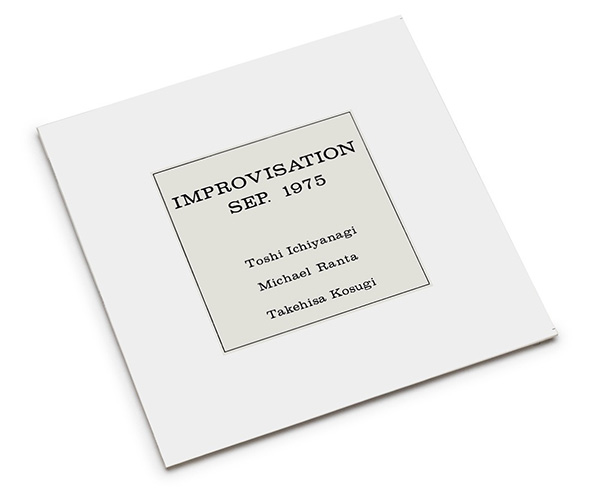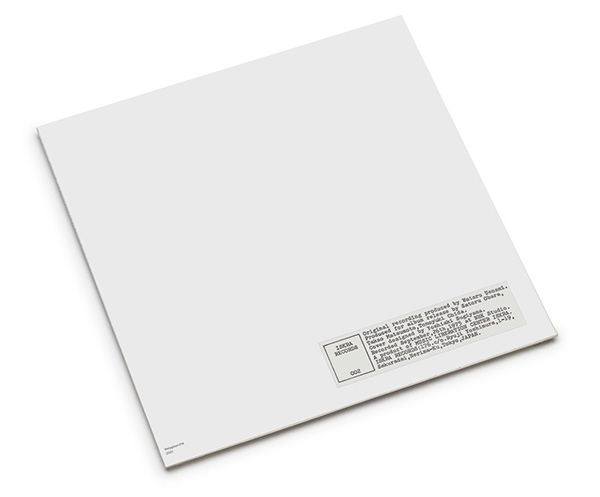 Ichiyanagi, who had been a student of Tomojirō Ikenouchi, Kishio Hirao, and John Cage, had risen - after his return to Japan in 1960, following years spent in New York with his wife Yoko Ono - had become regarded as one of the most important composers in post-war Japan, producing a radical body of work with works like "Kaiki" (1960), "Distance" (1961), which required the performers to play from a distance of three meters from their instruments, and "Anima 7" (1964) within which actions were instructed to be played as slowly as possible. It was also during this period that he co-founded the legendary avant-garde music collective, New Direction, with Yuji Takahashi, and Kenji Kobayashi, and Takehisa Kosugi, among others.
While New Direction was relatively short lived - disbanding in the late 1960s when most of its members relocated to New York, while Ichiyanagi remained in Japan - the creative connection between Ichiyanagi and Kosugi was clearly fruitful and logically sympathetic. Kosugi had first emerged onto Japan's avant-garde music scene during the 1960s as a meter of the country's first improvisational music collective, Group Ongaku, as well as being an important contributor to the Fluxus movement. In 1969, he founded the seminal outfit, The Taj Mahal Travellers - leaving his mark on the wilder avenues of psychedelia forever - before, in 1975, embarking on his first solo album, "Catch Wave", easily among the most important and influential statements in the entire canon of experimental music. "Improvisation Sep. 1975" captures the composer during this same remarkable period, and likewise working within the kind of collective ensemble that he had favoured for years.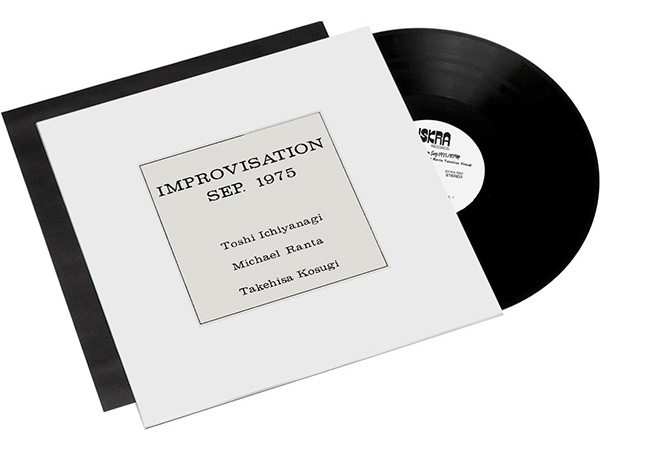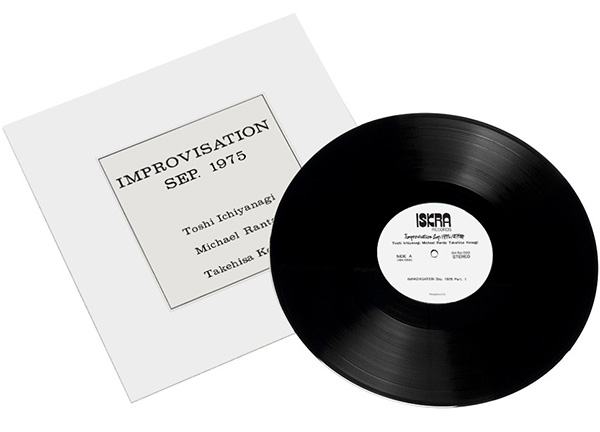 Originally released in a tiny edition on the small Japanese label, Iskra, "Improvisation Sep. 1975" is the descendent of an open-air concert in Sapporo, performed during the summer of 1975 by Toshi Ichiyanagi, Michael Ranta and Takehisa Kosugi. Hugely successful on creative terms, but tragically undocumented, it provoked the three composers to collaborate again. Not long after they entered the NHK Studio in Tokyo, and set down to work. Ironically - emblematic of the artists' spirits and the times, the session itself doesn't seem to have even happened. With the tapes rolling, what was supposed to be simply a soundcheck soared into a towering work: a haunting 50-minute séance of intense avant-garde improvisation using instrumentation and live processing (tape echo, ring modulation, phasing). A trident travelogue of the momentum masterfully controlled by the ensemble spirit, transcending - much like Kosugi's work in the Taj Mahal Travellers - the boundaries of psychedelic underground.
For all its raw immediacy and creative radicalism, the masterful execution of "Improvisation Sep. 1975" makes it feel anything but off the cuff. Every utterance across the work's duration feels perfectly considered and placed, with each artist locked in an intimate discourse with sounds generated by the next. Unfolding a cohesive landscape of tonality and texture - balancing equal parts of electronic and acoustic sources - the result feels at once of its time, ahead of its time, and timeless. Were it to have first appeared 100 years from now, it's likely that it would still feel as liberated, revolutionary, and turn as many heads.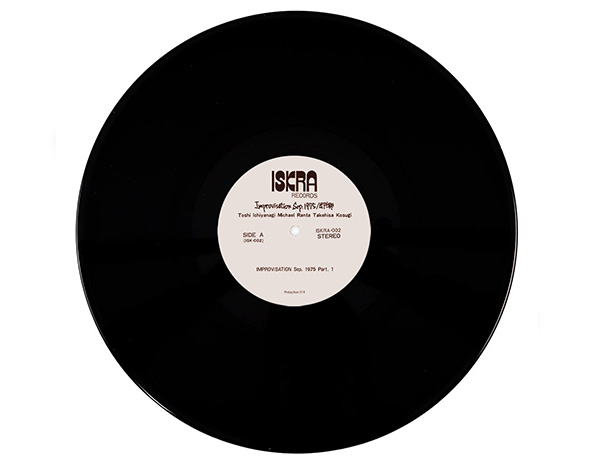 Feeling at times like heavily processed recordings of the goings on inside a zen monastery - chanting, clatters, clangs, long-tones, and ringing metal - "Improvisation Sep. 1975" is a towering achievement on any terms; creatively brilliant, raw, precise, and culturally specific while universal. Having been out of print and nearly impossible to find since its original release, its long overdue reissue, now emerging from the hands of Metaphon - the Belgian imprint run by Timo Van Luijk - is an incredibly important and welcome event. Issued in a limited vinyl edition, carefully restored and mastered by Jos Smolders, reproducing the album's original sleeve, if there's one reissue to get this year, this might just be it.