Jan Bruyndonckx
From Metaphon comes "Rails and Other Tracks", an absolute revelation from the Belgian underground / history of post-war avant-garde sound practice. The first ever release attending to work of Jan Bruyndonckx, the two sides of this beautiful LP - issued in a limited edition of 300 copies - comprise seven mind-blowing compositions, created between 1958 and 1965, that hybridize musique concrete, electronic sound collage, and sound poetry in truly singular and striking ways.
By Bradford Bailey, 20 April 2022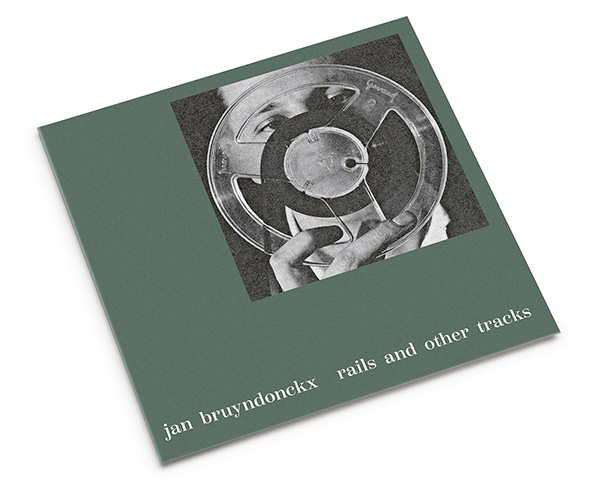 Working at a slow, meticulous pace, for a decade and half, Metaphon - the Brussels based imprint run by Timo Van Luijk, Greg Jacobs and Marc Wroblewski - has continuously illuminated fascinating trajectories within a number of historically neglected contexts of electronic music and sound art. Primary focused on work produced in Belgium, their root criteria of personal taste has guided them well as they've produced an incredibly important body of albums that endeavor to respect and supports the music and those who make it. Their latest, "Rails and Other Tracks", the first ever release by Belgian underground sound explorer, Jan Bruyndonckx, continues this grand tradition, gathering autonomous compositions, music for film and documentary, all independently recorded in his private studio between 1958 and 1965. Resting at the outer reaches of concrète, electronic collage, and poetics, it's an astounding listen - issued on vinyl in a limited edition of 300 copies - that further highlights the crucial contributions made by Belgian artists to the field of experimental sound, and brings them singing into the present day.





Jan Bruyndonckx (1926 - 1999) never considered himself a musician or composer but rather a producer of 'sound evocations' using concrete or concretized sounds, as an autodidact sound collagist, assembling and manipulating sounds from a variety of sources using magnetic tape as his medium and the tape recorder as his instrument. Bruyndonckx studied chemistry and worked since the early 1950's at the Lieven Gevaert factory in Mortsel, a suburb outside of Antwerp, where he was a researcher in the magnetic tape department. Mid-sixties his professional activities focused on and evolved into the magnetic sound strip on film emulsion. The subject of his research i.e. the magnetic tape and his experience as a sound hunter and experiments with tape techniques awakened his interest in creating and recording his own sound evocations. For this purpose he set up his own little home studio in 1958.
The works comprised by "Rails and Other Tracks" - seven in total - are all drawn from the period between 1958 and 1965. Each was recorded in Bruyndonckx's private studio, including free-standing compositions and works created for numerous idioms of film, all of which occupy a fairly radical territory of musique concrète and electronic sound collage, hybridised with sound poetry.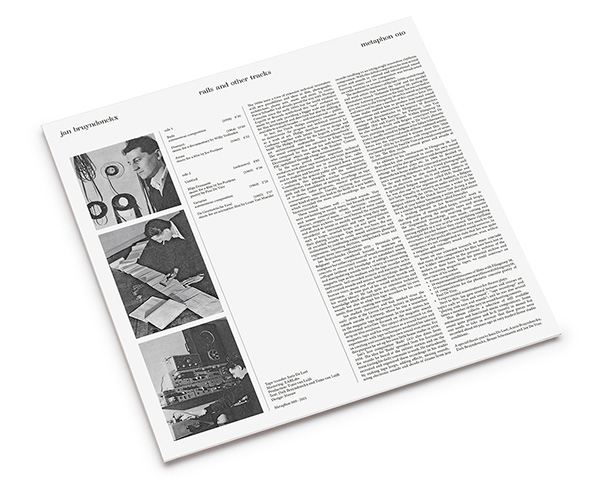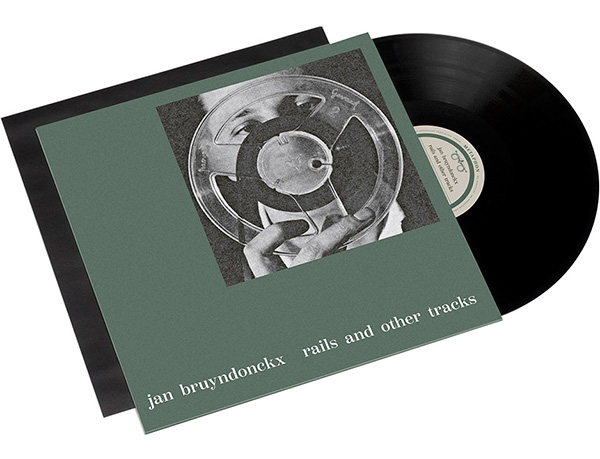 Launching in with startling force, the album's first work, "Rails", is also the earliest and arguably most aggressively avant-garde. Across its eight-and-a-half-minute duration, vocal loops foreshadow the techniques deployed by Steve Reich for works like "Come Out" and "It's Gonna Rain", resting within a pallet of manipulated recording of train sounds and electronics, rumbling, chattering, and whizzing into a collective body that achieves an amazing sense of aural abstraction, as the sound sources shift in and out of focus.
It's possible that the revelations that occurred when creating "Rails" had a central impact on the development on Bruyndonckx's practice. Across the album's remaining works, created during the following decade, its echoes are palpable, becoming more refined and controlled, one after the next. Each of the following works incorporates elements of spoken texts and poetry written by Paul De Vree and recited by Julien Schoenaerts, into a series of adventurous and mysterious sound evocations that feel entirely of their moment, while have equivalents then or since. In some it's clear that the vocalizations are the guiding and central force, from which all else follows. In others, human utterances are folded within a maddening body of the industrialised world, as one actor among many, creating a striking sense of range, possibility, and interplay across the album's length.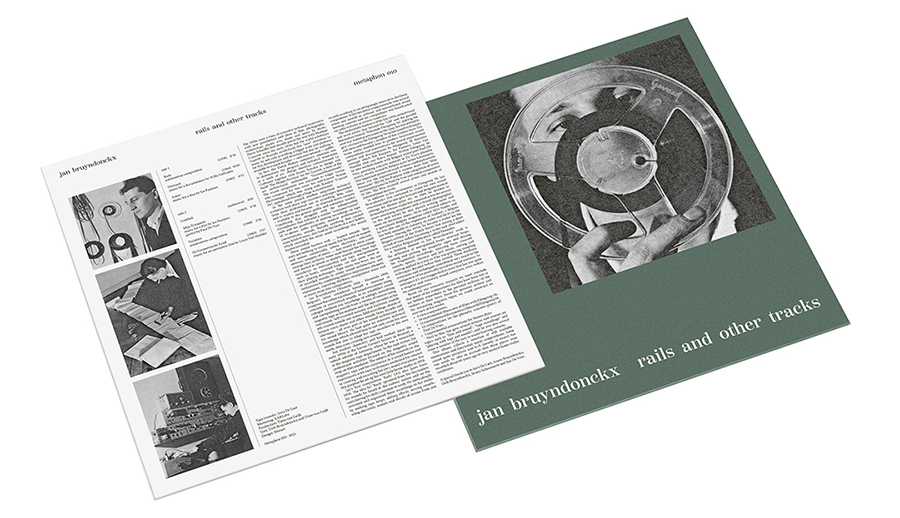 An absolutely stunning body of wizardry at the juncture of technology and creativity, Metaphon's release of Jan Bruyndonckx's "Rails and Other Tracks" is nothing short of a revelation of huge historical importance. Not only does it markedly expand our understanding of post-war experimental sound practice in Belgium, but also doubles as a long overdue introduction of a hugely talented and sinfully neglected figure from that scene. Bubbling with brilliant textures and wondrous approaches to the human voice, it leaves you on the edge of your seat from its first sounding to its last. Issued in a very limited edition of 300 copies on vinyl, it's impossible to recommend enough.