Katalin Ladik - Water Angels
Delivering an incredible high into the final days of 2021, the venerable Alga Marghen returns with "Water Angels", a brand-new body of never before issued works by the Hungarian artist Katalin Ladik. Spanning works created between 1989 and 2019 that blur the boundaries between sound art, performance, sound poetry, extended vocal technique, and experimental music, once again we are immersed in the thrilling sonorous universe of one of the most strikingly singular artists working in Europe today.
By Bradford Bailey, 17 December 2021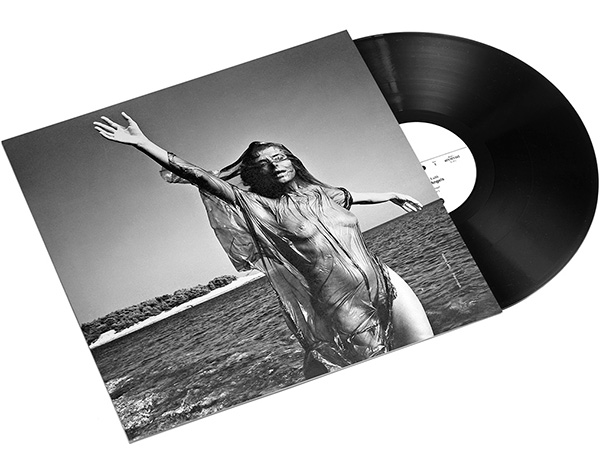 Back in 2019, Alga Marghen delivered one of their most striking revelations to date, Phonopoetics, the first ever survey dedicated to the sound practice of the Hungarian artist Katalin Ladik. High among our favorite releases of that year, we've been anxiously awaiting more from Ladik ever since. Now, as 2021 comes to a close, Alga's back with another mind-blowing collection by this seminal artist, Water Angels, comprising five works created between 1989 and 2019, spanning the two sides of a beautifully produced LP. Blurring the lines between performance, the spoken word, fine art, and experimental music, it takes crucial further steps toward illuminating the practice of one of the most fascinating and groundbreaking artists working today.
Born in 1942, Katalin Ladik has lived a wild and multifaceted creative life. Beginning primarily as a poet of the written word, during the mid 1970s she expanded into experimental theatre, before eventually becoming a fully multidisciplinary artist with a practice that incorporates sound and visual poetry, performance art, experimental music, audio plays, happenings, mail art, collage, and photography, built around visual and vocal expression, as well as movement and gesture. Like its predecessor, Phonopoetics, Water Angels - Alga Marghen's latest deep dive into the sound based output of Ladik - covers a remarkably diverse range of material, adding further pieces in the puzzle of a body of work created over the decades that incorporates nuanced personal, social, political, and existential themes, springing from the feminist and gender neutral concerns of Eastern Europe that first developed within her practice during the 1960s and '70s.





Water Angels begins with the side-long work from 1989 bearing the same name, one of two interrelated poetic sound actions featured on the LP. The work features Ladik reciting fragments of her own lyrics mixed with parts from James Joyce and Lewis Carroll, creating a real time textual collage of vocals, while accompanying herself on a self-built instrument called "zitherphone". Into this abstract tapestry of human action - at times processed and at others left unaffected - Ladik then wove in an array of environmental field recordings with startling effect, sculpting a deeply personal, internal universe that plays against the world outside.
Water Angels also presented the starting point for the album's second long form work, Three Orphans from 1990. This work juxtaposes Ladik's electronically modified voice with wax cylinder phonograph recordings of Hungarian folk songs made in Transylvania during 1940, creating an astounding duet between past notions of culture and song, and the most forward thinking, avant-garde conception of what such a thing might be, with the artist's screams, whispers, chants, laughter, giggles, and singing blurring time and creative boundaries in a single go.
Perhaps the most striking revelation presented by Water Angels is the presence of three recent and never before issued works created by Ladik in collaboration with the composer Svetlana Marasch at the Electronic Studio of Radio Belgrade in 2019, Electric Bird, White Bird and Ice Bird. Combining extended vocal techniques, processing, and modular synthesis, each encounters an artist retaining the radical temperaments that helped to define her work during the '60s and '70s, pushed further into uncharted waters and revealing a singular artist with almost no peer in the experimental landscape today.
Inspiring, immersive, and groundbreaking, Alga Marghen's issue of Katalin Ladik's Water Angels stands high among the most striking and historically important releases of the year, further unveiling an artist of impressive talent and vision that has yet to fully receive her due. In the words of Henri Chopin, when speaking about her in 1979, Ladik is "a great, magical voice.. ". Issued in a beautiful edition of 300 copies on vinyl, it's an absolute must for any fan of sound art, sound poetry, extended vocal technique, feminism, and experimental music at large.