Los Angeles Free Music Society / Smegma
Superior Viaduct's amazing sub-imprint, États-Unis, returns with what might just be their most ambitious and exciting batch of releases yet. Gathering five first-time vinyl reissues from the orbit of Los Angeles Free Music Society - the "I.D. Art #2" and "Blorp Esette Volume One" compilations, Le Forte Four and Doo-Dooettes' "Live at the Brand", Smegma's "Glamour Girl 1941", and the legendary sound art survey "Sound" - it's an astounding immersion into one of the most singular and creatively rebellious territories of musical exploration to have ever emerged from the United States.
By Bradford Bailey, 22 December 2022

Resting just below Superior Viaduct's broad initiative to bring ambitious, and often overlooked music to our ears, is their sub-imprint États-Unis. Since its launch in 2017, an astounding catalog of albums has slowly emerged - each occupying an entirely singular territory of creative practice - including seminal works by Pascal Comelade, Yoshi Wada, Terry Fox, The Taj-Mahal Travelers, Annea Lockwood, John Duncan, Remko Scha, Warner Jepson, Jean Dubuffet, Joe Jones, Tod Dockstader, and others. Because of the radical independence asserted by each of the occupants, no easy generalization could attend to what États-Unis is all about, but rumbling below it all is the incongruous juncture between underground music, visionary experimentation, and the context of visual art.

Their latest batch - arguably their most ambitious yet - takes this one step further, gathering five first-time reissues of some of the most sought-after artefacts from the orbit of the legendary collective Los Angeles Free Music Society (LAFMS), including the "I.D. Art #2" and "Blorp Esette Volume One" compilations, Le Forte Four and Doo-Dooettes' "Live at the Brand", Smegma's "Glamour Girl 1941", and "Sound", among the most important documents from the early years of sound art. All dating from the 1970s and almost entirely unobtainable in their tiny original editions, Superior Viaduct incredibly produced, brand-new vinyl pressing - issued in limited editions of 500 copies - join a handful of other recent reissues attending to the visionary activities of LAFMS and setting history on its head.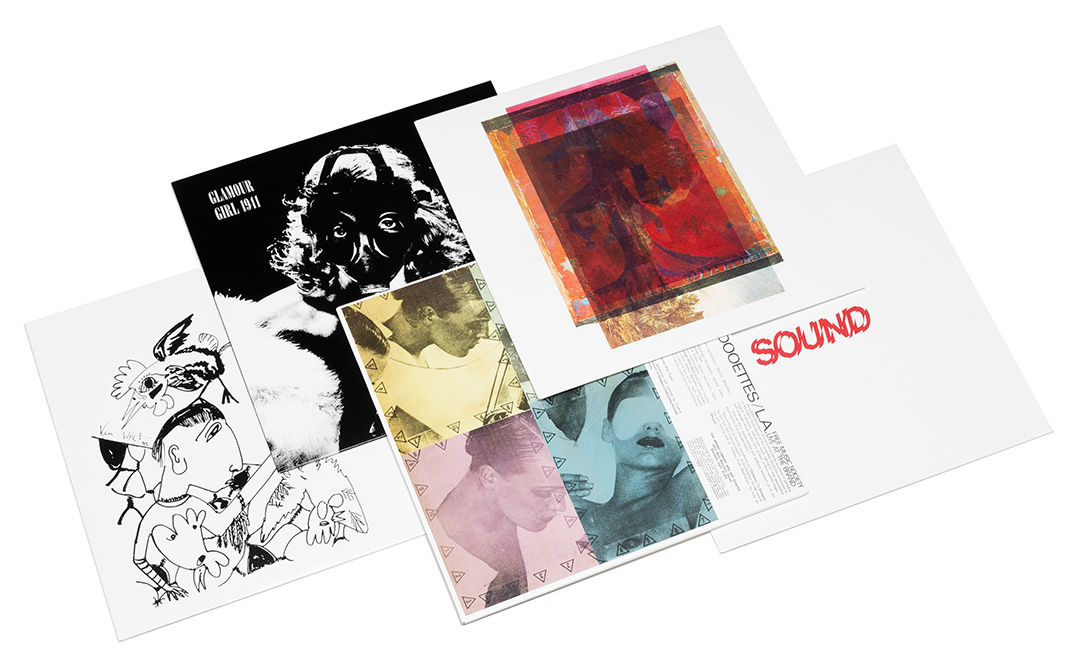 Founded in 1973 by Chip Chapman, Joe Potts, Rick Potts, and Tom Recchion as a multimedia publishing vehicle and loose-knit group of musicians and visual artists, with nearly half a century of activities behind them, Los Angeles Free Music Society stands as one of the most iconic and enduring efforts of underground music and experimental sound. With their efforts sprawling across dozens of periodicals and albums - featuring sounds captured within numerous live venues, the Raymond Building, and the Poo-Bah record shop in Pasadena - over their years of activity, LAFMS has taken a near countless number of evolving incarnations, including the efforts of individual members, offshoots, and adjacent projects with shared membership like Smegma, Le Forte Four, and Doo-Dooettes.





With their first utterances dating to a full three years before the advent of punk, Los Angeles Free Music Society forged broad connections within communities of creative outsiders, laying the groundwork for numerous musical movements within the LA underground and beyond, as well as influencing generations of artists via their uninhibited, egalitarian spirit of music-making and DIY distribution. They are also particularly noteworthy for having built bridges between the realms of sound and the visual arts through collaborations with artists like Eddie Ruscha, Mike Kelley and Jim Shaw.

États-Unis' five reissues - each an incredible work of art in its own right - draw the ear into the collective's earliest documented years, highlighting the radical and independent spirit that lays at the foundation of everything that has come since.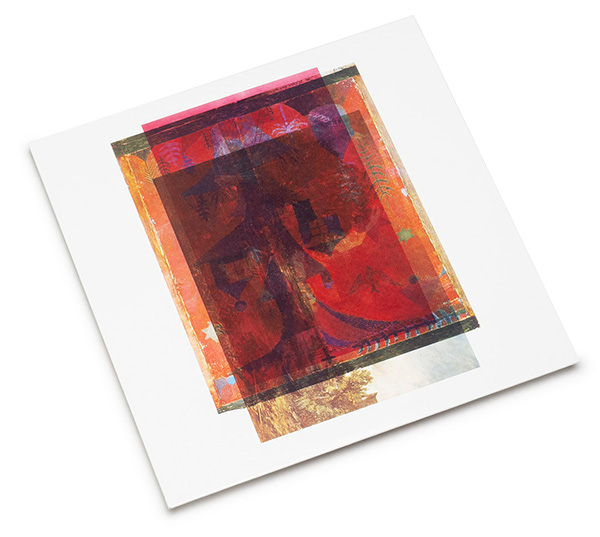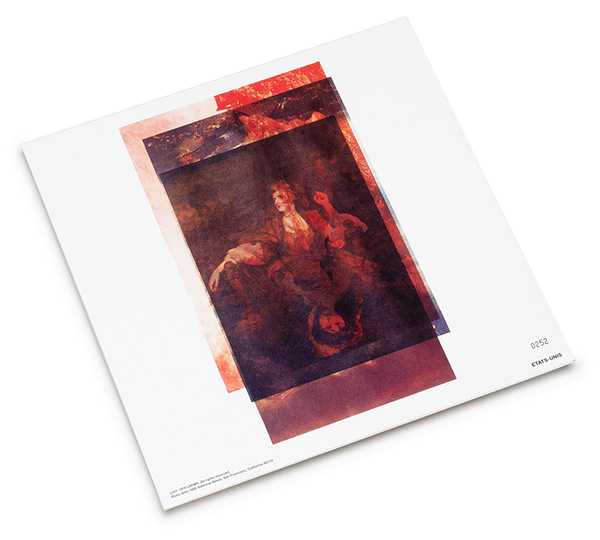 Various "I.D. Art #2" (LP, 1976)

Because the activities of Los Angeles Free Music Society were constantly evolving and so diverse, one of the best ways to understand the collective is through a series of compilations documenting their activities, originally issued on their own imprint. The first of these is "I.D. Art #2", now reissued on vinyl for the very first time since its 1976 release.

Foreshadowing the self-publishing and cassette trading networks of post-punk and industrial subcultures, LAFMS managed to extend its reach beyond Los Angeles via word-of-mouth and the United States Postal Service. Attempting to document this network, in 1976 Joe Potts solicited recordings from LAFMS affiliates and admirers, with the intent of compiling an LP from the material. This became "I.D. Art #2", the second LAMFS recorded release, falling on the back of Le Forte Four "Bikini Tennis Shoes", issued the year before. Utilizing correspondence art's technique of "assemblings" and illuminating the spirit of the collective, the LP is the second in a series of releases, the first of which had been a magazine, and the third was a coloring book. Potts received dozens of pieces by members of Le Forte Four, Doo-Dooettes, Smegma, and Ace & Duce as well as painters, filmmakers and non-artists with few recording credits to their name, building a delirious sound-art collage of field recordings, voicemails and improvisations from what he received. Even more curios is the fact that participants purchased time on the record and received one copy each of the finished LP, realizing the philosophy contained in LAFMS' motto: "The music is free, but you have to pay for the plastic, paper, ink, glue and stamps."

The resulting two sides, gather an astounding 49 tracks, ranging from 15 seconds to a few minutes in length by dozens of artists and groups. For many, the album represents their only document in the field of sound. Ranging from efforts in sound collage / tape music, free improvisation, proto-punk, and arguably some of the first ever gestures in out-right noise, it's hard to know where Pott's deft hand ends and the efforts of the artists begins, collectively amounting to a thrilling and adventurous listen, as well as a fearless window into LA's always genre defiant approach to art making.

This first-time vinyl reissue is limited to 500 numbered copies, includes an insert, and immaculately reproduces the "I.D. Art #2's" original cover design. Hugely important on historical terms, this is a killer gathering of sounds that pulls the rug from everything we think we know.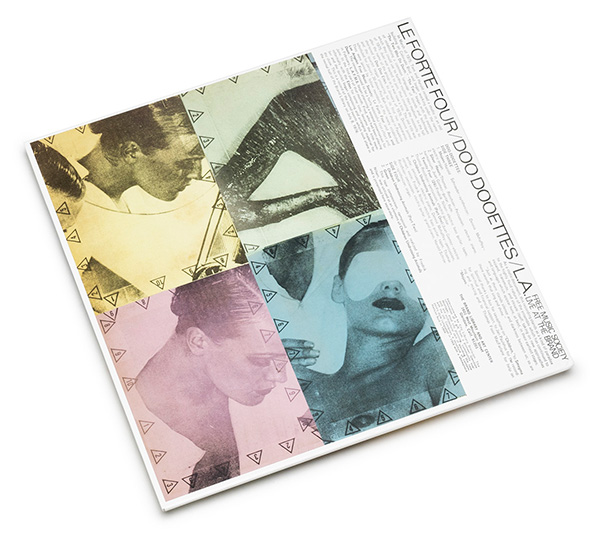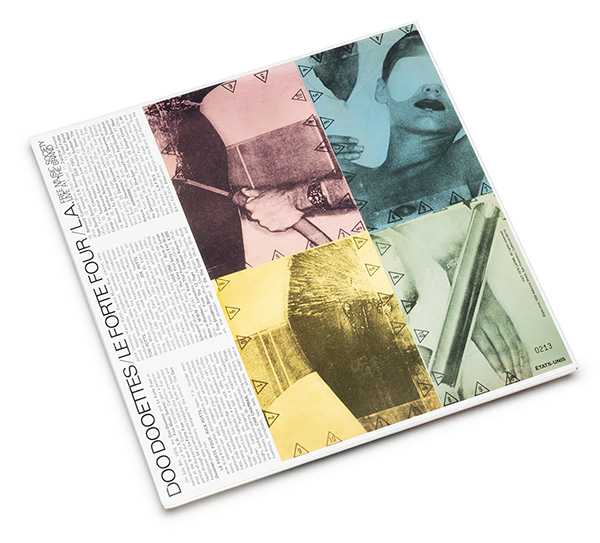 Le Forte Four / Doo-Dooettes "Live at the Brand" (2LP, 1976)

Next up in États-Unis' deep dive into the early output of LAFMS, is "Live at the Brand", a double LP featuring two of the groups at the collective's core, Le Forte Four and Doo-Dooettes. Originally issued in 1976, the album became the third and fourth entries in the growing catalog of releases on Los Angeles Free Music Society's own imprint.

Initially a duo of Chip Chapman and Rick Potts established in 1974, Le Forte Four took full shortly after when they were joined by Tom and Joe Potts. The group was among the earliest musical projects to emerge from the loose arrangement of artists that made up LAFMS. An emblem of sonic joy, as well as being pioneers of sampling, Le Forte Four bridged avant-garde classical music and free jazz - incorporating conventional instruments, household items, lo-fi electronics, and tape material - while hinting at the coming movement of punk.

Joining the backbone of early LAFMS, was Doo-Dooettes. Founded in 1975 by Tom Recchion and Harold Schroeder, then working under the monicker of Two Who Do Duets, the project changed its name as their membership expanded with the addition of Juan Gomez, Fredrick Nilsen, and Dennis Duck. Pushing the boundaries of free improvisation and radical experimentalism - tossing in a dash of rock & roll - they lasted just under ten years, before disappearing following a final concert during the Spring of 1984.

"Live at the Brand", stretching over a full two LPs, is the second body of recorded material issued by Le Forte Four, following their seminal LP "Bikini Tennis Shoes", and the first from Doo-Dooettes. Documenting the second performance given by both bands on July 8, 1976 at the Brand Library in Glendale. Particular fascinating is the fact that Le Forte Four's performance was not technically live, but rather comprised 44 pyramid-shaped headphone helmets with internal quadraphonic speakers and countless wires, through which listeners experienced the band's latest tape assemblages, while being deprived of sight. A wild whirlpool of writhing and unpredictable sounds - spanning three of the albums four side - drawing on a pallet of Buchla synthesizer, radio interpolations, group improvisations, addled outbursts, and fragment of tape captured from unknown sources, there's really nothing else like it that we can call to mind.

As counterpoint, Doo-Dooettes single sided offering emerges as a series of alternately droning and chaotic duets with guitar, percussion, piano, tape loops and synthesizer, all improvised around loosely structured compositions and culminating in a spontaneous group composition at the end of the recording.

Absolutely amazing, this first-time vinyl reissue of "Live at the Brand", is pressed in a highly limited edition of 500 numbered copies that immaculately reproduces its original cover design and includes an insert. Crazy essential and not to be missed.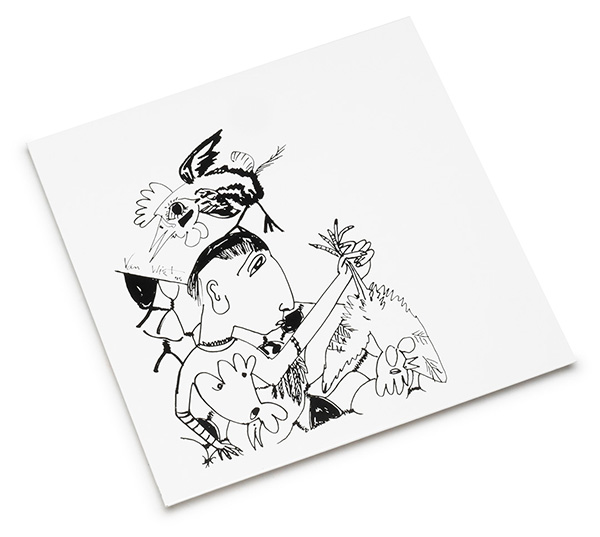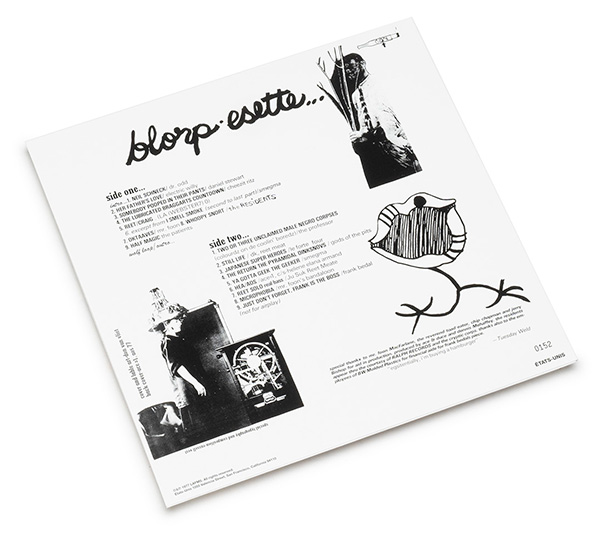 Various "Blorp Esette Volume One" (LP, 1977)

The fifth LP released by LAFMS, "Blorp Esette Volume One", once again takes a broad and playfully conceptual approach. The second compilation tracking the collective's growth and wild-eyed experimentation, the album was produced and curated by Ace Farren Ford, an early LAFMS recruit from the Poo-Bah circle, who has remained one of the collective's most prolific and active members, working within a broad range of projects like Ace & Duce, Smegma, The Eagle Rock Free Music Ensemble, The Los Angeles Free Music Society Marching Band, The Mystery Band, The South Pasadena Free Music Ensemble, Artificial Art Ensemble, and numerous others. In addition to bring the compilation into being, Ford also appears across its length alongside members of Smegma and Le Forte Four, as well under the guise of "unknown artist" in numerous instances, and solicited cover artwork from Don Van Vliet (Captain Beefheart).

Gathering contributions of more than a dozen artists - including The Residents, Le Forte Four, Ju Suk Reet Meate, and others - across 20 tracks, "Blorp Esette Volume One" encounters its participants searching for new, non-idiomatic gestures and collaborative modes, forming a missing link between mid-'70s art practice, outsider music, various threads of experimentalism, and free jazz, while anticipating numerous underground movements that would emerge over the coming decade.

Playful, joyous, and deadly serious in a single blow, "Blorp Esette Volume One" is an incredible window into rich rewards of radical experimentation and a quest for true freedom through creative sound. So rich and varied that it's impossible to sum up, it's one of those records that sucks you in, inspires, and leaves you hanging for more. This first-time vinyl reissue is limited to 500 numbered copies, and comes housed in a beautiful sleeve immaculately reproducing its original cover by Don Van Vliet (Captain Beefheart).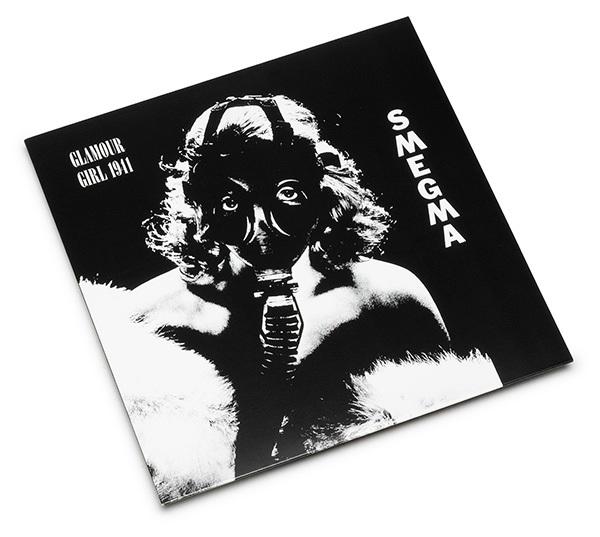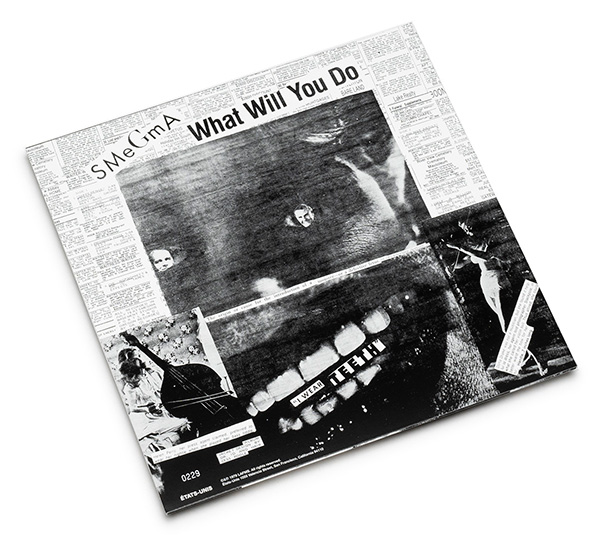 Smegma "Glamour Girl 1941" (LP, 1979)

If ever there was an emblem of the weird and wonderful sounds of the American West, it's Smegma. There's never been anyone like them, and it's unlikely that there will be again. Founded during 1973 in Pasadena, California, the project began as a conscious reaction to the popular music of its day, taking on a single rule - no musicians allowed - an attempt to re-invent the calcifying wheel of American music, that took a vast range of influences and creative approaches into its midst. Where New York had The Fugs, Houston had The Red Crayola, and Detroit had Destroy All Monsters, LA had Smegma.

During the band's early years, founding members like Ju Suk Reet Meate, Dennis Duck, Cheez-it Ritz, Big Dirty, Amazon Bambi, and Dr. Id contributed to various LAFMS compilations and combinations, while its own activities remained deep underground, and only reached a small number of freaks, devoted fans, and its cast of rotating members. It wasn't until Nurse with Wound came along, citing them as an influence, that audiences began to grow and a legend was born.

In 1975, Smegma left Pasadena for Portland, Oregon, where they have remained ever since. Despite the geographic shift, they have always been a crucial component within the Los Angeles scene, retaining close connections to LAFMS. Not long after the move, they set to work on their debut LP, "Glamour Girl 1941", which would be eventually released, in 1979, on the LAFMS imprint. An astounding window into the band's early creative activities and anarchic spirit, the LP combines rock instrumentation with tape, synthesizer, horns and voice in a tempestuous stew of anti-establishment improvisation and noise that still feels shockingly ahead of its time.

Rollicking, free, and wild, while never losing the sense of being principled and carefully considered, "Glamour Girl 1941" stands among the great gestures of American countercultural music. Truly incredible from start to finish, États-Unis' first-time vinyl reissue is limited to an edition of 500 numbered copies, housed in a beautifully produced sleeve that immaculately reproduces the original. As good as it gets, and essential as they come.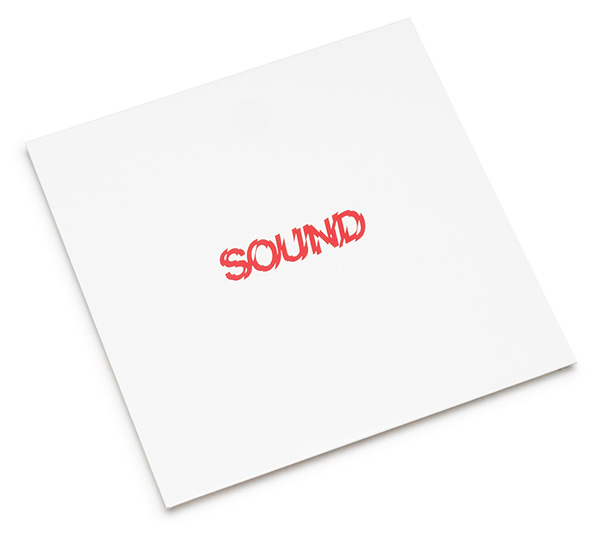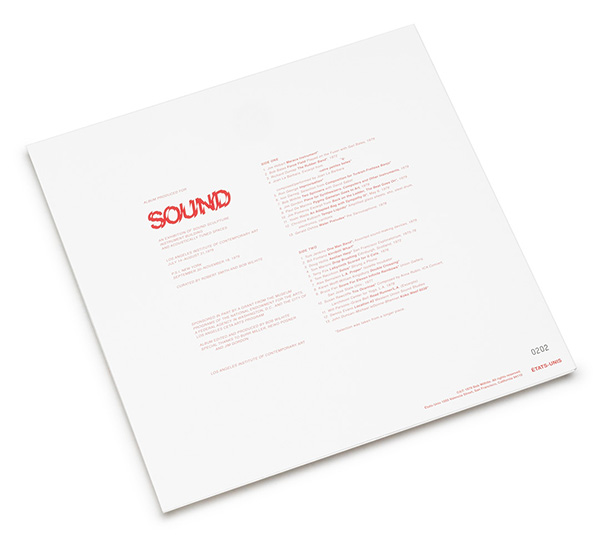 Various "Sound" (LP, 1979)

Over the last few years, numerous reissues - including Superior Viaducts' attending to the sonic output of artists like Terry Fox, Jean Dubuffet, and Joe Jones - have begun to illuminate a historical territory of sound resting slightly adjacent to avant-garde and experimental music, sound art, and sound poetry. Falling loosely under the banner of the "artist record", these albums document artists who predominately worked within the visual realm, but who also made forays into the world of sound and music. Still active today, it was a creative territory that blossomed during the second half of the 20th Century, opening new avenues of possibility for artists like Dieter Roth, Martin Kippenberger, Bruce Nuaman, Joseph Beuys, Lawrence Weiner, Michael Snow, Albert Oehlen, Hanne Darboven, and others.

Within the canon of artist records, rests a small handful of compilations that endeavor to capture a broader image of the context, including "Airwaves", "Art By Telephone", and "Revolutions Per Minute". Among the rarest of these is the never before reissued album "Sound", documenting aspects of "Sound: an Exhibition of Sound Sculpture, Instrument Building and Acoustically Tuned Spaces", which opened at the Los Angeles Institute of Contemporary Art in the summer of 1979 (and was also on view later that year at PS1 in New York).

Curated by Bob Wilhite and Robert Smith, the exhibition was among the first attempts at a survey within the relatively new field of sound art. The forty-four participants, including painters, sculptors, conceptual and installation artists, and musicians (formally trained and otherwise), were encountered fashioning new instruments from household items and consumer electronics, bridging the void between object and sound, while "sculpting in three-dimensional space".

The "Sound" exhibit included installations, recordings played in the exhibition space, and a series of live performances, utilizing the instruments / sculptures displayed within the gallery. Expanding its temporal scope, the curators also produced a compilation album - published by Los Angeles Free Music Society - featuring short pieces, or excerpts from longer works, by many of the participants, including composers Bill Fontana, Yoshi Wada and Paul DeMarinis; conceptual artists and performance artists Terry Fox, Tom Marioni and Jim Pomeroy; experimental vocalist Joan La Barbara; and Los Angeles Free Music Society members Tom Recchion and John Duncan – feature alongside the sounds of Jim Hobart's tuned jars, Ivor Darreg's fretless banjo, Doug Hollis' aeolian harp, and Richard Dunlap's rubber bands.

Not only is "Sound" a crucial window into the diverse activities and hopes of LAFMS, but it stands as one of the most important documents within the history of sound art and the field of artist records. A truly amazing listen, États-Unis' first-time reissue is limited to an edition of 500 numbered copies, including a poster, housed in a sleeve that beautifully reproduces the original.