Malik's Emerging Force Art Trio
Hot on the heels of their recent Sirone and Jeanne Lee reissues, the British imprint, Moved by Sound, returns with one of their most stunning efforts to date, the first ever vinyl reissue of "Time and Condition", the lone document of Malik's Emerging Force Art Trio. Recorded in 1982 and belonging to the same ferment of free improvisation that brought us seminal projects like Black Artist Group (BAG) and The Human Arts Ensemble, it's an incredible and entirely distinct, midwestern vision of free jazz, produced by three of the most talented and under-appreciated voices of their generation.
By Bradford Bailey, 17 November 2022

Records are windows into other words. Sometimes what lays within is well known and explored, but in many cases, they are journeys into the unknown; rare documents that capture a moment in time, and an avenue of creative exploration that exists nowhere else. Moved by Sound's latest LP - joining their growing catalog of free jazz holy grails - is among the later of these, the first ever vinyl reissue of THE lone document of Malik's Emerging Force Art Trio, "Time and Condition", originally privately issued in 1983. Easily one of the most sought-after releases to emerge from St Louis' thriving black arts movement, it's an astounding piece of work, imbued with stunning artistry, that skirts the edges of spiritual and jazz, while being entirely its own thing. Issued in a very limited edition on yellow vinyl, as well as on black wax, in a reverse-board printed sleeve with inserts, this is one that those in the know have been chasing for years and is bound to fly.





"Time and Condition" stands among the rarest and most important documents of the black arts movement - intertwining jazz, dance, poetry, and theatre - that carved a path across St Louis' cultural scene during the '60s, '70s, and '80s. Recorded by the trio of Maurice Malik King, Qaiyim Shabazz, and Zimbabwe Nkenya in 1982 and originally issued by the private imprint, EFAE, the following year, it's one of those remarkable pieces of work that's underscored by such artistry, force, and depth that it feels like the tip of the iceberg. The saxophonist, Maurice Malik King, the band's leader, studied under Albert Ayler and built his reputation as a member of the Black Artist Group (BAG) - the sister group to Chicago's AACM - during the early '70s, before going on to playing in The Human Arts Ensemble and leading his own various Emerging Forces ensembles during the latter part of the decade. Known for his emotive and powerful playing, he also worked extensively with poets and writers, and served as music director of the Creative Arts & Expression Lab, the African People's Continuum, the Black Arts Alliance and the Warrior Poets. Sadly, the bassist Zimbabwe Nkenya and the percussionist Qaiyim Shabazz, considering the remarkable talent and skill they display across the length of "Time and Condition", remain sinfully obscure.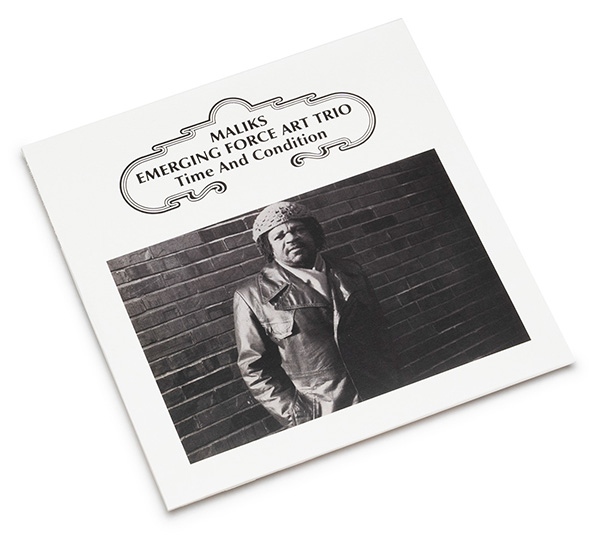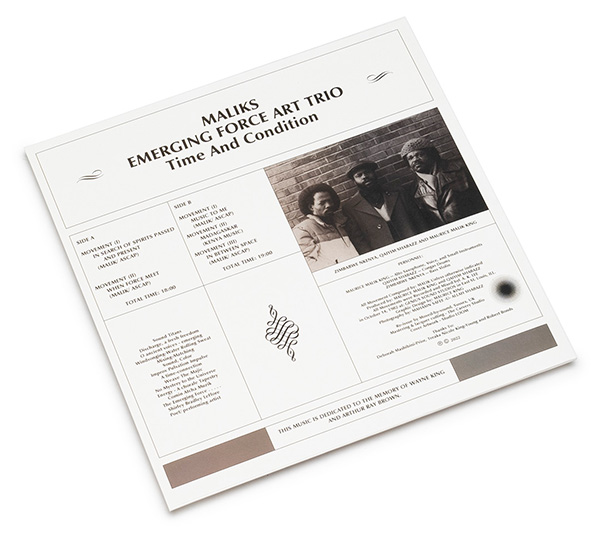 The sole document of the band's activities, as well as the only album to feature Maurice Malik King as a band leader, "Time and Condition" is a work of raw, emotive power, standing high among the most noteworthy gestures of improvisational music to have emerged from the incredible St. Louis scene that orbited around BAG and The Human Arts Ensemble. Feeling like there's nothing between you and the band, rather than the hard blown fire that came to be expected on either of the American coasts, "Time and Condition" represents a more distinctly midwestern temperament, rooted within, though not entirely limited to, a slower sense of pacing that draws out more considered and risk laden sets of tonal and textural interplay, adding a remarkable sense of tension as each of the side-long, multi-movement works unfolds.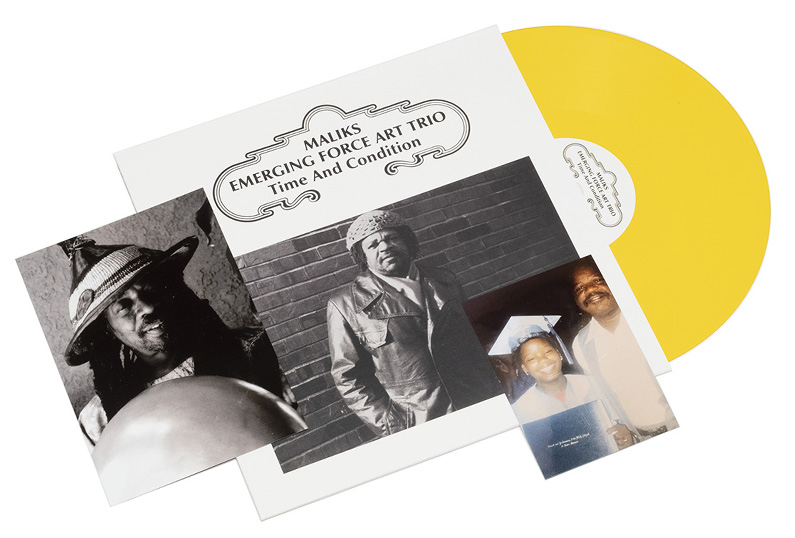 Soulful, incredibly complex, and creatively distinct, "Time and Condition" is the product of three artists at the top of their game, engaged in an intimate democratic series of conversations. Malik's deft and restrained saxophone work plays the perfect foil to the forward presence of Nkenya's particularly noteworthy work on the bass, with Shabazz's percussion work acting more like a textural compliment than the expected driving or unifying force. Each player feels equal to the next, listening and speaking with a rare sense of care that's underscored by a surprising sense of immediacy.