Marja Athi, Judith Hamann - A Coincidence Is Perfect, Intimate Attunement
Second Editions returns with one of the most striking collaborations we've encountered all year, Marja Ahti and Judith Hamann's "A Coincidence is Perfect, Intimate Attunement". A brilliant gesture resting at the outer reaches of contemporary electroacoustic practice - interweaving field recording with bristling acoustic and electronic harmonics and texture - across the double side-long work, issued as a beautifully produced LP, we encounter two of today's most important, forward-thinking artists joining forces to offer a glimpse of the radical potential of sound.
By Bradford Bailey, 06 December 2022

Since its quiet founding in 2017, Second Editions has built a reputation as a go-to platform for singular efforts within the landscape of experimental sound. Working at the even pace of roughly two releases a year, they've brought us brilliant records by Kevin Drumm, Lori Goldston, Crys Cole, Karl Fousek, René Margraff / Malte Cornelius Jantzen, Eva-Maria Houben, Kaori Suzuki, Claire Rousay, and Roger Tellier-Craig. While it's impossible to pick favorites, their latest "A Coincidence Is Perfect, Intimate Attunement", a duo LP by Marja Ahti and Judith Hamann, is easily among their most exciting and groundbreaking to date. An electroacoustic work of profound tension and grace that intertwines rigorous approaches to acoustic instrumentation with the practices of field recording, just intonation, and electronic music, across the album's two sides, two of the most important, forward-thinking artists working today join forces to offer a glimpse of the radical potential of sound.





It's rare that an artist's work feels entirely at home within a context, while feeling free of its predictable tropes and trajectories, becoming entirely its own thing. This is something that both Marja Ahti and Judith Hamann have seemingly achieved in a relatively short time. While active on the scene for more than a decade, first working under the moniker, Tsembla, and within the psychedelic improv collective Kemialliset Ystävät, it wasn't until 2019's "Vegetal Negatives" - the first album to be issued under her own name - that Ahti's star truly ascended, laying the foundation for a growing body of work that presents electronic process and musique concrète within visionary new terms. Born in Sweden and based in Finland, she is an artist who takes nothing for granted. Through the vessel of her work, she endeavors to challenge and reconfigure fundamental elements of meaning that are carried by language and sound, setting out to build them again from scratch.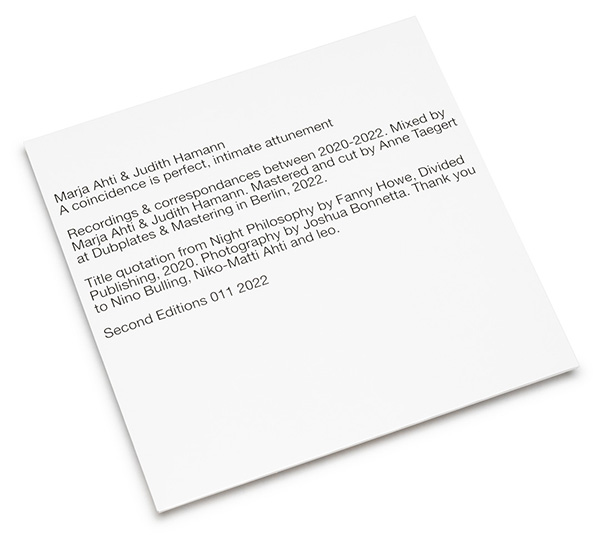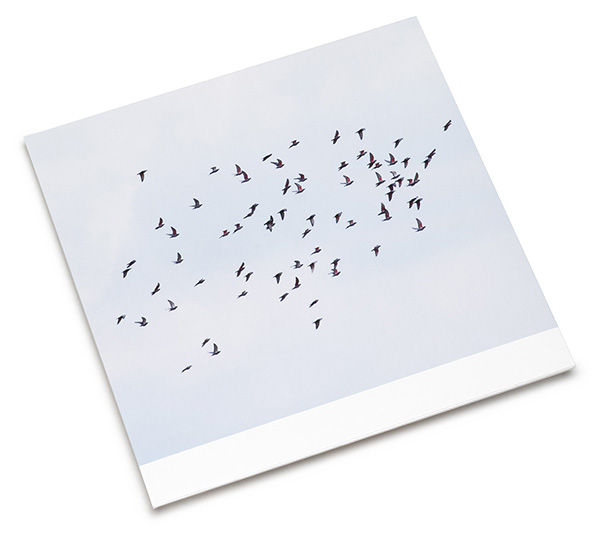 Similarly, Hamann has been active for many years, but seemed to be an artist laying in wait, holding back, refining her practice, before unleashing herself, fully-formed, onto the world. Originally from Australia and based in the US for an extended period, she offered her talents to releases by James Rushford, Francis Plagne, Oren Ambarchi, Graham Lambkin, Tashi Wada, Alvin Lucier, and numerous others, while working in the live ensembles of Ambarchi, Dennis Cooper, Arnold Dreyblatt, Jürg Frey, Lambkin, Lucier, Sejiro Murayama, Toshimaru Nakamura, Michael Pisaro, Ilan Volkov, and La Monte Young, all the while maintaining duo projects with Rosalind Hall, Anthea Caddy, and Lori Goldston.

Following a relocation to Berlin, she finally stepped out into centre stage. It was a stunning thing to behold. In a single year alone - 2020 - she delivered four debut solo releases, "Peaks" on Black Truffle, "Shaking Studies" and "Music for Cello and Humming" on Blank Forms, and "Days Collapse" on Another Timbre, each as astounding and groundbreaking as the next. Few could argue, a truly singular and important talent had hit the scene.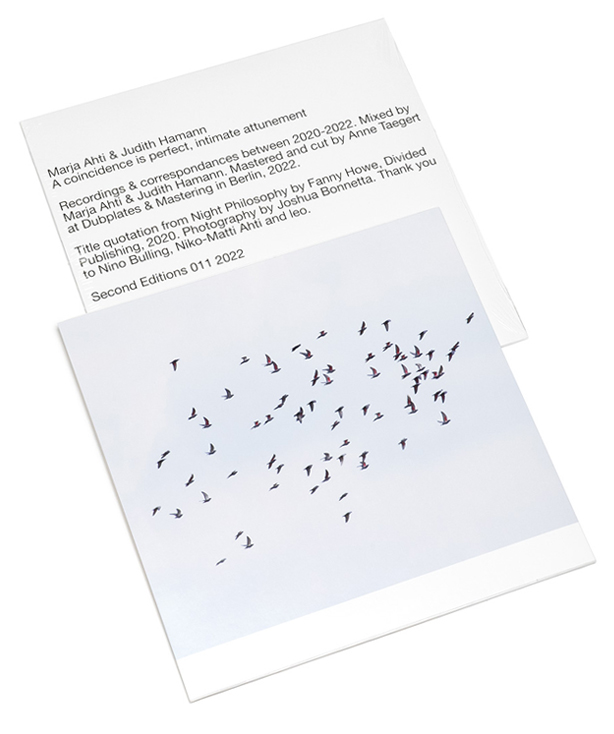 While collaboration has been central to both Ahti and Hamann's output over the years, there's something different in the meeting of these two artists. The power and potency of their respective practices - occupying different ends of experimental landscape - generates a tension and electricity of few parallels when joined in dialog.

"A Coincidence Is Perfect, Intimate Attunement", issued on vinyl by Second Editions, builds on the ground established within their previous collaboration, "Portals", created for Cafe Oto's Takuroku label in 2020. It was constructed over the course of the two following years of changing seasons, ideas, moods, and feelings, becoming a kind of sonic correspondence between the pair pivots on moments of coincidence and "tuning in", asking "what are we opening ourselves to when we tune in to sound? How can one be truly open to a sound? How can the activity of recording move beyond notions of capture and release into more generative frames? Rather than a tool purposed for preservation or 'conservation' of memory, of time and place, can recording sound instead form new vibrant or vibratory spaces of attunement?".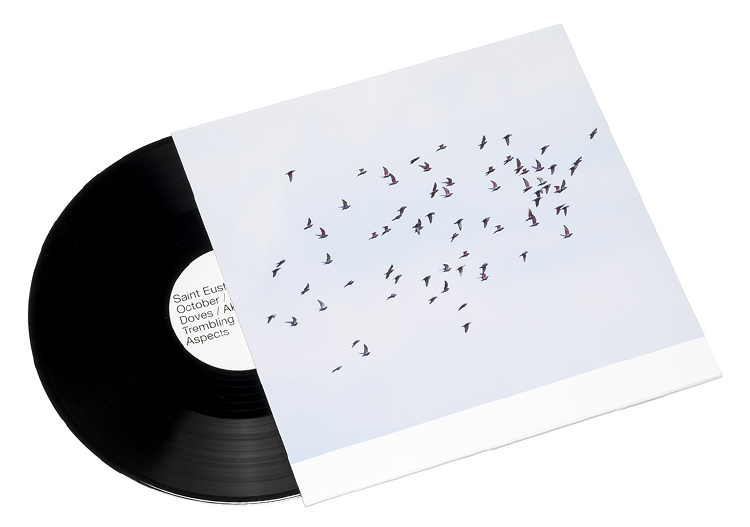 Borrowing its title from the poet Fanny Howe, "A Coincidence Is Perfect, Intimate Attunement" is an LP length composition of multiple interlocking parts, created through exchange, alignment, unpredictability, weaving intersecting sonorities of environmental field recordings with pitches matched and moved across different geographies and temporal frames, into a sprawling, intricate gesture of profound intuitive, lyricism; Hamann's deft interventions on cello met at every turn with Ahti's brilliantly constructed structures of texture and harmonics.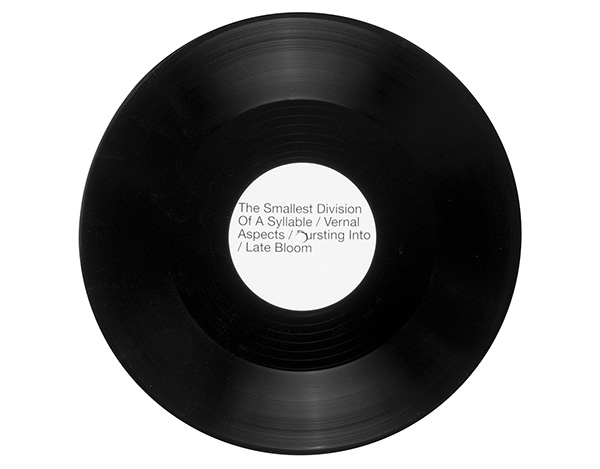 Reflecting a deep and wildly experimental willingness to respond to, and build from, impulse and creative exchange - the act of gifting and a position that embraces an intimate synchronicity - Ahti and Hamann's "A Coincidence Is Perfect, Intimate Attunement" is a truly brilliant effort in radical sound practice; as philosophically striking in its materiality, as it is in its sonorous presence. A bristling landscape that is pointillistic in detail, while expansive in scope, charged with electric tension, once again we witness two of the most exciting artists working today at the top of their game. We can only hope this collaboration carries on for many years to come. Truly stunning and impossible to recommend enough. Grab the limited edition LP while you still can.