Oiro Pena - Cooper's Test
Offering a crucial window into Finland's thriving avant-garde music scene, the Finnish imprint, Ultraääni Records', latest - Oiro Pena's "Cooper's Test" - a thrilling meeting of DIY culture and improvised jazz. Raw and open, while feeling remarkably restrained and full of space, this sprawling jam - stretching out over the LPs two sides - is a rare artifact of creative fire and artistic grace that leaves desperate to know what this elusive project might have up their sleeves next.
16 May 2022

In the age of the internet and social media, where we seem to know every detail about an artist or project before it emerges, it's refreshing to bring some mystery into the mix. With their latest LP, Oiro Pena's "Cooper's Test", the Finnish imprint, Ultraääni Records, has done just that. The product of a shadowy, amorphous band, with no commitment to a given style, working their way through - at least in this moment - the paces of fiery jazz, it's an inspiring blast of creativity from one of the unique contexts of European experimental sound.





Who and what Oiro Pena is, is hard to say. It seems to be a project helmed by the Helsinki based artist, Antti Vauhkonen, sometimes better known for his work in the outfit, Soft Power, and efforts under the monikers Melufantti and Pentti Oironen. With a rotating cast of players - and sometimes just Vauhkonen himself - over the last few years, Oiro Pena has issued a startling number of releases between full lengths and EPs, ranging from funky excursions, bedroom recordings of lo-fi spiritual jazz, flute driven phantasms, and a fair bit between.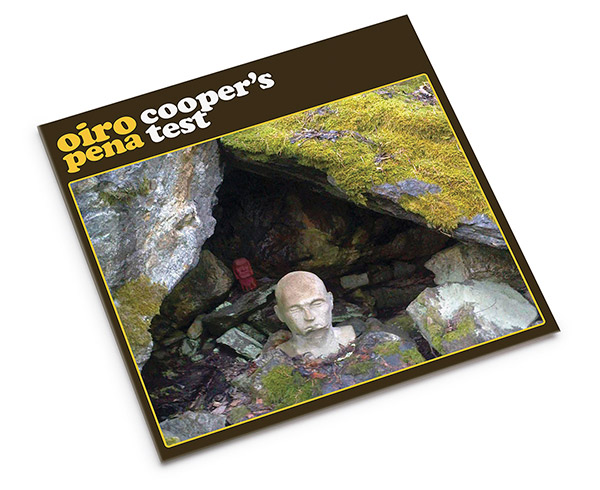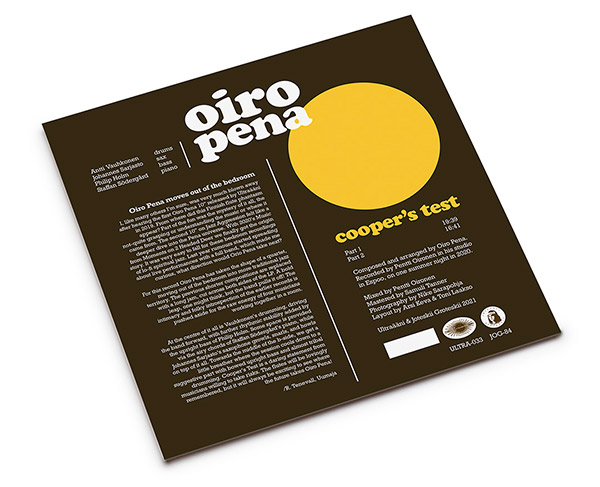 For Oiro Pena's forth full length - "Cooper's Test" - the project has taken shape as a quartet, with Philip Holm on bass, Vauhkonen on drums, Staffan Södergård on piano, and Johannes Sarjasto on saxophone. Rather than the bedroomy, short compositions that defined many of Oiro Pena's previous releases, their latest comprises a long form jam, that sprawls fluidly across both sides of the LP, channeling the raw energy of four musicians working together in a room, in real time.
While unquestionably incorporating the spiritual and more straight-ahead elements that we've heard from Oiro Pena, "Cooper's Test" ventures into considerably more advents and "out" territory, moving between moments flavored by hard and post-bop and the outright hard blown fire of free jazz. At the working core is the rhythm section of Vauhkonens drumming and the upright bass of Philip Holm, driving the band forward and breaking it apart, with Staffan Södergård's airy piano chords and Johannes Sarjasto's saxophone growls and snarls fleshing it all out in an energetic howl that continues well into the second side before cooling down to a spacious passage of bowed upright bass and tribal drumming.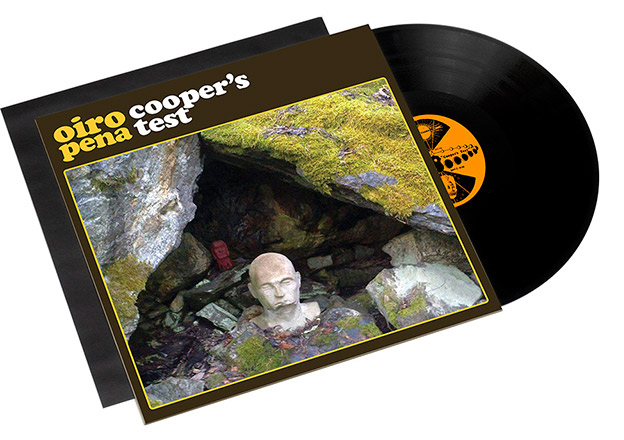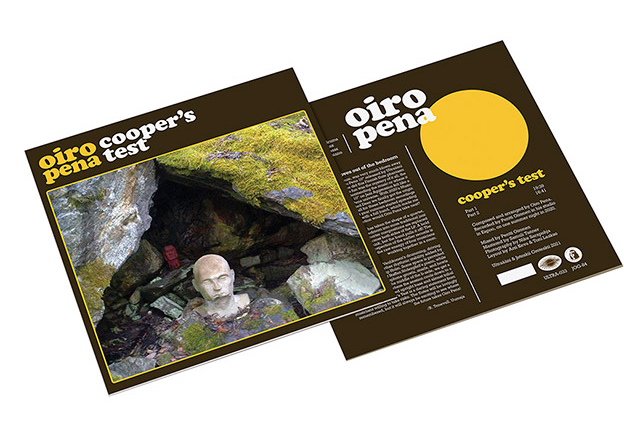 A fascinating juncture of DIY culture and improvised jazz, Oiro Pena's "Cooper's Test" further opens the crucial window into Finland's thriving avant-garde music scene. A brilliant slab of artistry and a listening experience that locks you and takes you along for the thrilling ride, "Cooper's Test" is issued by Ultraääni Records in a limited edition of 200 copies on vinyl. Once the word gets out, this one is going to fly. Grab it while you still can.