Park Jiha, Roy Claire Potter - To Call Out Into the Night
Hot on the heels of their two fantastic Blue Notes reissues, Otoroku - the in-house label for the London venue, Cafe Oto - returns with yet another consciousness altering release, Park Jiha and Roy Claire Potter's "To Call Out Into the Night". Seamlessly intertwining experimental music, sound art, sound poetry, and aspects of traditional Korean music, it's a tense and stunningly beautiful dance of linguistics at the intersection of multiple worlds, that stands as a profound advocation for the fruits born from cross-disciplinary collaboration.
By Bradford Bailey, 16 July 2022

Since its founding in 2012, Otoroku, the in-house label for the London venue, Cafe Oto, has become a crucially vehicle for documenting the activities of contemporary experimental music and beyond. In the midst of an incredible run that just delivered the reissue of Blue Notes' "Blue Notes for Mongezi" and "Blue Notes for Johnny", they're back with another gem, "To Call Out Into the Night" capturing the meeting of Korean multi-instrumentalist Park Jiha and the English writer and performer Roy Claire Potter. A tense, challenging, spacious expanse of sonorous interplay, resting at a unique juncture of experimental music, sound art, and sound poetry, it presents a visionary intervention with the perceived nature of communication and language. Issued in both CD and vinyl editions, complete with beautiful and poetic liner notes by Frances Morgan, it's yet another proof of Cafe Oto's profoundly important contribution to the landscape of contemporary sound-practice that we can't possibly recommend enough.





Over the last few years, via critically acclaimed solo albums like "Philos" and "The Gleam", the Korean multi-instrumentalist and composer, Park Jiha, has emerged as a brilliant and distinct voice within the landscape of experimental music, creating a unique form of postminimalism rooted in the sounds and structures of traditional Korean music and its instrumentation, specifically the piri, yanggeum, and saenghwang. Occupying a markedly different end of the creative spectrum, Roy Claire Potter is an artist working between performance and writing. Influenced by linguistics and performance theory, their practice is heavily oriented toward socially and politically framed subject that include sociolinguistics, complicated social or group dynamics, and the aftermath of violent events, often realized through collaborations with musicians and sound artists in an audible form.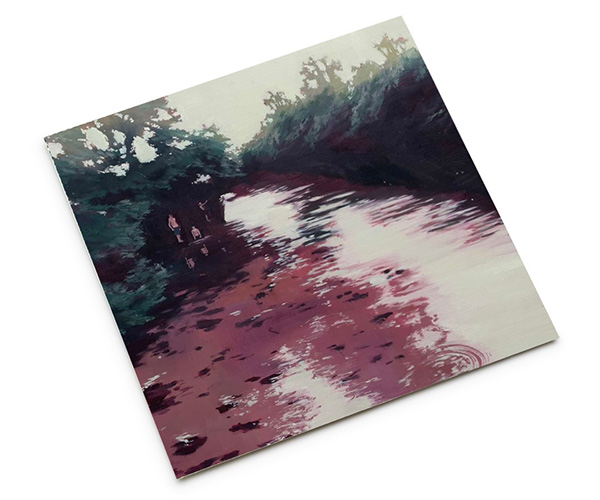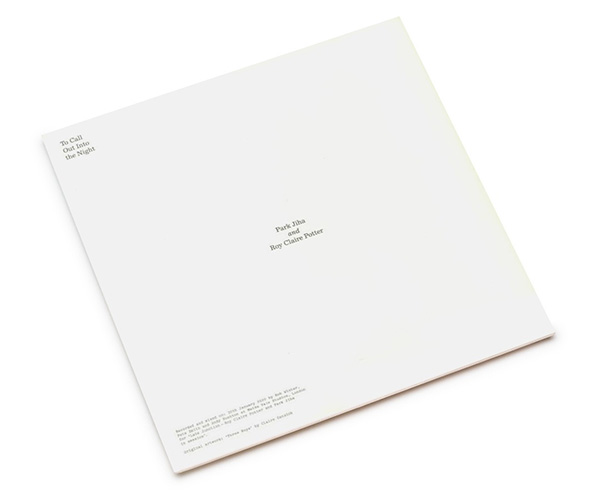 "To Call Out Into the Night" captures a one-off first meeting between Jiha and Potter, that occurred in London at the end of January 2020, and was broadcast on BBC Radio 3 the following month. Comprising five individual pieces, with Jiha masterfully playing two different traditional Korean instruments - the saenghwang, a mouth organ constructed from seventeen vertically mounted bamboo pipes, each with a metal free reed, and the piri, a double reed flute - against Potter's spoken delivery of texts. Remarkably spacious, Jiha's rich interventions of tonality play a brilliant foil against the bristling vocal utterances of Potter's poetics, shift between a sense of playfulness and foreboding, creating expected textures that flirt with melody while resisting their formation. Most striking is the sense of space that Jiha and Potter offer the other across the length of the album, constructing a complementary dance of linguistic interplay that is singular, and builds a world entirely its own, each artist speaking in and out of time, without presumption and expectation.
A beautiful and challenging meeting of multiple worlds - cultural, creative, and linguistic - rooted in a profound sense of mutual respect, "To Call Out Into the Night" gently pushes boundaries in incredibly surprising ways, and reaps new rewards with every return. Yet another fantastic release from Otoroku, issued in beautifully produced CD and vinyl editions - complete with illuminating and poetic liner notes by Frances Morgan, adding a further dimension to the album's readings - this is one not to be missed.