Riccardo Sinigaglia / Mario De Leo
Only a handful of days after we sang the praises of their latest release dedicated to the archives of Ariel Kalma, the venerable Black Sweat returns with "Lettera Cosmica", an astounding body of never before released recording from 1981 by Riccardo Sinigaglia of Futuro Antico and The Doubling Riders fame working in a duo with his long-time collaborator Mario De Leo. Sculpting a body of sonority that might be best described as "fourth world" on acid, incorporating analog loops, prepared tapes of strings and piano, field recordings, synths, vocals, and a range of acoustic instrumentation, it's an astounding piece of work that marvels the brain as to why it has gathered dust until now.
By Bradford Bailey, 13 May 2023

Since their founding just over a decade ago, the Milan based imprint, Black Sweat, has left an indelible mark on the landscape of recorded music, issuing a strikingly diverse array efforts, spanning numerous fields and artistic disciplines, ranging from crucial historical gestures by Ariel Kalma, J.D. Emmanuel, I.P. Son Group, Wayne Siegel, Zeit, Juri Camisasca, Frederic Rzewski, and numerous others, to contemporary offerings by Maurizio Abate, DSR Lines / David Edren, Al Doum & The Faryds, Everest Magma, and Langendorf United. Central to Black Sweat's modus operandi is a dedication to a radical group of artists who came together within, and orbited around, the group Futuro Antico during the late 1970s and early '80s. In addition to three releases dedicated to that band, they've delivered incredible LPs by    Amazonia 6891, Walter Maioli & Agostino Nirodh Fortini, Fred Gales, Art of Primitive Sound, and Riccardo Sinigaglia & Trio Cavalazzi, as well as that incredible "Ethnoelectronics" double LP. Now they return with another astounding artefact from this incredible world, the first ever issue of "Lettera Cosmica", body of recordings made by Futuro Antico member, Riccardo Sinigaglia, with the partner and musician, Mario de Leo, in 1981. Riding the razor's edge between ambient music, rigorous experimentalism, and left-field song craft, it's easily one of the most singular and striking archival releases to have ever emerged from the orbit of Italian Minimalism in years.





Riccardo Sinigaglia is one of the great figures of Italian minimalism and experimental music. An entirely singular composer in his own right, in 1980, with Gabin Dabiré and Walter Maioli, he co-founded Futuro Antico - one of the most important collaborations to ever emerge from the country, then spent the second half of decade collaborating with Francesco Paladino and Pier Luigi Andreoni in the equally groundbreaking project, The Doubling Riders. His first two solo efforts, "Watertube Ringspiel" and "Riflessi", originally released in 1985 and '86 respectively, and reissued by Soave in recent years to great acclaim, are both regarded as seminal gestures in Italy's distinct movement of minimal music, held alongside masterpieces created by Luciano Cilio, Roberto Cacciapaglia, Giusto Pio, Franco Battiato, Prima Materia, and Lino Capra Vaccina during this era.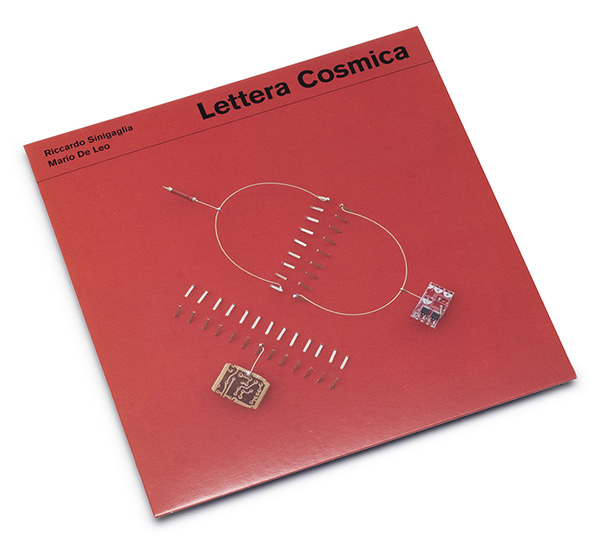 In 1981, while still very much involved with Futuro Antico, Sinigaglia embarked upon what has been one of his most long lasting creative partnerships with the visual artist and musician Mario De Leo. As a painter, De Leo had been producing hybrid works that were intent upon revealing the cosmic spiritualism hidden in the meanders of electronics. As a musician, during the late '70s and the outset of the '80s, he had recorded and released two albums - "Suonata Situazione" and "Zinnanna" - that pushed the boundaries of folk song well into the left-field. He also notably collaborated with Sinigaglia across the '80s on a number of The Doubling Riders' efforts.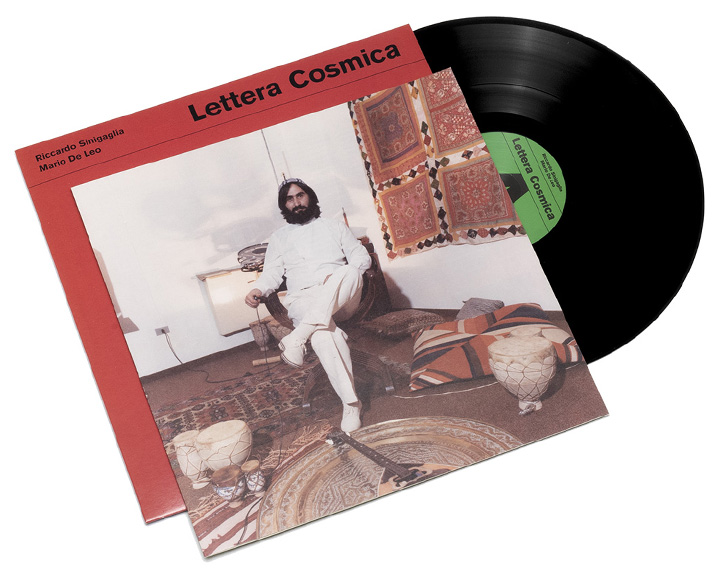 Fascinatingly, given the fact that Sinigaglia and De Leo continue to work together to this day, none of their four decades of efforts together have seen the light beyond public performances, making Black Sweat's release of "Lettera Cosmica" a historically important event. Comprising four pieces produced and recorded in 1981, the album is a mind-bending electroacoustic excursion that renders the passage of time in sound, with each track tracing one of the four seasons, incorporating analog loops, prepared tapes of strings and piano, time and pitch shifts, filtering with EMS Synthi AKS and Teac 3340 4-track recorder. Into this pallet of wild sonorities, De Leo adds his own markedly human touch via Mediterranean flavoured finger-picked guitar, and vocalisations that draw on the traditions of South of Italy, pushed by an expressive range infused by the extended techniques of the avant-garde.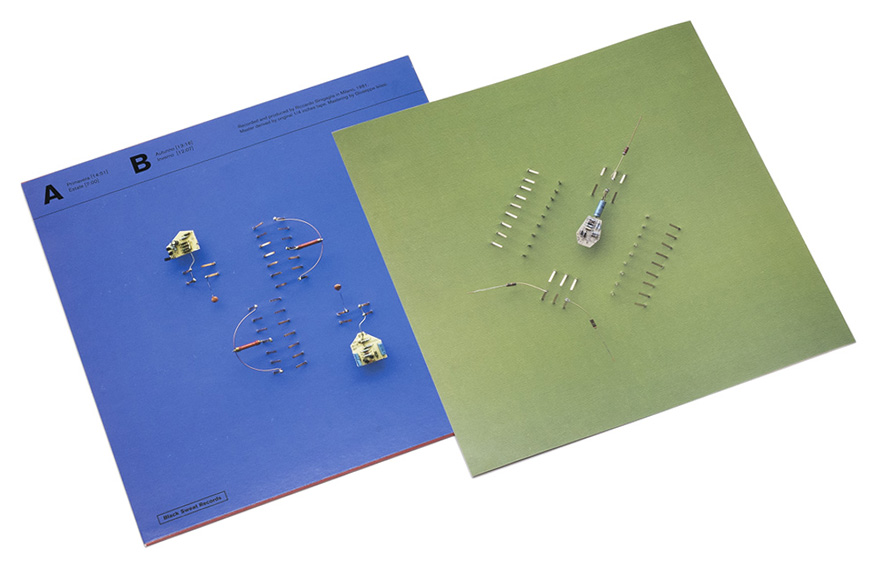 The final product of Sinigaglia and De Leo's earliest known excursions, arching across the album's two sides, might be best described as the "fourth world" on acid. Not only does it incorporate a vast range of sound sources - tribal rhythms, warbling electronics, psychotic tape treatments, and field recordings - into a body of sonority that draws on numerous musical touchstones from across the globe, but it bristels with a wildly experimental left-field song craft, incorporating acoustic instrumentation and vocals, culminating as a record with almost no parallel.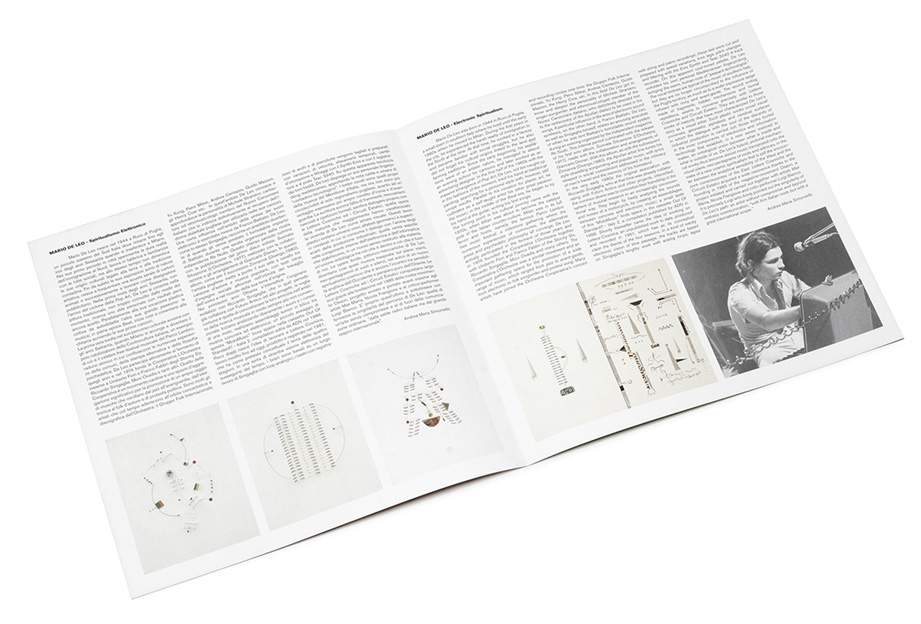 Easily one of the most exciting projects that Riccardo Sinigaglia ever laid his hand to, and an absolute revelation when it comes to Mario De Leo, Black Sweat has done it again with "Lettera Cosmica", issuing a crucial historical document that remains remarkably prescient and deeply engaging more than fourty years down the road. This is groundbreaking stuff! Issued as beautiful produced LP on black vinyl, with an accompanying booklet containing liner notes, archival material, and rarely seen photos, it's unquestionably one to get.