Space Machine
Returning off the back of an incredible run of deep dives into numerous historical contexts of noise, Urashima brings us a truly stunning body of work with the "Space Tuning Box" by Space Machine. Comprising three LPs worth of material by Maso Yamazaki, created during the early 2000s as a creative counterpoint to his legendary output under the moniker of Masonna, rather than full throttle noise, here we encounter the artist weaving complex abstractions through electronic synthesis. Containing the first ever vinyl pressings of the project's first full length and four EPs, all initially issued on CD during the early 2000s, presented in a stunning wooden box edition of 199 copies, accompanied by documentary photos by Masahiko Ohno and extensive notes by Satoru Higashiseto, it's a truly stunning thing to behold from one of the most singular projects to emerge from Japan at the dawn of the new millennium.
By Bradford Bailey, 18 November 2022

Since its founding during the late 2000s, the Italian imprint, Urashima, has become a definitive voice in the landscape of noise. Bringing forth beautiful limited edition releases, they've sculpted a singular vision of one of the most vibrant and revolutionary bodies of experimental sound to have graced the globe. Already in 2022, they've delivered ambitious projects like Controlled Death's "Death Synth Box", Merzbow's "Collection 001-010" and "Hybrid Noisebloom", as well as Masonna's "Masonna Vs. Bananamara" and Hijokaidan's "Zouroku No Kibyou". Now they're in the midst of an incredible final push toward the end of the year with an incredible artefact, Space Machine's "Space Tuning box", that hovers like a distant moon, just slightly adjacent to the noise scene.

The legendary brainchild of Masonna's Yamazaki Maso, conceived as a vehicle to explore electronic synthesis around the turn of the new millennium, this 3 LP box set gathers the first ever vinyl pressings of the project's first full length, "Cosmos from Diode Ladder Filter", originally issued on CD in 2001, and four CD EPs, "Dimension Degenerator", "Orbit Vector Generator", "Zone of Avoidance", and "Space-Time Echo", initially released between 2004 and 2005. Presented in a stunning wooden box edition of 199 copies, accompanied by documentary photos by Masahiko Ohno and extensive notes in Japanese by Satoru Higashiseto, translated into English by Alan Cummings, it's an astounding object containing some of the wildest sounds likely to be encountered this year.





The Osaka based artist, Maso Yamazaki, belongs to the second wave of Japanese noise. Largely known for his work under the moniker Masonna, his choice of that name alone, a pun on Madonna's name by combining the Japanese words Maso (マゾ, Masochist) and Onna (女, Woman), illuminates the wry humor and intensity that rubbles below his work.

Yamazaki claims that his draw toward the context of noise is rooted in childhood encounters with the sounds of destruction on TV. Initially playing in psychedelic rock bands, following encounters with the work of artists like Hanatarash and Nord, he disappeared from view for a number of years, quietly developing his own singular vision of the idiom, before bursting onto the scene in 1987 as Masonna with a performance style, marked by frenetic energy, damaged equipment, wild body movement, and often personal injury, that quickly set him apart. Fascinatingly, despite making a remarkably distinct impact on the scene, Yamazaki was never one to be hemmed in or nailed down. Around 1998, he began to incorporate trippy, spacey electronic elements into Masonna performances, laying the groundwork for what would come next, the visionary project, started in 2000, Space Machine.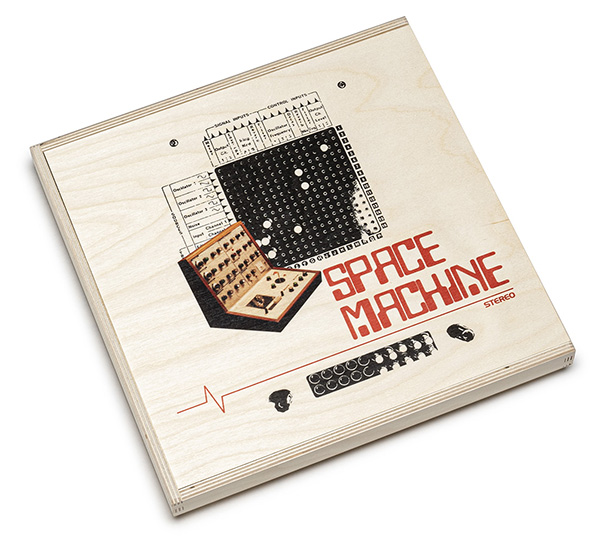 Described by Yamazaki as an "analog electronic cosmic sound project", Space Machine draws on the artists deep and long-standing love of early electronic music from the '50s and '60s, his collecting of analog synthesizers and vintage electronic equipment over the years that he was primarily active as Masonna, and a desire to find a new creative pathway for his work, which was facilitated by being forced, in 2000, to temporarily cease Masonna activities due to ill health, allowed him to concentrate more fully on that project that would emerge later that year.

In rapid succession between 2001 and 2005, Yamazaki released three full lengths and four EPs, all the products of his daily, tripped out inner explorations of music at his Space Machine Systems Studio. Urashima's "Space Tuning Box" gathers some of the most vital of these offerings, the project's debut - "Cosmos from Diode Ladder Filter" - and the entirety of those EPs, pressing them on vinyl for the first time. Space Machine is the perfect counterpoint to Masonna. Rather than screaming noise and physical action, here Yamazaki veers toward the territory of non-rhythmic, pure electronics that resonate heavily with post-war avant-garde synthesis, channeling a similar territory of sonority that emerged from studios like Princeton, Columbia, EMS, GRM, etc., conjoined with more contemporary temperaments of electronica and onkyo free improvisation via analog echo machines and synthesizers (EMS VSC3, Roland System 100 & 100M, PAIA 4700 Modular, Doepfer Modular, etc).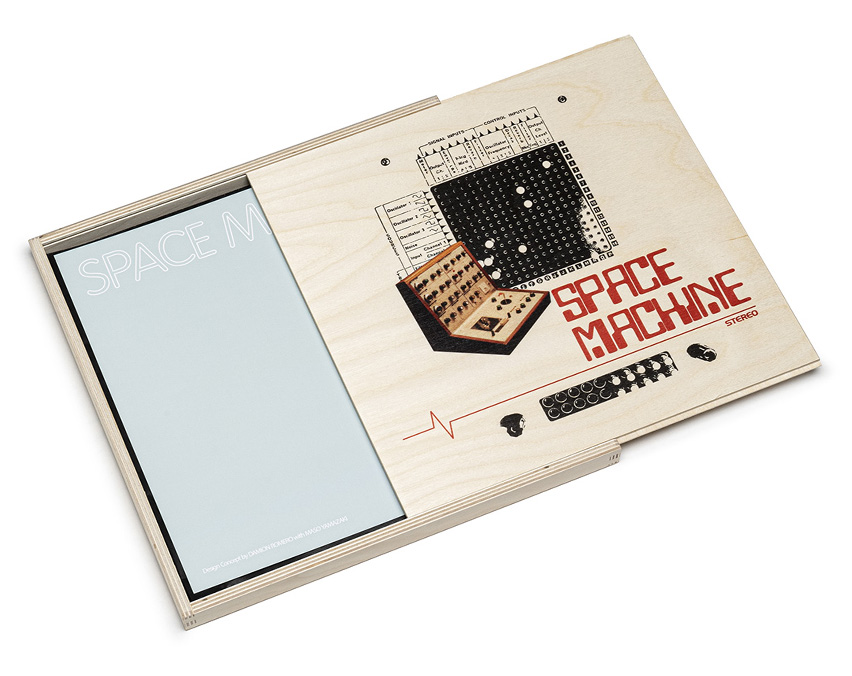 Woven across a brilliant series of sonic tapestries, drenched in tenaciously psychedelia, across the box set's three LPs Space Machine reflects the flow of spiritual cosmic space in Yamazaki's subconscious, sculpting a vibrating cosmic universe made up of the organic and inorganic. Describing the project in the collection's liner notes, Satoru Higashiseto states: "The flickering cosmic drama constructed from hallucinogenic electronic sounds is sometimes accompanied by back-projections that stir up psychedelic images in the mind. The performances are usually solo, but on occasion Yamazaki has invited guests such as Kawabata Makoto (Acid Mothers Temple), Nakaya Koichi (Nasca Car), or Hasegawa Hiroshi (Astro, ex-C.C.C.C.), to create even more immense cosmic jam sessions."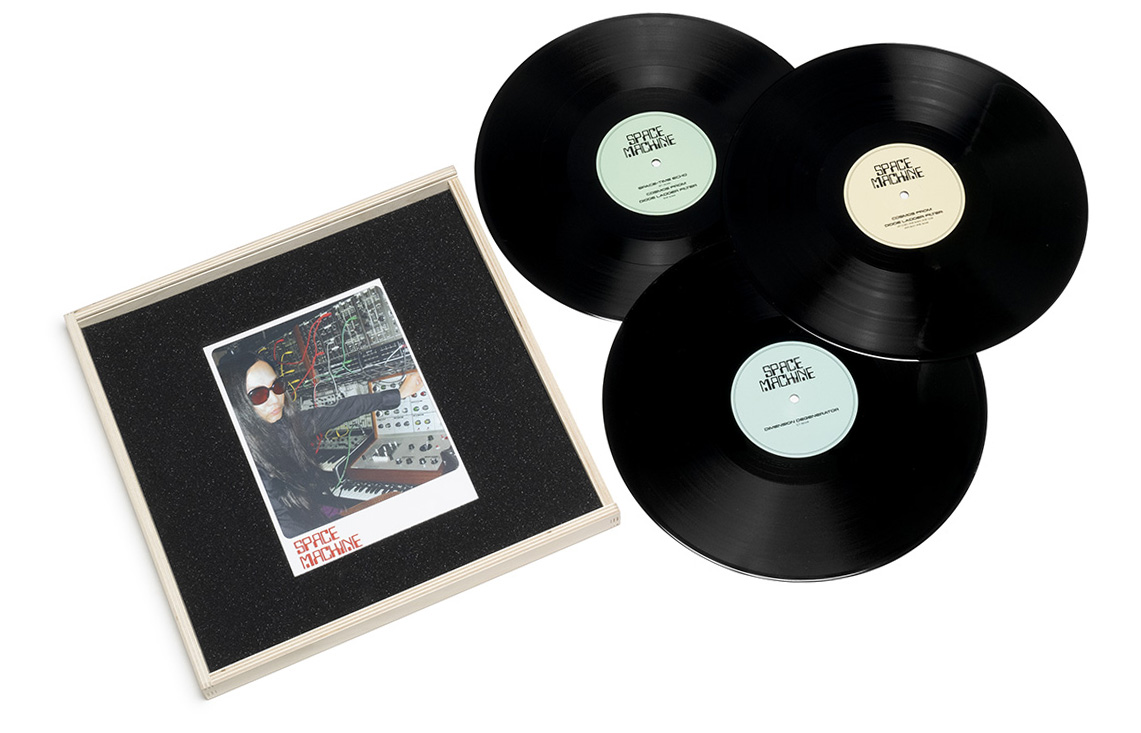 This incredible box, released in a deluxe wooden edition with digital printing on the lid limited to 199 copies, contains the first album "Cosmos from Diode Ladder Filter" released on CD on Alchemy Records and the four CD EPs released on P-Tapes, California based label run by Damion Romero, reissued for the first time on vinyl across three LPs. The box is accompanied by a series of photos of the impressive equipment used by Maso Yamazaki taken by Masahiko Ohno and extensive notes in Japanese by Satoru Higashiseto, translated into English by Alan Cummings. Absolutely amazing and essential for any fan of the Japanese scene. Needless to say, Urashima has done it again!