Tom van der Geld - Small Mountain
Black Sweat is back with more gold, this time in the form of an absolutely stunning revelation from 1986, the first ever reissue of Tom van der Geld's "Small Mountain". Comprising four minimalist marvels composed for four marimbas, its hypnotic rhythms, textures, and tones - displaying a deep cosmic connection with the work of Steve Reich, Midori Takada, and Michael Vetter - positioning it as one of the great overlooked (if not lost) gestures of European minimal music from the '80s. Overwhelming beautiful, creatively enthralling, and one of the most immersive and enjoyable listens we've encountered in a while.
By Bradford Bailey, 10 May 2022

Since their founding nearly a decade ago, the Milan based imprint, Black Sweat, has left an indelible mark on the landscape of recorded music, issuing a strikingly diverse array of historical and contemporary efforts, spanning numerous fields and artistic disciplines. More than anything, the drive and success of the label is rooted in a deep passion and knowledge for music, which in an era partially saturated by reissues has allowed them to throw numerous surprises and considerable amount of gold. Their latest, the first ever reissue of the vibraphonist Tom van der Geld's obscure 1986 masterstroke, "Small Mountain", is one such case. A brilliant creative gesture at the borders of minimalism, jazz, and ambient music, it's easily among the most surprising releases to come out of left-field this year. Intoxicating, immersive, and impossible to recommend enough, Black Sweat has blow our minds again.





Tom van der Geld is an American vibraphonist who has been based in Europe since the mid-1970s. Heavily focused within the context of jazz, he has performed and recorded widely with Barre Philips, Albert Mangelsdorf, Kenny Wheeler, Manfred Schoof, Peter Michael Hamel, and Luis de Mateo, among numerous others. Arguably best known for his group, Children at Play, in 1986 van der Geld stepped briefly away from the world of jazz and produced his first solo endeavor, "Small Mountain - Music For Four Marimbas", for the legendary German imprint Wergo.

"Small Mountain" is van der Geld's personal ode to creation; a tonal poem for all natural beings. While unquestionably belonging to the post-minimalist canon - displaying a notable relation to the work of Steve Reich and Midori Takada - the presence of acoustic ambient approaches that bind it within a similar territory to Michael Vetter's Zen works, which also, coincidentally, began to be issued by Wergo during the same year as its release. Composed for four marimbas and other percussion instruments, the album's four works - one sidelong, and three shorter - flow through ecstatic progressions that seem to tap, through their sound variations, emotional osmosis with the elements of nature.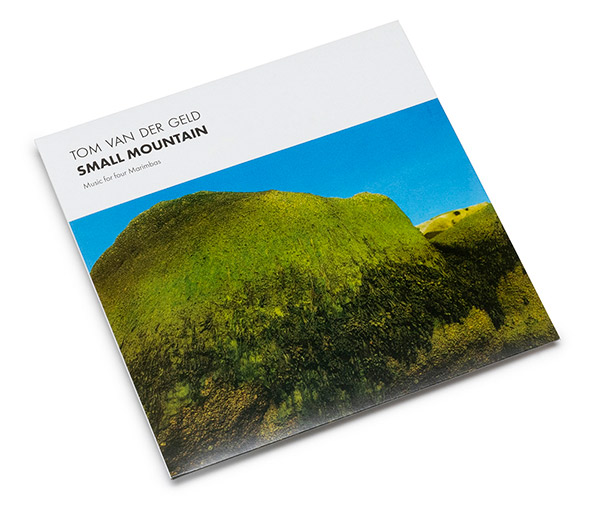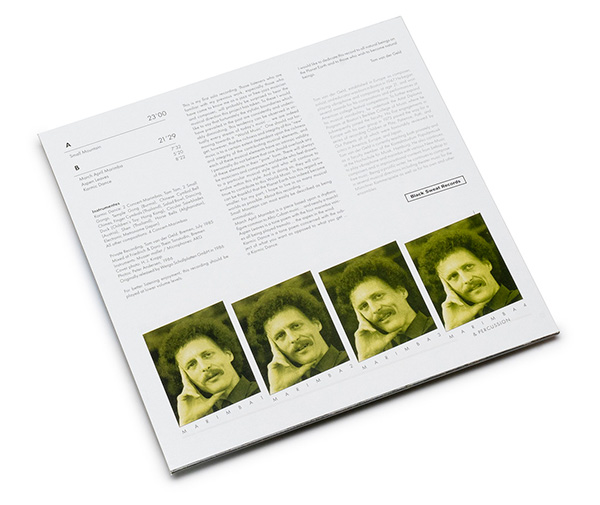 The album's title work, taking up the entire first side, is arguably the most hypnotic and closest to high minimalism, with the rhythmic arpeggiations of van der Geld's marimbas sculpting rippling, repetitive mindscapes with a startling sense of tonal depth and emotiveness within the metronomy. On the second side, however the three works - "March April Marimba", "Aspen Leaves", and "Karmic Dance" - break this mold in subtle and startling ways, introducing far more experimental temperaments. The tonal and textural pallet broadens, and particularly on the first two, the tempo radically increases, introducing a stronger sense of ambience as the notes bleed together, at times calling to mind Charlemagne Palestine's "strumming" or Lubomyr Melnyk's "Continuous Music".

While no less rhythmic, "Small Mountain's" final track, "Karmic Dance", reveals the most about the ideas and temperaments that rumble at the album's core, operating as retrospective key. The sonic pallet has broadened even further, the beats stagger and dart, introducing a strong sense of abstraction that resonates deeply with Zen-Impressionism, and thus the tension between the random unpredictable and the order of the natural world.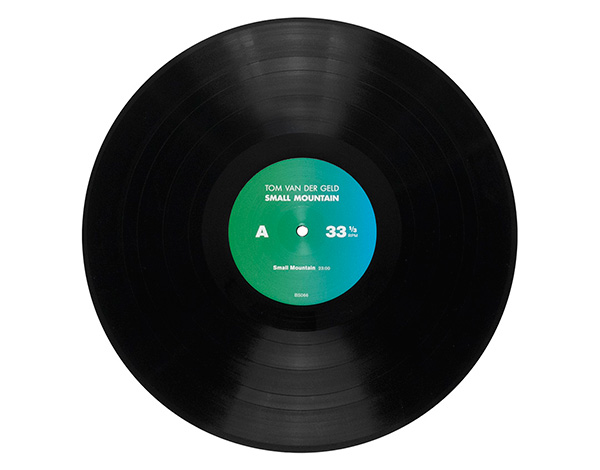 Almost a secret place unto itself, bound to rigours and playfulness of art, Tom van der Geld's "Small Mountain" is a true revelation, offering one of the most immersive and enjoyable listens we've encountered from an unexpected reissue for a good long time. This first-time reissue, is beautifully pressed and presented with all the love and care that makes Black Sweat who they are. A highly recommended marvel of the highest order for any fan of minimalism and ambient music at large.