Tullio De Piscopo
New Platform takes a deep dive into the forgotten world of 1970s Italian jazz, and comes up with gold with two astounding, first-time vinyl reissues from the percussionist Tullio De Piscopo, 1976's "Sotto e 'Ncoppa", from his Revolt Group, and 1978's "Future Percussion", recorded by the Tullio De Piscopo Quintet accompanied by the legendary Argentinian percussionist Luis Agudo. Occupying radically different ends of the spectrum, the former is a genre defiant excursion at the borders of prog and fusion that incorporates markedly experimental elements, while the latter stands among the most important and striking statements of modal / spiritual jazz to have ever emerged from Italy.
By Bradford Bailey, 06 August 2022

The history of jazz is a remarkable thing. This music, born in African American communities during the early part of the 20th Century, rapidly took on a life of its own, evolving into numerous highly specific idioms and spreading outward, capturing the passions and imaginations of people in nearly every corner of the world. While a decidedly American music, with American artists almost always driving its most important innovations, it was in Europe where jazz arguably took its greatest hold, offering shelter and support to artists and fostering new indigenous forms. The narratives surrounding these happenings in France, Germany, The UK, Denmark, and Sweden are well established, but they were not alone. Italy was also a hotbed of jazz, playing host to the international vanguard and producing countless artists of its own. Tragically, the recorded history of these early contributions to the field were mostly lost during the Second World War, and for reasons unknown the country's jazz scene during the second half of the century - be it be bop to free jazz or fusion - have remained largely overlooked by the history books. Thankfully, this is beginning to change. In recent years we've witnessed important reissues of records by Gaetano Liguori Collective Orchestra, I.P.Son Group, Enrico Intra, and numerous others. Now, adding to the this initiative, New Platform has wadded in with two fantastic reissues by the percussionist, Tullio De Piscopo, 1976's "Sotto e 'Ncoppa" and 1978's "Future Percussion", respectively illuminating two very different parts of the story, the first being wild fusion excursion on the borders of prog, while the later is one driving, modal statement that might just be Italy's most striking answer to spiritual jazz. Amazing on creative terms and of crucial importance on historically terms, neither should be missed.





Born in Naples in 1946, the drummer, Tullio De Piscopo, belongs to post-war explosion of Italian jazz. The son of an orchestra percussionist, his career began in earnest in 1969 when he moved to Turin, and then Milan shortly after to join the Franco Cerri quintet. Over the coming years, he would build a career as a sought-after session drummer, playing with Gerry Mulligan, Chet Baker, Perez Prado, Gil Evans, Slide Hampton, Don Costa, Tony Scott, Gato Barbieri, Franco Battiato, and numerous other. Fascinatingly, despite his firm roots in the jazz scene, De Piscopo also displayed ambitions beyond the idiom's confines. In 1973, he helped form the New Trolls Atomic System - an offshoot of the New Trolls - who produced a single, self-titled prog opus, which offers important clues to the wild contents of his first LP as a leader "Sotto e 'Ncoppa".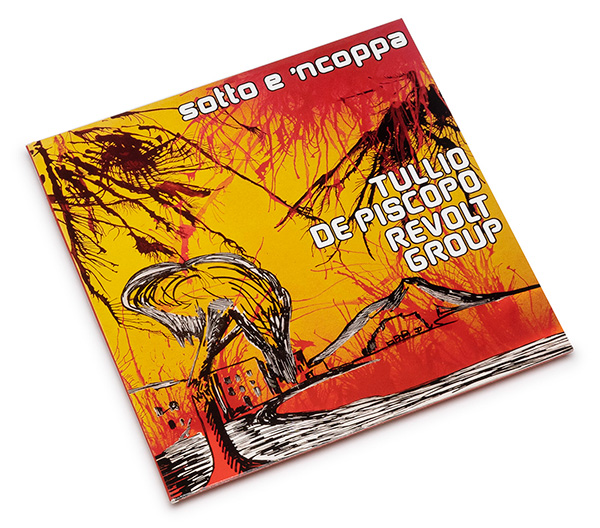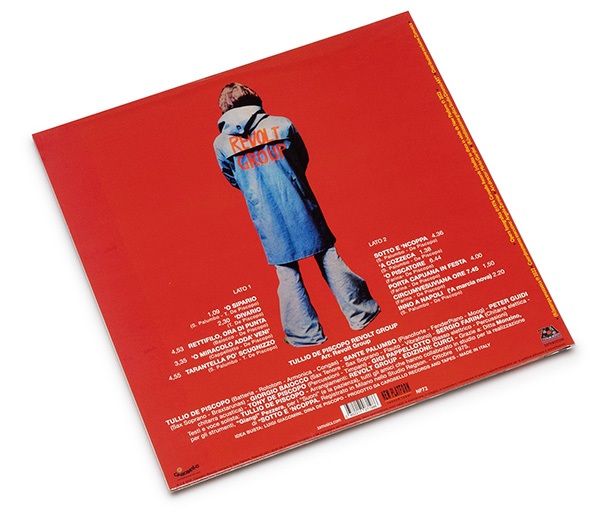 Tullio De Piscopo Revolt Group "Sotto e 'Ncoppa" (1976)

"Sotto e 'Ncoppa", originally issue by Carosello in 1976, isn't exactly what you'd expect from someone as firmly entrenched in jazz as Tullio De Piscopo. Recorded by the Tullio De Piscopo Revolt Group - De Piscopo on percussion and vocals, Gigi Cappellotto on bass and percussion, Sergio Farina on guitar, Sante Palumbo on piano and synths, and Giorgio Baiocco and Peter Guidi on saxophone - the album is a fiercely defiant statement that seems to resist any loyalty to genre across its entire length, lending credence to the band's taking the notion of revolt into their name.
Comprising eleven tracks in total across its two sides, "Sotto e 'Ncoppa" falls somewhere between fusion and prog, straddling darker, brooding temperaments with joyous, funky lines. Predictably, as is nearly the case with music of this sort, the playing and artistry is top notch, the band locked together with remarkable precision, but the journey that "Sotto e 'Ncoppa" takes is far from expected. Interspersed throughout the album's driving, heavily syncopated pieces are numerous sonic experiments that incorporate touchstones of the avant-garde, ranging from free jazz, electronic music, minimalism, and kosmische, serving to crack the cohesion wide open, illuminate the joys of making, and offer a window into the wilder creative ideas lingering below the whole.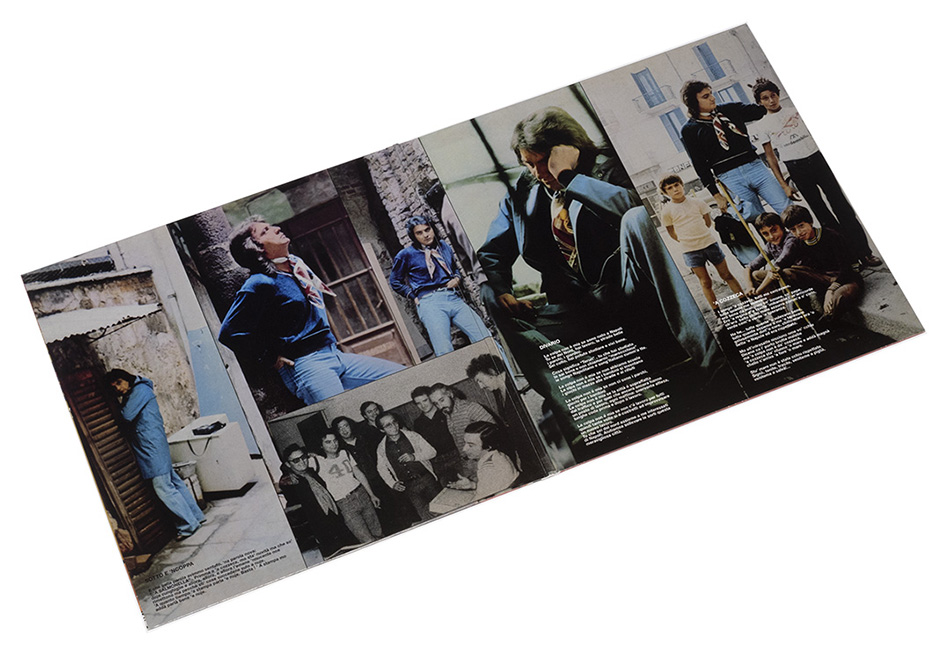 A singular statement in Italian music from the 1970s, Tullio De Piscopo Revolt Group's "Sotto e 'Ncoppa" is a multidimensional bridge, not only in Tullio De Piscopo's career - linking his work in New Trolls Atomic System with what would come next - but also between the forms of jazz, prog, and experimental music flowering from Italy during this moment. With original copies hotly pursued and rare as hens' teeth, New Platform's first ever vinyl and CD reissues of this beauty is as welcome as they come. It's an absolute must for any fan of Italian music or the idioms mentioned above.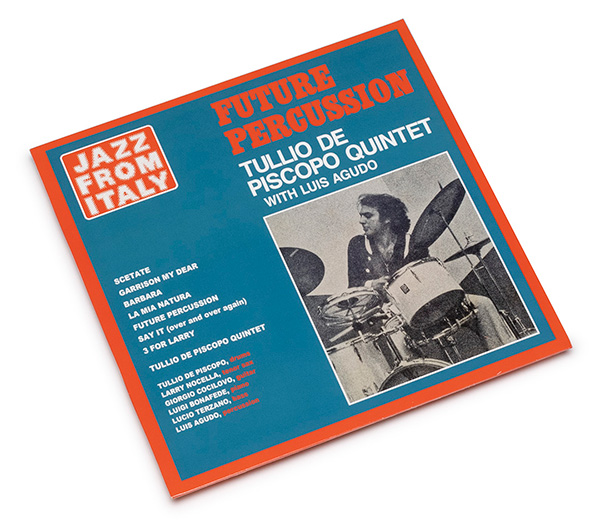 Tullio De Piscopo Quintet with Louis Agudo "Future Percussion" (1978)

In 1975, Carosello Records - one of the most important Italian labels in independent music - launched their Jazz From Italy series, which set out to document the conjunction between the larger global scene of jazz with that of Italy. Over the remaining part of the decade, and into the early 1980s, they would produce a number of striking LPs by Bud Freeman, Jimmy McPartland, Billy Butterfield, Eddie Miller, Gianni Basso, Sergio Fanni, Slide Hampton, Teddy Wilson, and numerous others that remain some of the most important means to capture a window into the country's important, but sinfully overlooked relationship with jazz during the post-war period. Of them all, the Tullio De Piscopo Quintet's "Future Percussion", released in 1978 and featuring the the Argentinian percussionist, Luis Agudo, is easily among the most striking.
In the handful of years that had passed since De Piscopo's recording of "Sotto e 'Ncoppa", the percussionist had continued work across a number of fields as a highly prolific session musician, as well as exploring jazz, prog, and disco under his own leadership. "Future Percussion", however - which, fascinatingly, also falls within the same era as his work on seminal LPs like Franco Battiato's "L'Era del Cinghiale Bianco" and Il Guardiano del Faro's "Oasis" - is arguably his most straight ahead in the field of jazz, as well as his most definitive recording in the idiom.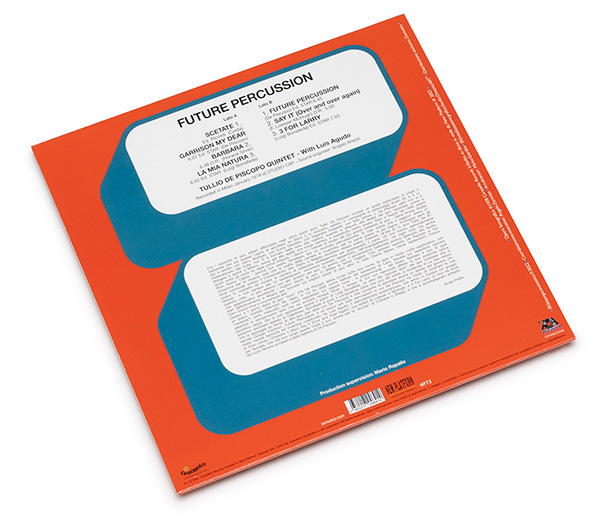 Featuring De Piscopo on drums, joined by Lucio Terzano on bass, Giorgio Cocilovo on guitar, Luigi Bonafede on piano, Larry Nocella on sax, and Luis Agudo on percussion, "Future Percussion" is possibly one of the most strikingly overlooked statements of modal, 1970s jazz ever recorded. An unquestionable descendent of the spiritually infused gestures of John Coltrane and Alice Coltrane, Pharoah Sanders, and Don Cherry, with a bit of Gábor Szabó thrown in, it's a deeply emotive statement that entirely turns the perceptions of Italian jazz during this moment on its head. Driven in equal measures by the doubled percussion of De Piscopo and Agudo, Nocella's brilliant sax work, with the other members of the ensemble meeting them and pushing at every turn, it's one of those records that takes you off guard, and leaves you on the edge of your seat from the first sounding to the last, from the profound soulfulness of the album's opener, "Scetate / Garrison My Dear", an intoxication rendition of Horace Silver's "Barbara", to the driving mayhem of the title track, across which De Piscopo and Agudo duel and stretch out in a pure percussion extravaganza.
Absolutely fantastic and nothing short of an inevitable revelation for anyone yet to encounter it, Tullio De Piscopo Quintet's "Future Percussion" is easily among the greatest albums in the field of Italian jazz that almost no one has ever known. Beautiful, artful, and engrossing, it rewrites history in a single go. Like "Sotto e 'Ncoppa", original copies are hard to come by and aren't cheap, making New Platform's first ever vinyl and CD reissues of this beauty as welcome as they come. A total burner that's not to be missed.