Vox Populi! - Psyko Tropix
From Touch Sensitive comes Vox Populi!'s "Psyko Tropix", one of the most exciting archival LPs to appear so far this year. Gathering an incredible body of rare and previously unreleased recordings from the seminal French band's archives, spanning the period from 1986 to 1990, its astounding sounds - hybridizing a near countless number of musical touchstones and experimental approaches - take the listener on an incredible journey into a singular creative universe that remains as captivating and forward thinking today, as when these works were first laid to tape.
By Bradford Bailey, 31 March 2022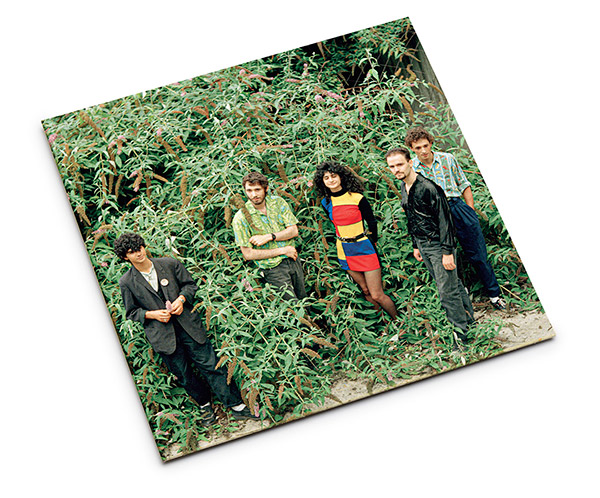 It's unlikely, at the time of its inception during the mid 1970s, that anyone could have anticipated what punk would become. By the end of the decade, what had started as a musical and cultural movement in the UK and the United States, channeling the anger of a disillusioned generation of youths - spitting fury and fire - had given way to a global context of radical experimentation and self-empowerment, via the ethos of DIY. While no less urgent in content or sound, what followed in the wake of punk's first wave was a music, operating at the edges of popular culture, that was often marked by subtlety, refinement, and intelligence, setting out to dissolve the perceptions of what music could be, and by whom it could be made. Among the most striking and visionary of the bands to emerge from this context was Vox Populi!. The project channeled a vast range of influences, touchstones, and creative practices into a singular form of avant-gardism that has retained a loyal cult following ever since. Despite being reasonably prolific during their short run, we've yet to hear it all, a truth illuminated by "Psyko Tropix", Touch Sensitive's latest LP. Plumbing the band's archives, this astounding collection of rare and previously unreleased material draws us headlong into one of their most important periods, 1986 to 1990. Incorporating everything from bristling electronic experimentalism to left-field "chanson", and a great deal between - further explored within the collection's fantastic liner notes - once again we're reminded that Vox Populi! was one of the greatest bands that's ever been.





Vox Populi! was founded in Paris during the early 1980s by Mithra Khalatbari and Axel Kyrou, who were later joined by Mithra's brother Arash, while all three were still in their teens. Deeply inspired by the emerging movements of industrial music and power electronics, the project's earliest gestures moved rapidly into uncharted waters, via idiosyncratic improvisational structures and an edgy youthful playfulness. While every member played a crucial role, the band's unique sound was partially due to the ambitious explorations of Kyrou - son of Mireille Kyrou, the legendary Groupe de Recherches Musicales composer and musique concrète pioneer - who often deployed their Vox Man studio, on truly avant-garde terms, as an instrument unto itself.
A central force in the Parisian experimental scene, stretching outward via their engagement with the mail-art movement, across a handful of releases produced between 1982 and 1989, Vox Populi!'s music harnessed transcendental spiritual qualities that balanced the harsh realities of an industrialized world against moments of intense beauty. Embodying the spirit of punk, they forged a highly individual path, incorporating a vast range of instrumentation, Persian poetry, and tape manipulation, that operated as an aural bridges between various global traditions, synth pop, industrial music, the efforts of 60's and 70's luminaries like Areski, Brigitte Fontaine, and Jacques Higelin, musique concrète, and the radical electronic and electroacoustic gestures that were still emerging from studios like GRM.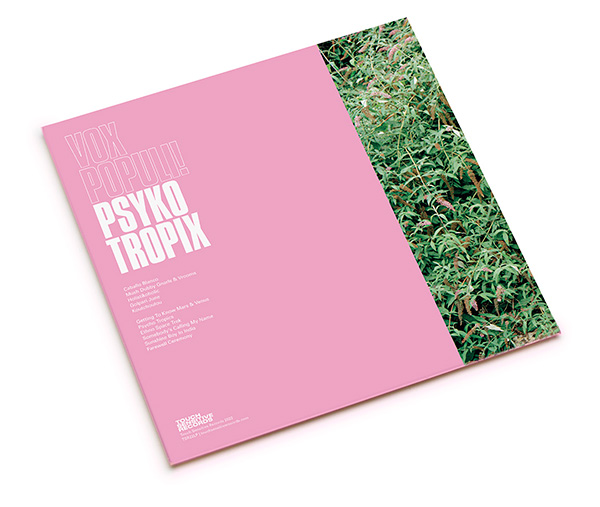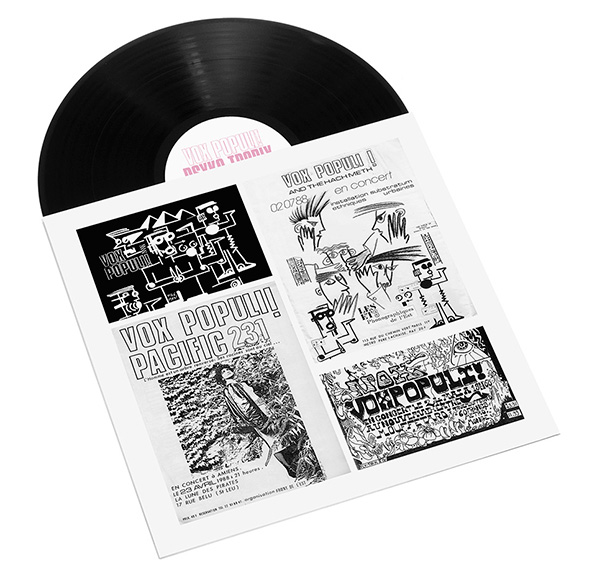 The group's singular sound - often referred to as 'ethno-industrial' - can partially be seen to be connected to the distinctly international character of its membership. The Khalatbari siblings are Iranian, and Kyrou was born to migrant parents - his father Greek and his mother Egyptian - naturally leaving them inclined to beyond France's borders for inspiration. Against this, played a radically open spirit. As the band describes, "We recorded everything - every idea. We would always have a cassette or a reel running. We made such different styles - freaky, alternative, experimental, industrial, etc. We had no rules and no plans - our main motives were play and pleasure." This principal doubles as the guiding spirit of "Psyko Tropix", comprising eleven tracks created by the band between 1986 to 1990, three of which were recorded in 2017 by a reconfigured Vox Populi!, that sit perfectly within the entirety of their output, as no time had passed.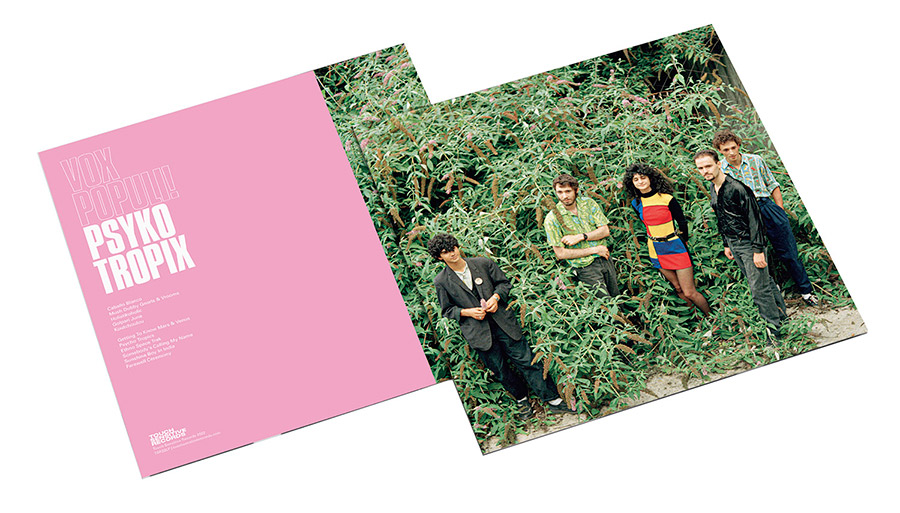 "Psyko Tropix" is a writhing journey through sonic radicalism that refuses to be nailed down. Across the album's length the ear is immersed in striking gestures of psyche and kraut inspired hypnotic lines, off kilter, left-field reimagining of song, eastern inspired improvisations that blissfully nod toward prior countercultures, harsh industrial electronics, shimmering ambient passages, and explicitly avant-garde gestures, presenting a band like no other, who payed loyalty to none. In their own words, "We were never defined by fashion or the zeitgeist. So we remained ourselves. Our sound is still natural. We had to be turned on by our own music and we wanted the music to have an impact on consciousness. We were the subjects of our own experiments and there was also a kind of mystery - even for us." An absolutely incredible experience in listening, "Psyko Tropix" is a high-water mark in archival releases, presenting an incredible body of largely unheard material - all appearing on vinyl for the first time - from Vox Populi! at the height of their powers. Fully licensed from the group's extensive archive, and beautifully mastered, with fantastic liner notes focused on the band's creative process and prolific output, it's pure gold, and absolutely essential for any fan of Vox Populi! and experimental music at large.