Yamash'ta & The Horizon - Sunrise From West Sea
Easily one of the most extraordinary albums to emerge from Japan at the dawn of the 1970s, Wewantsounds delivers the first ever reissue of Yamash'ta & The Horizon's legendary LP, "Sunrise From West Sea". Featuring an ensemble comprising the seminal avant-garde percussionist Stomu Yamash'ta, Fluxus composer / violinist Takehisa Kosugi, the pianist Masahiko Satoh, and the shamizen player Hideakira Sakurai, the LP's two sides distill an extraordinary, all-night performance stage by the quartet in 1971, traversing ambient meditations, non-idiomatic free improvisations, and driving jams. Insanely good and groundbreaking more than 50 years after it was laid to tape, it's impossible to recommend enough.
By Bradford Bailey, 18 March 2022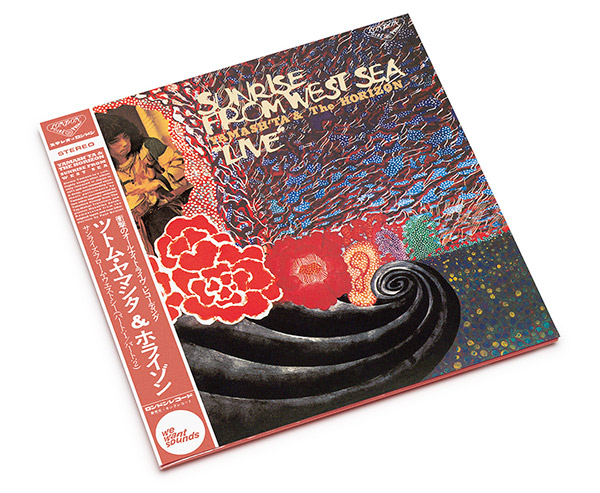 Over the last few years, the French imprint, Wewantsounds, has taken some seriously deep dives into the shadows of music history. Looking beyond the limits of genre and taste, they've delivered a treasury of reissues by Don Cherry, Ryuichi Sakamoto, The Mystery Kindaichi Band, and a host of others, each marked by a singular sense of creative artistry, while veering toward the wonderful and wild. Their latest, the first ever reissue of Yamash'ta & The Horizon's legendary LP, "Sunrise From West Sea", is arguably the label's most exciting to date. Originally issued in 1971 by the Japanese arm of London Records, and featuring Takehisa Kosugi, Masahiko Satoh, and Hideakira Sakurai, it's arguably the seminal avant-garde percussionist Stomu Yamash'ta's greatest achievement; an astounding, psychedelic journey into experimental sound worlds that has no equivalent before or since. Issued in both vinyl and CD editions, fully remastered from the original tapes, the LP comes in its beautiful original gatefold artwork with OBI strip, 2-page insert and a new introduction by journalist Paul Bowler. Whatever the preference, both formats are insanely essential and are bound to blow a great many minds.





Stomu Yamash'ta remains one of the most noted and famous avant-garde percussionists to emerge from Japan during the post-war period. Born in 1947 into a musical family (his father was the conductor of the Kyoto Philharmonic) and by all accounts a virtuoso, he made his solo concert debut at the age of 16, before going on to study at the Kyoto Academy of Music and Julliard and Berklee in the United States. During the early years of his career, his recorded output was heavily focused around avant-garde classical works (John Cage, Morton Feldman, Toru Takemitsu, etc.), many of which were composed especially for him, all the while pursuing a passionately personal practice in improvised jazz. During the early '70s, channeling these two positions, he began producing a legendary suite of experimental albums built around his own visionary compositions for percussion, notably "Red Buddha", which has long held a coveted place in the field. Slightly adjacent to this incredible body of work is 1971's free-standing LP, "Sunrise From West Sea", issued by Yamash'ta & The Horizon, the project that Yamash'ta founded with the legendary Fluxus composer / violist and Taj Mahal Travellers founder, Takehisa Kosugi, the pianist, Masahiko Satoh, and electric shamizen wizard Hideakira Sakurai. Out of print since its original issue, for many it is the greatest creative achievement in Yamash'ta's astounding catalog of recordings produced during this incredible period in his career.
Recorded live at Yamaha Hall in Tokyo on April 18, 1971, only a few days after "Red Buddha" was laid to tape, "Sunrise From West Sea" was realized as an all-night concert in front of an invite-only audience consisting of friends and fellow musicians. Conceived by an unusually small ensemble for this period in Yamash'ta's work, the percussionist was joined on stage by the all-star cast of Kosugi - whom he had met through his mentor, the composer Toru Takemitsu - Satoh, and Sakurai. So remarkable was the result, the totality of the performance must have stayed with the audience members for the rest of their lives.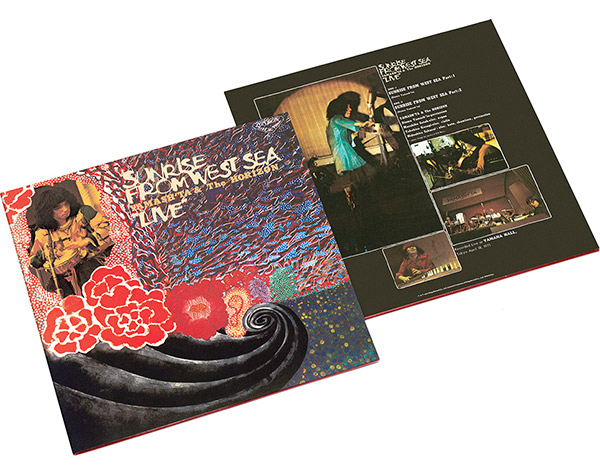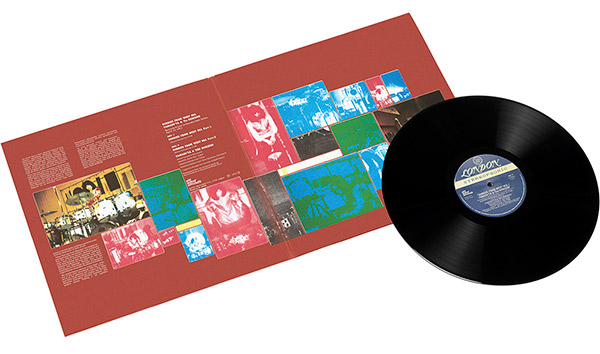 Edited down to fit two sides of an album, "Sunrise From West Sea", the work is a spaced-out improvisational soundscape, created in real time by the quartet. Led toward a deep sense of interplay by the opening lines of Kosugi's distinctive electric violin, it rapidly evolves into a deep, spiritual free form conversation between the four musicians, giving them all the space they need to freely improvise and interact with each other, mixing electronics, percussion, electric organ and shamizen without ever clashing, effortlessly shifting between passages of sparse, ambient meditations, non-idiomatic free improvisations, and more driving periods, fuelled by Yamash'ta's extraordinary percussion playing. Each player's interventions shine, while remaining entirely in service of the whole.
While entirely singular and free-standing, "Sunrise From West Sea" doubles as a crucial bridge between the territories explored across Kosugi's legendary LP, "Catch Wave", the roughly contemporary efforts of projects like Taj Mahal Travellers, Yamash'ta's efforts from the same period, and where he would land nearly a decade down the road after a brief retirement in a Buddhist monastery, reemerging to reigniting a new period in his career with a body of Zen inspired ambient works.
Absolutely extraordinary on creative terms, an inevitable revelation for anyone yet to encounter it, and unavoidable holy grail for those who have, Wewantsounds' beautifully produced, first time ever reissue of Yamash'ta & The Horizon's legendary LP, "Sunrise From West Sea" finally returns one of the greatest Japanese albums of the 1970s to cultural consciousness. Insanely good, and still radical, free, and challenging after all these years. Grab it while you can. This one is as essential as they come.