Bernard Parmegiani on Transversales Disques
Belonging to a growing body of previously unreleased work culled from the archives of Bernard Parmegiani, the always incredible Transversales Disques returns with "Mémoire Magnétique, Vol. 2", the second instalment in their series of albums focusing on the composer's work for film, television, and the performing arts. An inevitable revelation for even the most devoted of Parmegiani's fans, we're also making it available as part of a specially priced bundle with brand new represses of "Mémoire Magnétique, Vol. 1" and "Rock (Bande originale du film, 1982)" for those who missed them the first time around.
By Bradford Bailey, 21 October 2021

Over the last few years, the Paris based imprint, Transversales Disques, has set a remarkable standard for archival releases, bringing us a treasure trove of previously unreleased recordings by Pierre Henry, Archie Shepp, Pharoah Sanders, Luc Ferrari, Igor Wakhevitch, Philip Glass, Ariel Kalma, François Bayle, Ennio Morricone, and numerous others.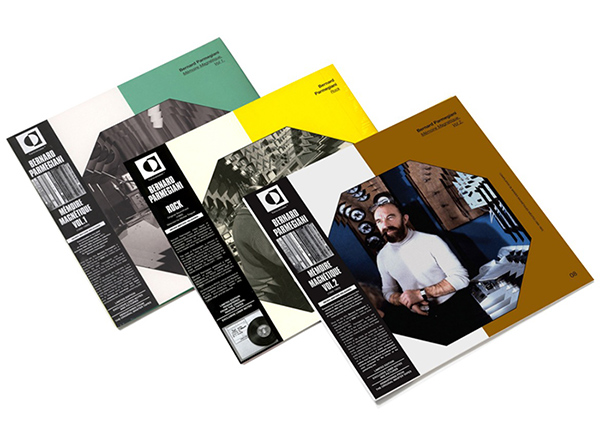 While by no means the limit of their focus, the imprint has offered special attention to works by French pioneers of electronic music, particularly those associated with Groupe de Recherches de Musique Concrète (GRMC) and Groupe de Recherches Musicales (GRM). Central to this modus operandi is the work of Bernard Parmegiani. Back in 2017, they brought us the composer's incredible 1982 soundtrack, Rock, created for Michel Treguero's film of the same name, followed by the LP, Mémoire Magnétique, Vol​. 1 in 2018. After three years of waiting, the label is back with the second instalment of rare sounds by Parmegiani, Mémoire Magnétique, Vol.​ 2, accompanied by brand new represses of Mémoire Magnétique, Vol.​ 1 and Rock (Bande originale du film, 1982), which have been out of print since their initial release. As a special celebration, we're offering them individually or together as a specially priced bundle. They're 20th Century electroacoustic music at its absolute height, hugely historically important, and not to be missed.





Bernard Parmegiani's contributions to electronic and electroacoustic practice are now regarded as among the most important in the history of 20th Century Music, but this wasn't always the case. For much of his career, the composer lingered in the shadow of his more famous peers at Groupe de Recherches - Pierre Schaeffer, Luc Ferrari, François Bayle, etc. Some of this was a consequence of circumstance and idealism. Gifted with a deep belief in access and humor, Parmegiani believed in the profound potential of electronic and electroacoustic sound, seeking to integrate it into everyday life, particularly through forms of mass distribution activated by radio, film, and television. A great deal of his output was created for these contexts - remaining unreleased on physical formats - while he supported himself as a sound engineer and as the head of the Music/Image division of French television. It is into this rarely heard body of recordings which Transversales Disques takes us once again.
Like the first instalment, Mémoire Magnétique, Vol. 2 culls its material form the composer's personal archives and unpublished recordings of material created between 1966 and 1993, focusing specifically on his output for the screen and the performing arts. Standing as a largely unacknowledged counterpoint to more famous works like De Natura Sonorum, La Roue Ferris, Dedans Dehors, Chants Magnétiques, and Chronos - created during same period covered by the collection - these works unveil a lesser-known vision of Parmegiani, one that embedded himself in the subconscious landscape of the French public, with sounds that were often heard without acknowledging their genius or source.





Comprising 16 revelatory tracks, of relatively short lengths - from 13 seconds to just over 8 minutes - Mémoire Magnétique, Vol. 2 covers a brilliant range of material, from sci-fi tinged arpeggiating synths, brooding minimalist expanses, semi psychedelic meanderings away with free-flowing texture, pastoral meditations, playful, percussive musique concrète, pieces that flirt on the edges of kosmische and Berlin school electronics, and so much more.
Encountering the composer in the throes of his deepest passion - working alongside the visual realm - just when you'd thought you'd heard it all, Transversales Disques digs up more gold from the archives of Bernard Parmegiani, expanding our vision of the astounding talent and range of one of the most important sonic artists of the 20th Century. These previously unreleased rarities have been remastered from the original tapes in high-resolution audio, and come complete with exclusive liner notes and pictures. As engrossing as records come, and an absolute blast to listen to. Not to be missed!





Across 17 despite works, Mémoire Magnétique, Vol. 1 spans 24 years of Parmegiani's output of music designed to integrate with the screen, drawing on a framework the composer developed for research and mutual exchange between sound and image. It should come as no surprise, given the overwhelming creative talent which Parmegiani possessed, that these efforts more than stand on their own when separated from the images with which they were designed to speak. The LP is an overwhelmingly powerful body of revelatory sound.
Not unlike his soundtrack for Rock, Mémoire Magnétique, Vol. 1 pushes the boundaries of what the work emerging from Groupe de Recherches is often perceived to have been, if not the very notions of what qualifies as avant-garde. Imbued with Parmegiani's overwhelming humor and playfulness, it offers nods to a countless range of musical idioms and fields of practice - often painting a dark, dystopian technological, rhythmic landscape with aural touchstones ranging from techno, Kraftwerk, and John Carpenter soundtracks, with a peppering of the clown show, reminding us that Parmegiani began his career as a mime.
There's no question that Transversales Disques is taking the high road, bringing us into wild, wonderful, and often overlooked bodies of organized sound which rewrite almost every standard narrative of history. These works are some of a Bernard Parmegiani which all too few heard, belonging to a way of working which captures the idealism closest to his heart. Absolutely brilliant creatively - a challenging field of imagination and an endlessly thrilling listen. Transferred directly from the original tapes with exclusive liner notes, if you missed the first pressing, don't sleep. This is an absolute must for any fan of Parmegiani, GRM, soundtracks, and electronic music at large.