Don Cherry & Jean Schwarz
Hot on the heels of incredible archival releases by Luc Ferrari and Ahmad Jamal that appeared toward the end of last year, Transversales Disques returns with what might be their most stunning LP to date, "Roundtrip", a previously unreleased collaboration between Don Cherry and Jean Schwarz from 1977, capturing an unexpected meeting between two pioneers from very different fields, American free jazz and the French electronic experimentalism aligned with Groupe de Recherches Musicales. Featuring the playing of Cherry, Schwarz, Michel Portal, Jean-François Jenny-Clark, and Naná Vasconcelos, collectively weaving wildly experimental electronics into a tapestry of spiritual jazz that's deeply sympathetic with Cherry's Organic Music Society work from this period, it's an absolute joy and a creatively stunning revelation of highest order that's easily among the best archival releases to have appeared so far this year.
By Bradford Bailey, 31 January 2023

Since its relatively recent launch in 2017, the Paris based imprint, Transversales Disques - founded by Jonathan Fitoussi and Sébastien Rosat - has shaken the world of experimental music, uncovering and releasing an unparalleled body of archival recordings that spans numerous discreet disciplines and practices within this territory of sound, including previously unreleased LPs by Bernard Parmegiani, Ennio Morricone, François Bayle, Philip Glass, Igor Wakhevitch, Ariel Kalma, Pharoah Sanders, and numerous others. Their latest - "Roundtrip" - a previously unreleased collaboration between Don Cherry and Jean Schwarz from 1977 - is among their most unexpected and creatively astounding yet. Capturing a rare meeting between one the most important voices in American free jazz and one of France's great pioneers of electroacoustic music, working at GRM (Groupe de Recherches Musicales), it's a truly stunning foray into interdisciplinary creativity that remains vibrant and mind-altering more than forty years down the road. Issued on black vinyl in a very limited edition that's already sold out at source, housed in a classic tip-on sleeve, complete with printed inner sleeve and exclusive pictures and liner notes, this is one not to be missed.





From a distance, Don Cherry and Jean Schwarz seem like unlikely figures to have fallen into collaboration. One was a giant of jazz, while the other was a radical electronic music composer who worked consistently at GRM in Paris. Yet, with more careful scrutiny, it makes a lot of sense. Both were artists who looked well beyond their own immediate framework for musical inspiration and placed few limits onto the territories into which they were willing to delve.

Don Cherry was, of course, one of the most significant figures to emerge from the context of jazz during the second half of the 20th Century. He first appeared in the public consciousness, still in his early 20s, during the late 1950s as a central member of Ornette Coleman's legendary quartet - the band that singlehandedly set the blue print for the emerging idiom of free jazz - before venturing out on his own, shortly after, as one of the most notable band leaders in the field. A player of astounding touch and sensitivity, Cherry was far more interested in where music could go and what it could emote, than technique. His playing is raw, profoundly human, and direct, tapping something and basic and human that strips all artifice as it dives toward the heart, drawing countless traditions from across the globe to create a music that stood beyond the locating forces of place and time.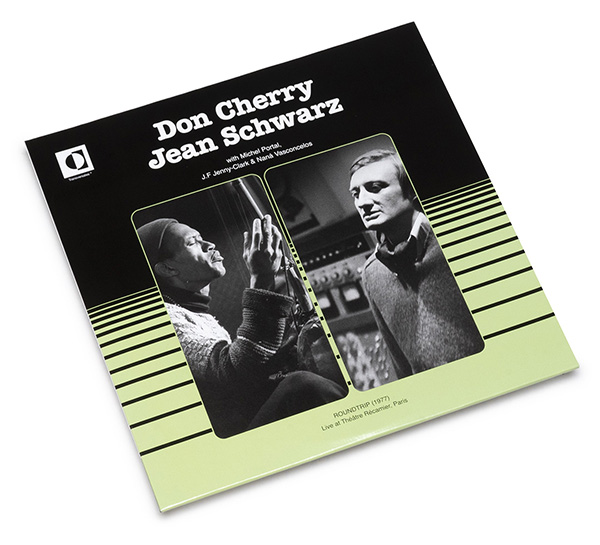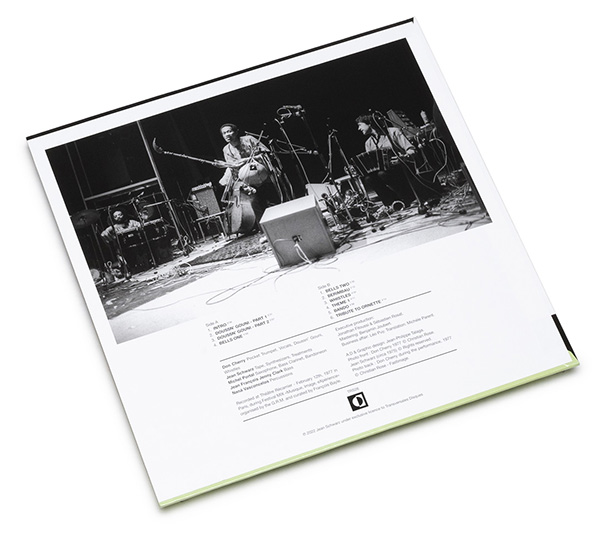 Jean Schwarz, on the other hand, was trained as a percussionist at Versailles Conservatory, before venturing into the world of electronic music and joining Groupe de Recherches Musicales in 1969, where he remained for 30 years, creating electronic, electroacoustic, and tape works for dance, film, and musical contexts. A deeply curious and democratic mind, Schwarz has remained deeply engaged with the study of ethnomusicology over the course of his career, drawing influences from a diverse number of traditions into his work.

While most noted for his electronic and electroacoustic efforts, Schwarz gains some distinction from his peers because of his deep love of jazz. Even before he joined GRM, he worked steadily as a jazz drummer within numerous ensembles, while later, as a composer, he continuously sought to broaden his sound palette with references to jazz and through collaborations with improvising musicians from that context. One such case was a performance with his friend Don Cherry in 1977, organized by GRM and hosted by François Bayle at the Paris MIX festival (Théatre Récamier). It is the recordings of this remarkable concert - having remained forgotten in the personal archives of Schwarz for 45 years - that make up the two sides of Transversales Disques' incredible LP "Roundtrip".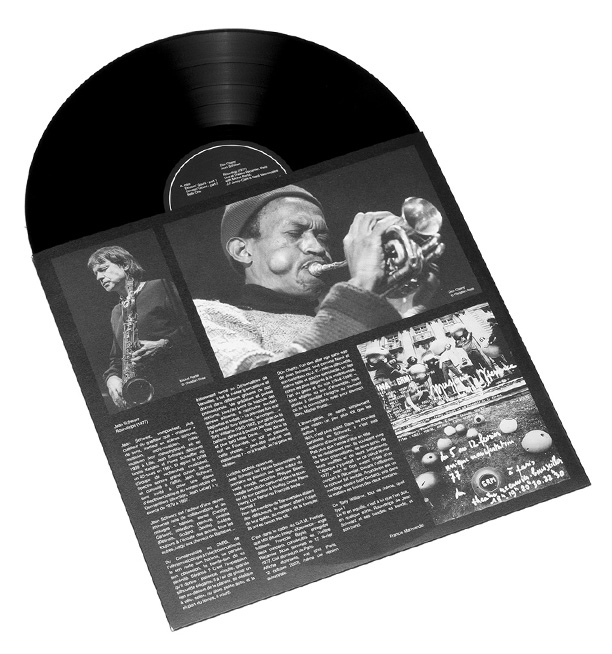 In the simplest sense, "Roundtrip" represents a culmination of the great 20th Century avant-garde project. It is the meeting of two radical forms of music, via the interventions of artists from diverse backgrounds, endeavouring to communicate and collaborate across creative, intellectual, and cultural boundaries. It is democratic music making at its best. Intertwining electronic sounds within a broader palette of spiritual jazz, the album encounters Schwarz and Cherry joined on stage by Michel Portal on saxophone, bass clarinet, and bandonéon; Jean-François Jenny-Clark on bass, and Naná Vasconcelos on percussion, weaving a remarkable series of compositions - ten in total - in real time.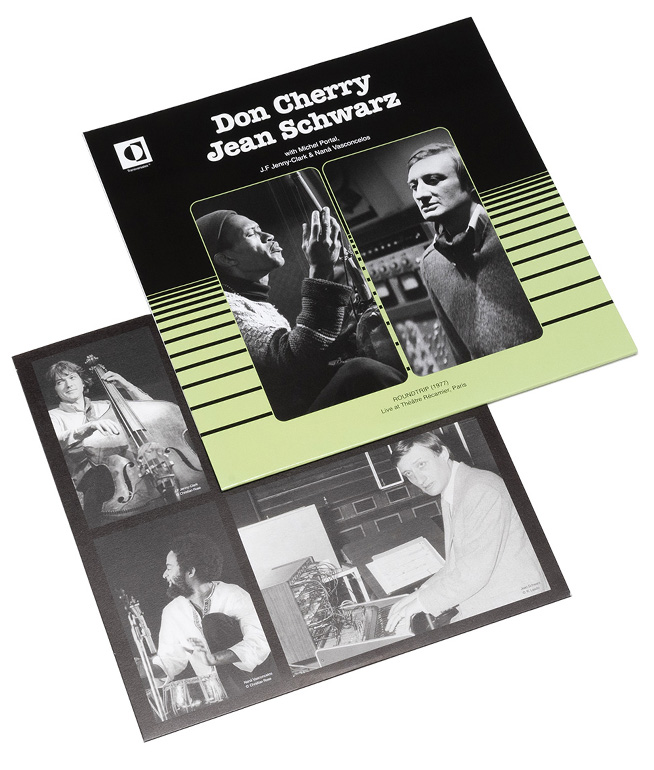 Falling into very similar territory as much of Cherry's Organic Music Society work from this period, "Roundtrip" is driven by a strong rhythmic sense, following the path laid forward by Cherry's playing of the n'goni, Schwarz's pulsing electronics, Clark's bass lines, and Vasconcelos on percussion. Into these hypnotic polyrhythms, Portal and Cherry fire incredible lines, ranging from meditative melodies to full fire free improvisations that push the realms of free jazz into the outer reaches, as well as falling into the chanting vocal heights for which Cherry's work during this period is so well known and loved.

Absolutely incredible from start to finish, "Roundtrip" is an absolute revelation, rescuing a forgotten moment in history from the shadows of time. Creatively brilliant and captivating, it's Don Cherry at his absolute best, that doubles as an unveiling of a rarely regarded side to the practice of Schwarz, one of the great pioneers of electroacoustic music associated with GRM. Issued by Transversales Disques on black vinyl in a very limited edition that's already sold out at source, housed in a classic tip-on sleeve, complete with printed inner sleeve and exclusive pictures and liner notes, it's impossible to recommend enough.